A nutrient packed veggie burger with a ton of flavor, you've got to make these vegetarian beet veggie burgers with garlic sriracha aioli! All you need are a few simple ingredients like beets, sweet potatoes, walnuts, and eggs to recreate these healthy burgers at home.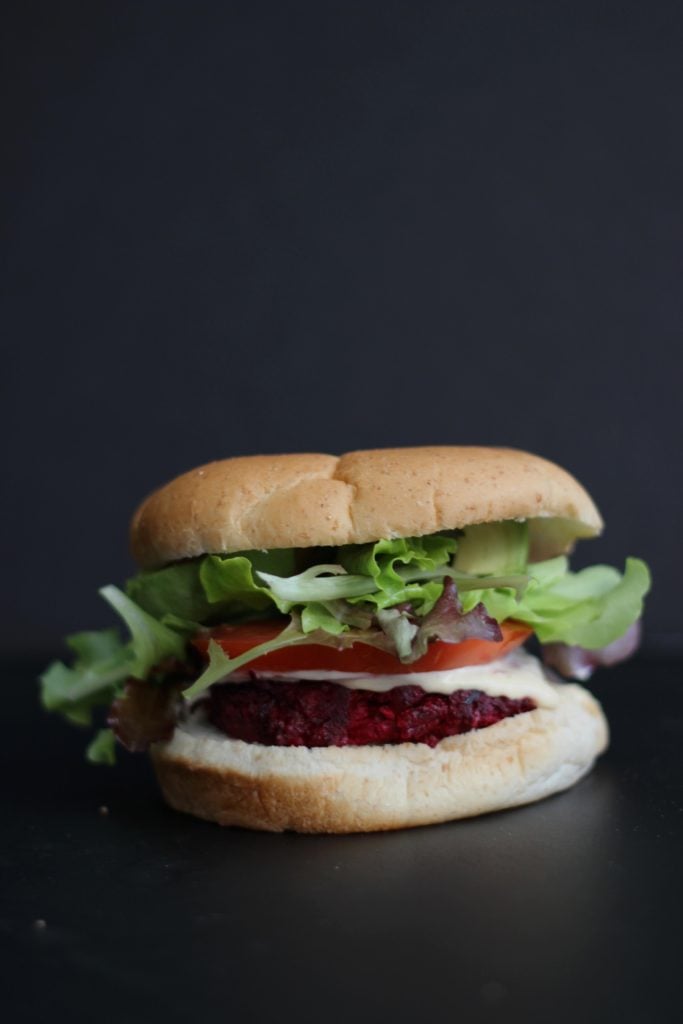 As a vegetarian, I have had my fair share of veggie burgers – both good and bad. They can be bland, dry, crumbly… but these burgers. Let me just tell you about these beet burgers. When I first came across a couple of recipes for beet burgers on different blogs I was skeptical. I'm a big fan of beets, but wasn't sure they were really suited for burgers. I gave it a try anyway and now I am a total convert!
I think beet burgers may be the only veggie burger I will ever make again! Seriously, they were really good. In this case I added a mashed sweet potato to help bind the shredded beets and other ingredients together. To top it off, Will made a delicious garlic sriracha aioli. Now, I'm usually very anti-mayonnaise/aioli, but lots of garlic and sriracha made me a fan of this version. The mayo recipe below makes a cup, so you'll have plenty leftover for other uses.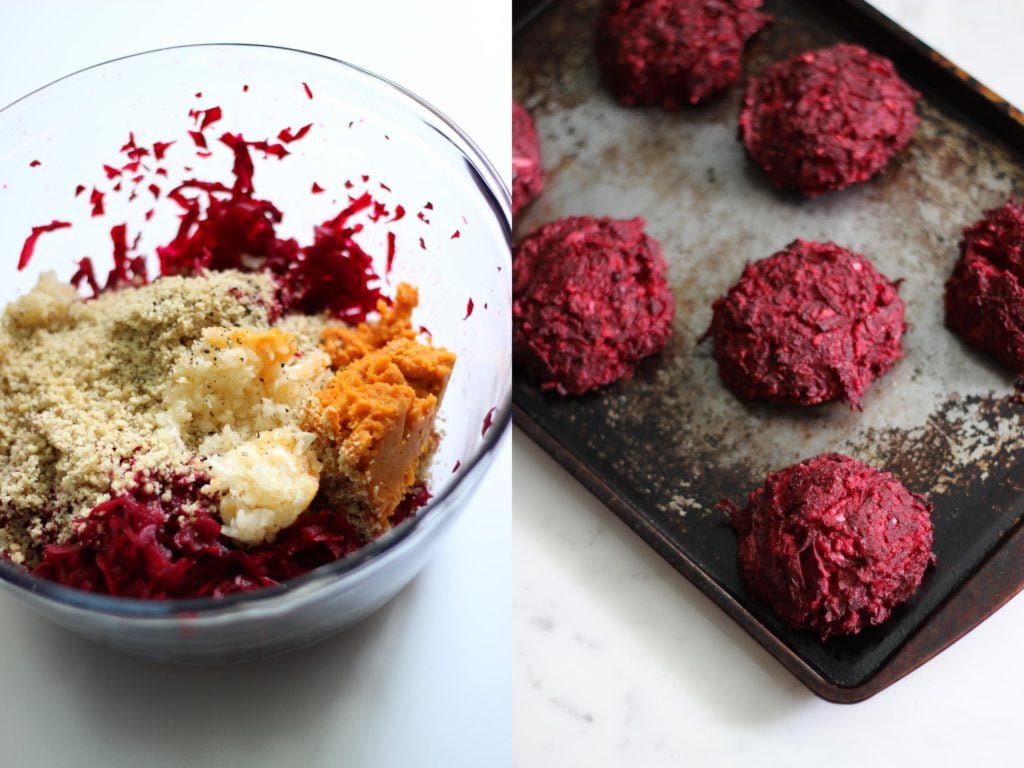 Are these vegetarian beet burgers healthy?
Not only is this burger delicious, but it is also packed with lots of nutrients!
Beets are loaded with healthy antioxidants. However, unlike other dark red/purple vegetables like cabbage which are high in the antioxidant called anthocyanin, beets (especially red beets) contain betalain. Betalain provides anti-inflammatory benefits and also supports that Phase 2 detoxification process that occurs in the liver.
Sweet potatoes are loaded with Vitamin A helps fight the development of free radicals. 
Ground walnuts add some protein to this burger which it would otherwise be lacking. Walnuts are a great source of many nutrients like vitamin E, Omega 3 fatty acids, magnesium, and phosphorus.
More Summer Recipes You'll Love
Did you love this recipe? Make sure to leave a ⭐️ rating and tag #dietitiandebbie on instagram!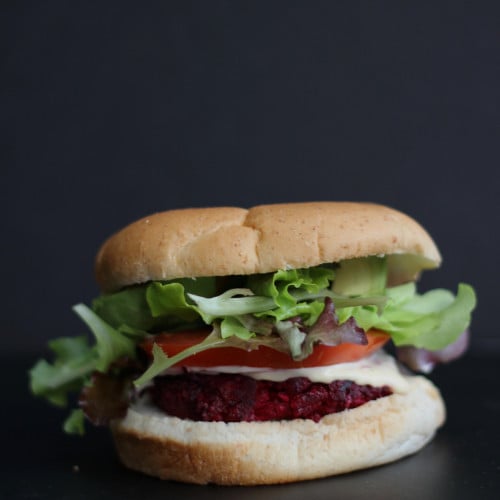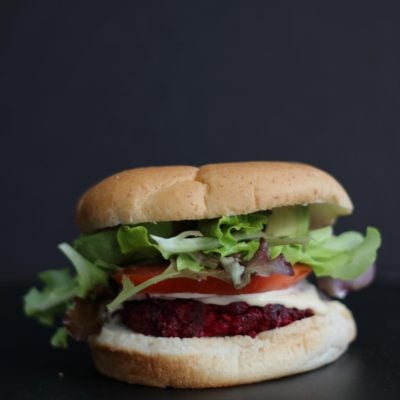 Beet Burgers with Garlic Sriracha Aioli
A nutrient packed veggie burger with a lot of flavor, you've got to make these vegetarian beet burgers with garlic sriracha aoli!
Ingredients
For the Burgers
1 lb raw beets about 3 small
1 cup walnuts
1 medium sweet potato
1 egg
1 teaspoon smoked paprika
1/2 teaspoon garlic powder
1 teaspoon apple cider vinegar
1 tablespoon Worcestershire sauce Choose a vegan one if you don't eat fish
1/4 cup minced onion
For the Aioli
1 egg yolk
1/2 cup canola oil + additional 1/4 cup if needed
1/2 cup olive oil
1 tablespoon rice wine vinegar
2 teaspoons sriracha
2 cloves garlic minced
Burger Assembly
6 hamburger buns, ketchup, mustard, pickles, lettuce, tomatoes
Instructions
To prepare the burgers:Preheat oven to 350 degrees Fahrenheit.

Poke the sweet potato with a fork and cook in the microwave until tender, about 5 minutes. Set aside.

Peel the beets and shred them with a box grater. Place shredded beets into a large mixing bowl.

Puree walnuts in a food processor until finely ground – about the texture of couscous.

Peel the skin off the sweet potato and mash in a small bowl with a fork. Toss into the mixing bowl with the beets.

Add egg, onion, paprika, garlic, vinegar, Worcestershire, and ground walnuts to the beets. Stir well.

Form into six 4-inch patties and place on a greased cookie sheet. Bake for 20-25 minutes or until the begin to darken in color.

To prepare the aioli: Pplace egg yolk into a food processor with a pour spout and run on high speed. Combine the canola and olive oil into a measuring glass and pour a slow, steady stream into the food processor while it is still running. (The slower you add to start, the better.)

Continue to add the oil until the mayo starts to thicken. If it isn't thickened to your liking after adding the initial cup of oil, add up to 1/4 cup more.

Now, add the vinegar, sriracha, and garlic to your aioli in the food processor. Puree for a couple of pulses and serve!

Assembly:Assemble burgers by placing a beet patty on top of one half of the bun and topping with 1 tablespoon of aioli, lettuce, tomato, avocado, etc.
Notes
For those vegetarians who don't include fish in their diet, make sure to find a vegan worcestershire sauce since the traditional version does contain fish. Nutrition information below is for 1 burger + 1 tablespoon aioli. 
Nutrition
Serving: 1burger | Calories: 315kcal | Carbohydrates: 15g | Protein: 5.5g | Fat: 27.5g | Saturated Fat: 3g | Polyunsaturated Fat: 24.5g | Cholesterol: 31mg | Sodium: 84mg | Fiber: 4g | Sugar: 6.5g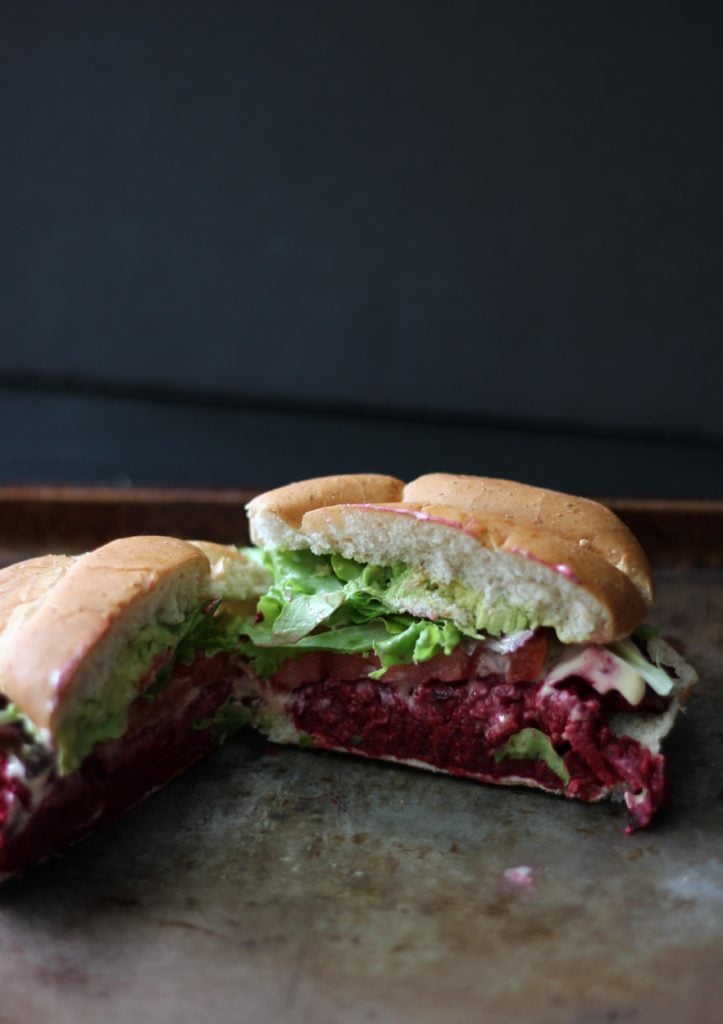 Reader Interactions