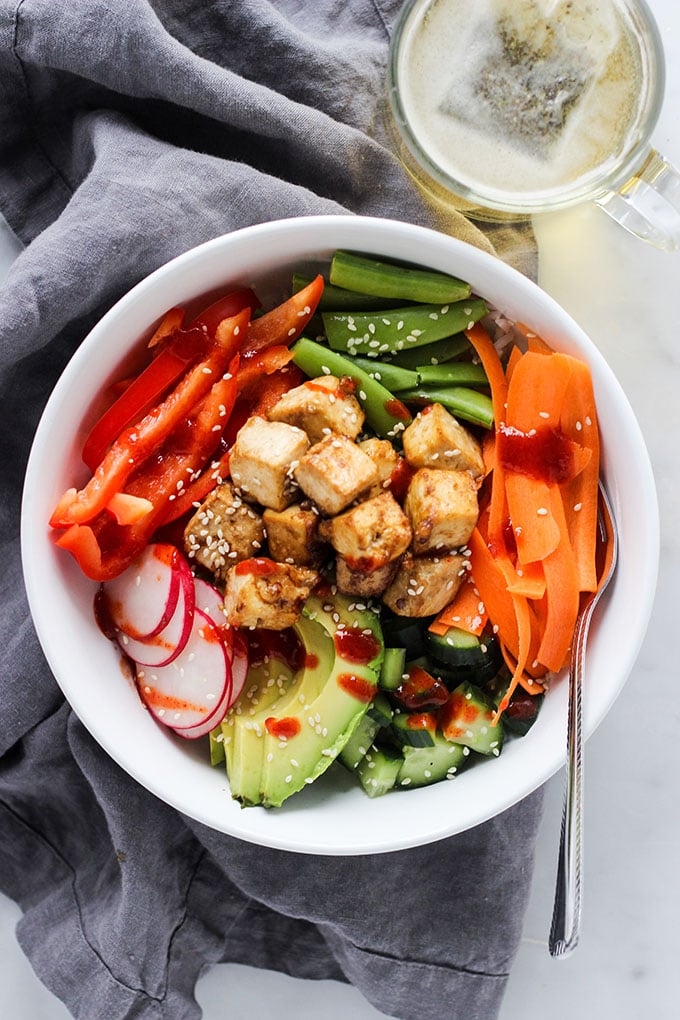 In case you saw this on Instagram, I wanted to share how I made this delicious deconstructed sushi bowl! Lately, I have been feeling bored with my usual go-to salad for work which typically includes beans, chopped veggies, and homemade ranch. To spice things up, I did a little more prep work on the weekend so that I would have cooked rice and crispy tofu on hand to pack this sushi bowl for work instead. It definitely brightened up my day!
Most of the ingredients you would normally find in sushi (except the seaweed!) are incorporated into this tasty bowl: white rice, veggies, tofu, soy sauce, and a drizzle of sriracha. (Although, Trader Joe's carries those wasabi seaweed snacks that would be great crumbled in this bowl!)
You'll also serve this bowl cold, so no need to wait in line for the microwave at work during the lunch hour. 😉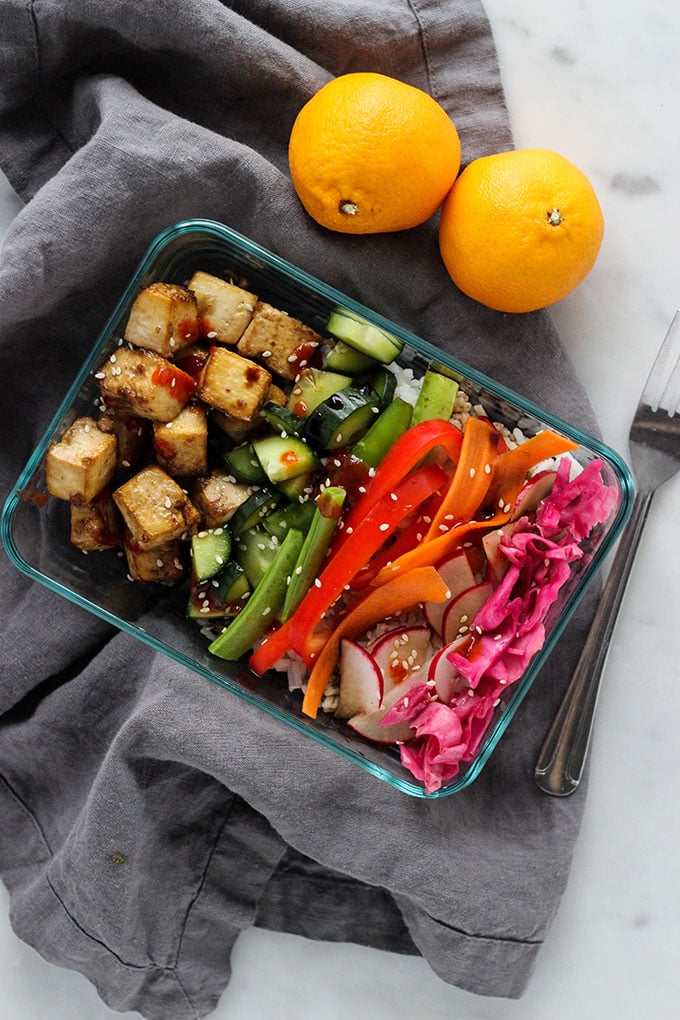 The photo above is what the bowl looks like when it is all packed up and ready for my lunch box. This weekend, set aside some time to prep the ingredients you'll need for this bowl and you might even look forward to eating your packed lunch!  
If you want even more incentive to pack your lunch, check out these 7 reasons why you should pack! If you are looking or some inspiration, check out my 10 healthy packed lunch ideas for work.
How to Make This Sushi Bowl
Tofu: The crispy tofu is a recipe from Cookie and Kate that I just love! I've made it on repeat and it always turns out great. Let your tofu cool for a while before assembling your tofu bowls unless you plan to eat it right away!
Rice: I found that these directions for cooking white rice on the stove from The Kitchn were really helpful. Allow the rice to cool before using it to assemble your bowls.
Veggies: Here's a rundown of what I veggies I used to make 4 servings of this bowl:

2 carrots, peeled and cut into ribbons
1 avocado, sliced
1 red bell pepper, cut into strips
6 inches of English cucumber, sliced and quartered
Large handful of sugar snap peas, ends trimmed
2 radishes, thinly sliced
1/2 cup chopped purple cabbage (we had some pickled purple cabbage that Will had made in the fridge so I used that, but fresh works too!)

Sauce: To keep your rice from getting soggy, I would wait to add the soy sauce and sriracha until the day you plan to eat the bowl. I just drizzled a bit over top before tucking it into my lunchbox.
Feel free to experiment with other vegetable combinations and sauces! What are your favorite things to pack for lunch at work? Do you meal prep on the weekends? 
More Delicious Tofu Recipes You'll Love