These vegan almond butter chocolate chip cookies are incredibly simple to make and only require 7-8 ingredients depending on which vegan egg substitute you plan to use.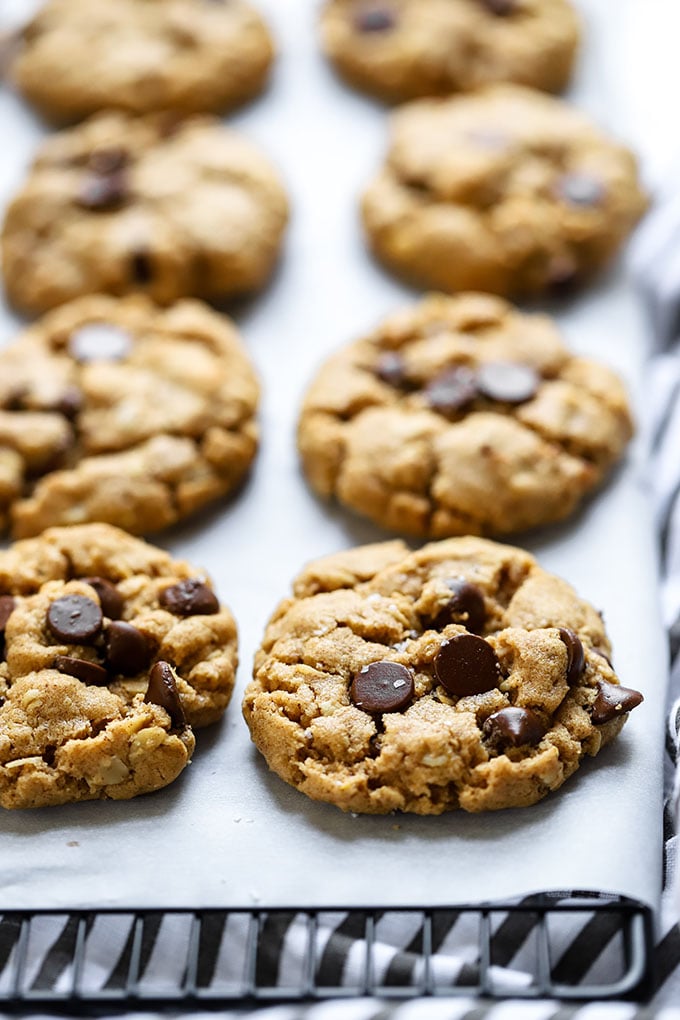 OMG. I'm so excited about holiday cookie season! I usually don't make cookies very often throughout the rest of the year, so I go a little crazy between Thanksgiving and Christmas. Anyone else? Last night, I shared a sneak peek at these cookies on my instagram since it was #nationalcookieday and couldn't wait to get home from work today so I could finish up this post and share the recipe!
These vegan almond butter chocolate chip cookies are incredibly simple to make and only require 7-8 ingredients depending on which vegan egg substitute you plan to use. Plus, they also happen to be gluten free if you use "certified gluten-free" oats.
The only reason I wouldn't make these cookies more often is that almond butter is a little pricey to use for a treat all the time, but so worth it on occasion. Pair one of these cookies with this spiked hot chocolate – so yummy!
Helpful Tips for Making These Cookies
Ok, before you run to the kitchen to make these cookies, here are a few helpful tips for baking these cookies to make sure they are delicious:
It's all about the almond butter! I found that "no-stir" almond butter works best for these since the ones that need stirred will make for an oily cookie. The brand I used was "MaraNatha". I've shopped around for a couple of different brands of almond butter and MaraNatha is by far my favorite. (Not sponsored!) I think it may be the creamiest one I've tried. Mmmm!
A word about the binding agent. I've made these with both a flax "egg" (ie. 1 tablespoon ground flax + 3 tablespoons water) as well as 1/4 cup applesauce. When using the flax egg, the dough will be a bit more crumbly but will easily press together into a ball when you scoop it out to place on the baking sheet. The applesauce dough holds together well, but note that it does spread out a bit as it bakes so you may want to bake your cookies with plenty of space between – at least 2 inches. (I have a 10″ x 15″ baking sheet and only fit 8 cookies vs. my normal 12 cookies.)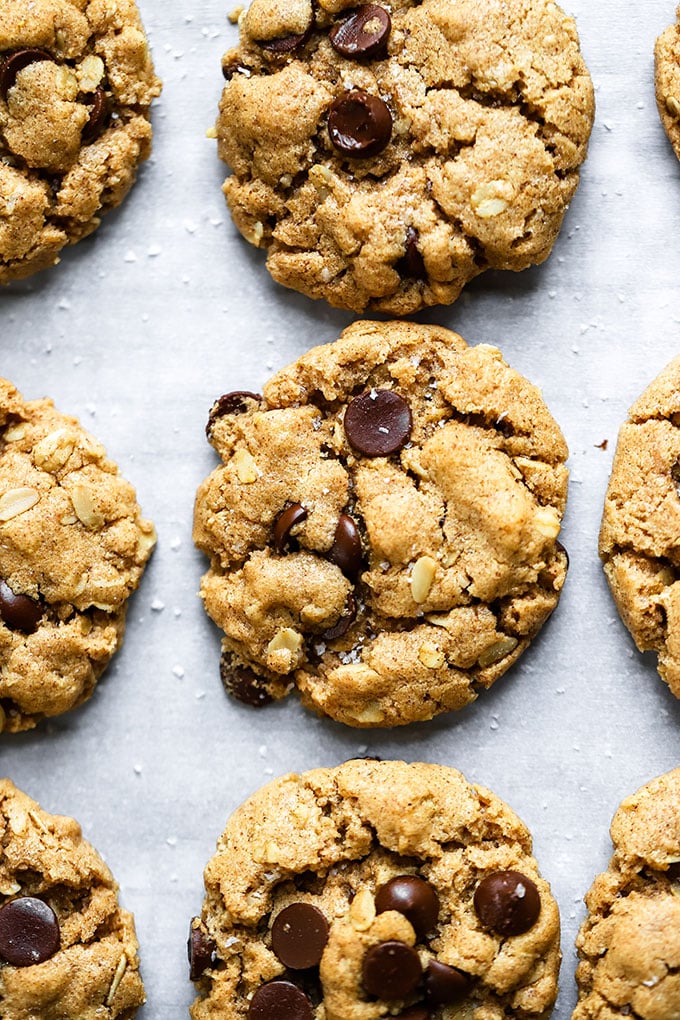 Recipe FAQs
Can I use an egg in this recipe?
Yes! If you aren't interested in keeping these vegan, you can totally just use an egg in place of the flax or applesauce! It works great too!
Do these cookies freeze well?
Yes! These do freeze well. 🙂 Just add to a plastic bag or airtight container to store in the freezer for up to 3 months.
Can you use peanut butter instead of the almond butter?
Yes, peanut butter works well as a substitute. If you are looking for another vegan peanut butter cookie recipe, check out these –> vegan peanut butter cookies!
More Delicious Recipes
Vegan Almond Butter Chocolate Chip Cookies
These vegan almond butter chocolate chip cookies only require 7-8 ingredients and couldn't be more simple to make! Perfect for any cookie exchanges this holiday.
Ingredients
1/4 cup unsweetened applesauce OR 1 tablespoon ground flax seed + 3 tablespoons warm water
1 cup creamy no-stir almond butter I used MaraNatha brand
1 cup granulated white sugar
1/2 cup regular rolled oats not instant
1 teaspoon baking soda
1/4 teaspoon salt
1/2 cup vegan chocolate chips I used Enjoy Life brand
Instructions
Preheat the oven to 350 degrees Fahrenheit.

Line a baking sheet with parchment paper.

If using applesauce, add it to a large mixing bowl with the almond butter and sugar. Beat well with an electric mixer until combined.

If using flax seed, add to mixing bowl and let sit for 5 minutes to thicken and then add the almond butter and sugar. Mix well with electric mixer.

Add the oats, baking soda, and salt. Mix again until incorporated.

Add chocolate chips. Run mixer for a second or two to mix chips into dough.

Use a teaspoon to scoop out dough and shape into a ball with your hands. (If using flax, the dough will look a little crumbly but should easily squeeze together into a ball .) Place on baking sheet. (Leave extra space between cookies if using applesauce.)

Bake for 10-12 minutes until golden brown.

Allow cookies to cool on baking sheet for ~5 minutes before transferring to cooling rack with a spatula to cool completely.
Nutrition
Serving: 1cookie | Calories: 83kcal | Carbohydrates: 17.5g | Protein: 3.3g | Fat: 9g | Saturated Fat: 5.5g | Polyunsaturated Fat: 3.5g | Sodium: 93mg | Fiber: 2g | Sugar: 13.5g
SaveSaveSaveSaveSaveSaveSaveSaveSaveSave
SaveSave
Reader Interactions