Rather than plain hummus and pita chips, step up your appetizer game and make these Mediterranean hummus nachos with garlic-y spinach, tzatziki, olives, feta, and more!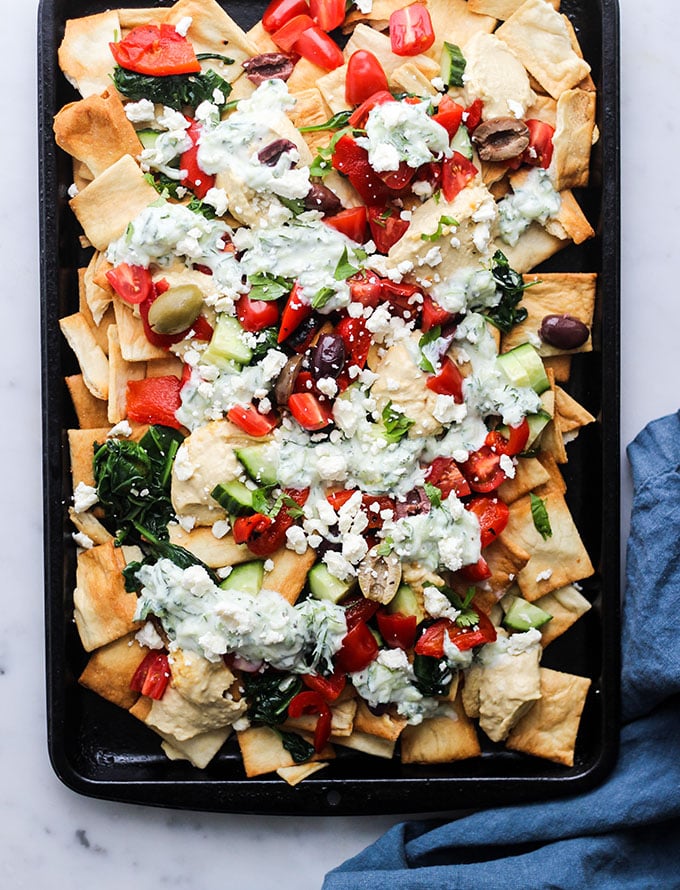 I had so much fun developing the vegan tempeh nachos I shared a couple of weeks ago, I decided to try my hand at a Mediterranean version just in time for National Hummus Day today (May 13th)! These Mediterranean nachos are a fun and tasty way to serve up hummus and pita chips for your next party or potluck (which is my go-to option!).
In addition to hummus, they are topped with a simple tzatziki sauce and lots of tasty veggies including sautéed spinach, tomatoes, cucumber, and jarred red peppers. When I tested out this recipe, Will and I had trouble not eating the whole pan between the two of us!
Ingredients You'll Need
Hummus: use your favorite store bought hummus so this is super easy to toss together.
Pita Chips: I like to use crispy pita chips, but you can also use fresh pita triangles if you wish.
Roasted Red Peppers: I like to use chopped roasted red peppers from the jar but you could also add chopped fresh red pepper.
Cucumber: English cucumbers are my favorite since they have a thin skin and less seeds.
Olives: pitted kalamata olives are my favorite for these hummus nachos.
Cherry Tomatoes: halve or quarter these before adding them to your nachos.
Feta: use a vegan feta if you want to make this vegan/dairy free.
Spinach: wilt the spinach in a pan with some garlic and olive oil for a delicious garlic-y addition to these nachos.
Tzatziki: optional, but I love adding a bit of this creamy sauce to these nachos! It's easy to make with a few ingredients like yogurt, dill, and cucumber. Make it vegan by using a dairy-free yogurt. I like Kite Hill's plain vegan Greek yogurt.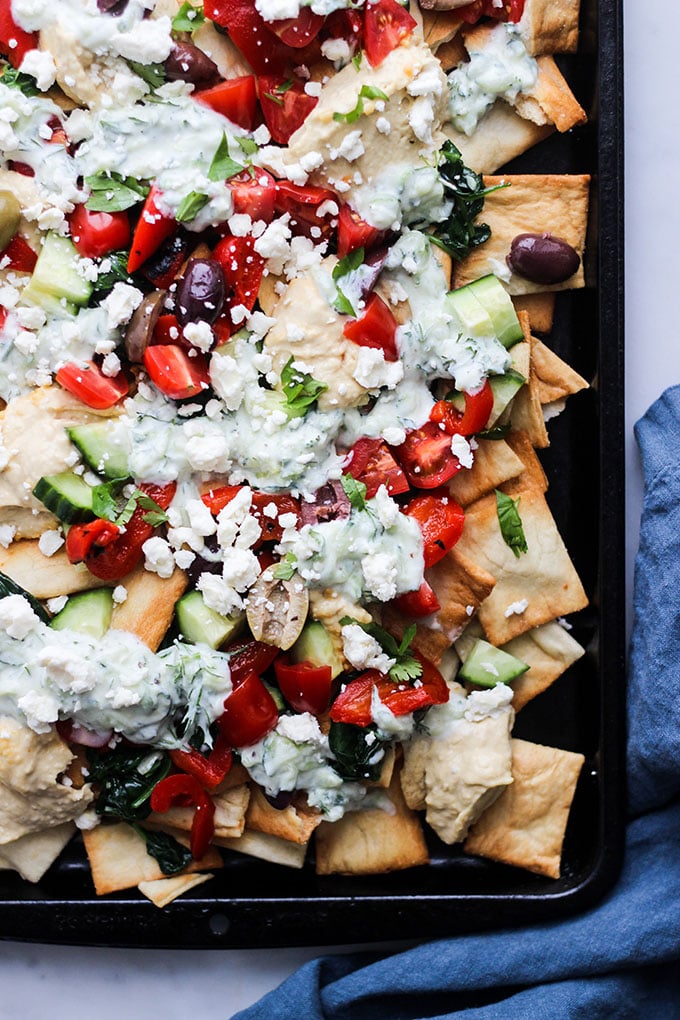 You'll often find hummus in my fridge since it is such a great source of plant-based protein that makes for easy, healthy snacking. Besides the hummus, the other toppings for these Mediterranean nachos are super adaptable for other veggies or toppings you may have on hand.
More Delicious Recipes You'll Love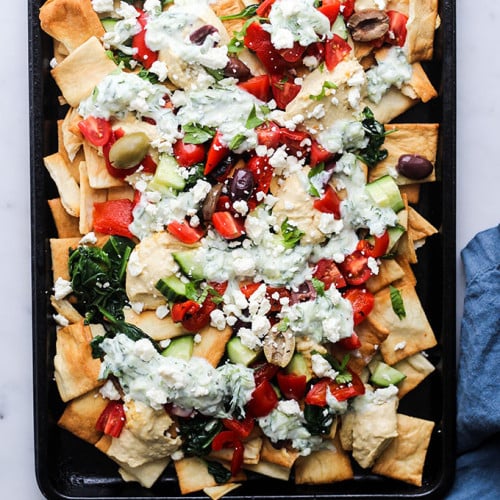 Mediterranean Hummus Nachos
Rather than plain hummus and pita chips, step up your appetizer game and make these Mediterranean nachos with garlic-y spinach, tzatziki, olives, feta, and more!
Ingredients
For the Garlic Spinach:
1 tablespoon olive oil
1 4 oz. container baby spinach
1 clove garlic minced
Dash of sea salt and ground black pepper
To Serve:
1 7 oz. bag plain pita chips
1 10 oz container hummus
1-2 jarred roasted red peppers chopped
10-12 cherry tomatoes quartered
1/2 English cucumber sliced and quartered
1 oz. crumbled feta cheese
8-10 pitted kalamata olives halved
Chopped parsley to garnish
Instructions
For the Tzatziki:
Add the shredded cucumber to a colander and sprinkle with salt. Toss to coat. Set aside for 5 minutes. Then, gently squeeze the cucumber to remove some of the excess liquid.

Transfer cucumber to a small bowl and stir in the garlic, yogurt, pepper, and lemon juice. Stir well to combine.
For the Garlic Spinach:
Add olive oil to a non-stick skillet and turn on medium-high heat. Let it heat up for 1 minute then add the spinach. Cook for 1-2 minutes until it starts to wilt, then add the garlic, salt, and pepper. Cook for another 1-2 minutes until spinach is completely wilted. Turn off heat and set aside.
For the Nachos:
Spread pita chips onto a large platter or baking pan. (I used a cookie sheet.) Top with spinach, tzatziki, hummus, red peppers, tomatoes, cucumber, feta, olives, and parsley.

Serve!
Notes
To make these vegan, leave off the feta and use a plain non-dairy yogurt in the tzatziki!
Nutrition
Serving: 1/8 recipe | Calories: 325kcal | Carbohydrates: 41g | Protein: 12.5g | Fat: 14g | Saturated Fat: 2.5g | Polyunsaturated Fat: 11.5g | Cholesterol: 6.5mg | Sodium: 525mg | Fiber: 7g | Sugar: 9g
Reader Interactions