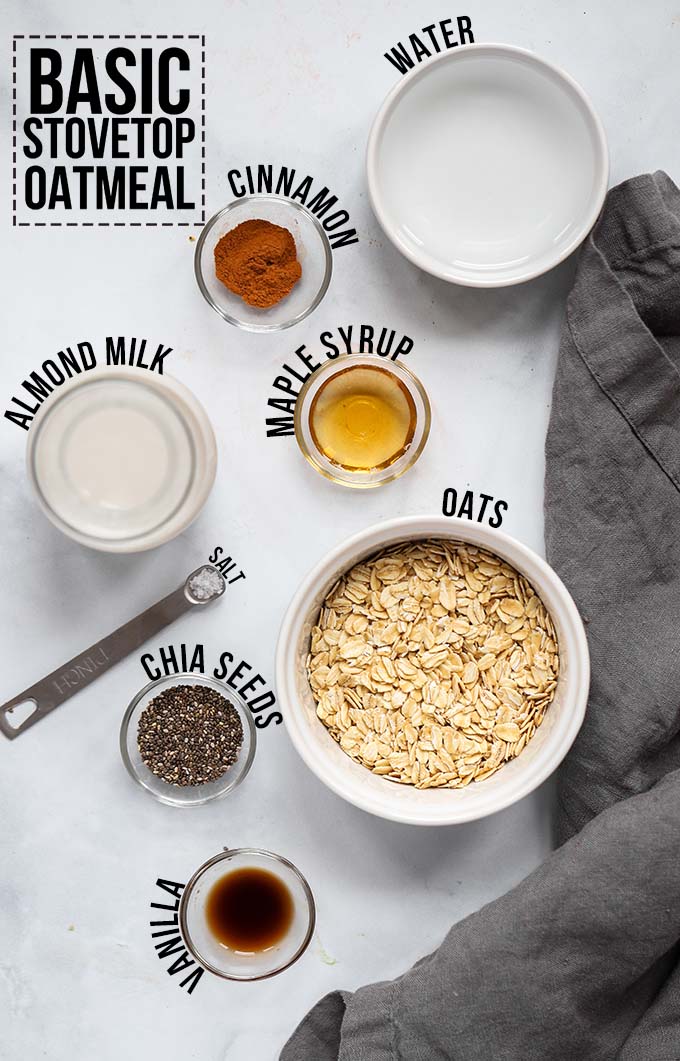 Hey friends! I thought it was about time that I wrote out a post with directions for my basic stovetop oatmeal recipe. I feel like every time I post a bowl of oats on instagram, so many people ask for the recipe but I have never written it down until now. (Usually I just eyeball the ingredients rather than measuring.)
How to Make Oatmeal on the Stovetop
I've never had a good experience cooking oats in the microwave because it has a tendency to boil over unless I closely watch it the entire time it is cooking. Plus, I feel like it doesn't take much longer to cook on the stovetop than the microwave anyways. All you need to do is add all of your oatmeal ingredients to a small saucepan. Over medium-high heat, bring your oats to a simmer and cook until they reach your desired consistency.
Is Oatmeal Healthy?
Yes! Oatmeal is a great source of fiber and plant-based protein. A 1/2 cup dry portion of oats (which is what you'll use in the recipe below) has only 150 calories, 4 grams of fiber, 5 grams of protein. The majority of the fiber in oats is soluble fiber which is particularly effective for helping lower bad (LDL) cholesterol. Oats are also a good source of thiamin, magnesium, and phosphorus.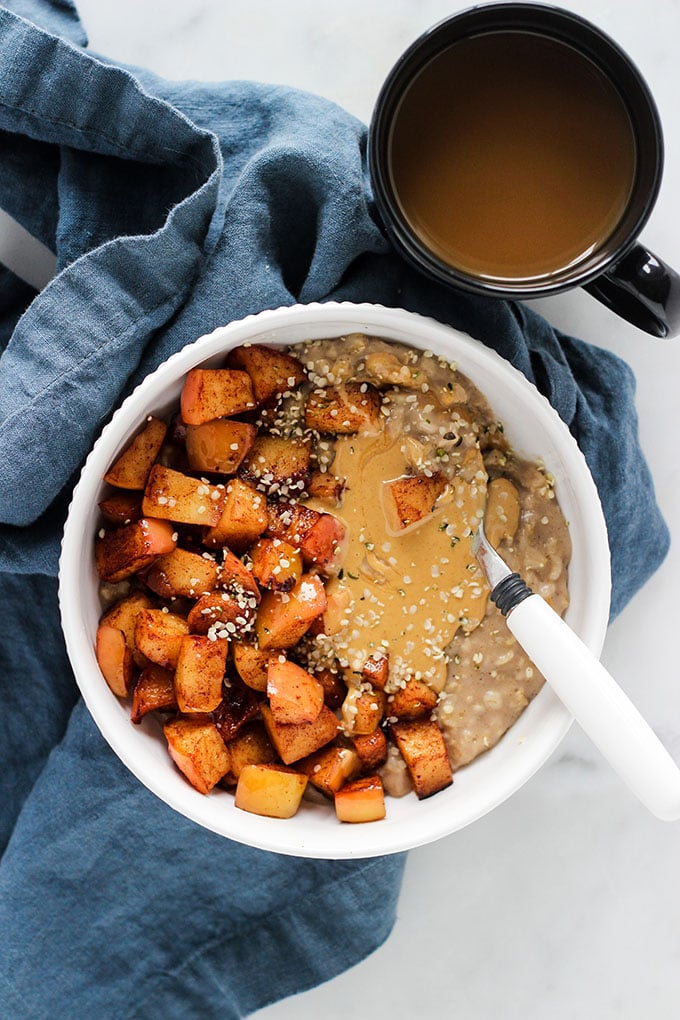 Which Kind of Oatmeal is the Healthiest?
When you go to the store to buy oatmeal there are several different varieties to choose from like instant oats, old fashioned rolled oats, steel cut oats, and whole oat groats. Which one should you choose? Honestly, they are all good for you! Oats in all their forms are whole grains which means they are a good source of fiber and plant-based protein. The more intact the oat, the longer it will take to cook (ie. instant oats cook much faster than steel cut oats). I prefer old fashioned rolled oats because I like the texture of rolled oats best and I usually don't have the time or patience to cook the steel cut oats.
How I make the sautéed cinnamon apples
I think the best way to take oatmeal from boring to delicious is by putting something full of flavor on top! One of my all time favorite oatmeal toppings are these sautéed apples. They are super simple to make and add a ton of flavor to your oats. I usually cook them in the same saucepan I plan to use for my oatmeal to save on dishes. All you do to make the sautéed cinnamon apples is either chop or thinly slice an apple and sauté it in a saucepan with some coconut oil, cinnamon, maple syrup, and a dash of salt. Why cook it in a saucepan? I feel like it helps maintain more of the moisture from the cooking apples in a small saucepan vs a skillet. That moisture helps form a thick sauce over the apples without the need to add any other liquid. You can also use this same method for pears too!
Looking for more oatmeal recipes? Check out these!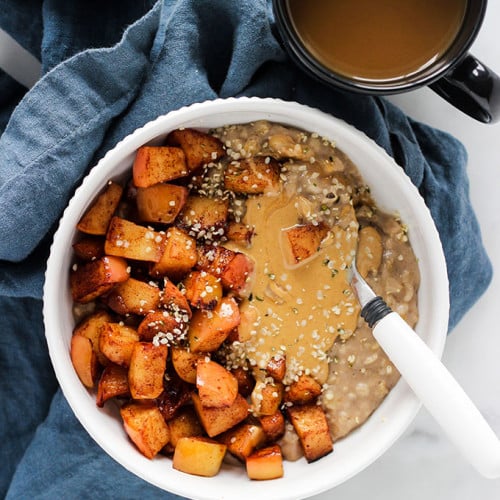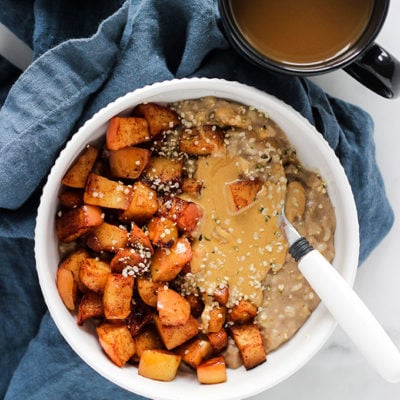 Basic Stovetop Oatmeal + Sautéed Cinnamon Apples
Learn how to make delicious oatmeal with this basic stovetop oatmeal recipe. My favorite way to top my oatmeal is with these simple sautéed cinnamon apples. Vegan
Ingredients
Sautéed Cinnamon Apples
1/2 tablespoon coconut oil
1 apple chopped or thinly sliced
1/2 teaspoon cinnamon
1 teaspoon maple syrup
Dash of salt
Instructions
Oatmeal Instructions: 
Add all ingredients to a small saucepan over medium-high heat. Bring to a simmer and cook, stirring frequently, until thickened to desired consistency. 
Sautéed Cinnamon Apple Directions: 
Melt coconut oil in a small saucepan over medium high heat. Stir in the chopped apples, cinnamon, maple syrup, and salt. 

Cook, stirring occasionally, until apples are tender and a thick sauce has formed. Serve over cooked oats, overnight oats, yogurt, waffles, etc!
Notes
Nutrition facts below are for the oatmeal only. 
Nutrition
Serving: 1recipe | Calories: 365kcal | Carbohydrates: 35g | Protein: 6g | Fat: 7g | Saturated Fat: 3.5g | Polyunsaturated Fat: 3.5g | Sodium: 159mg | Fiber: 4.5g | Sugar: 5g
Pssst! The sautéed cinnamon apple recipe also works great with pears too! Here is a bowl of oats with some sautéed cinnamon pears.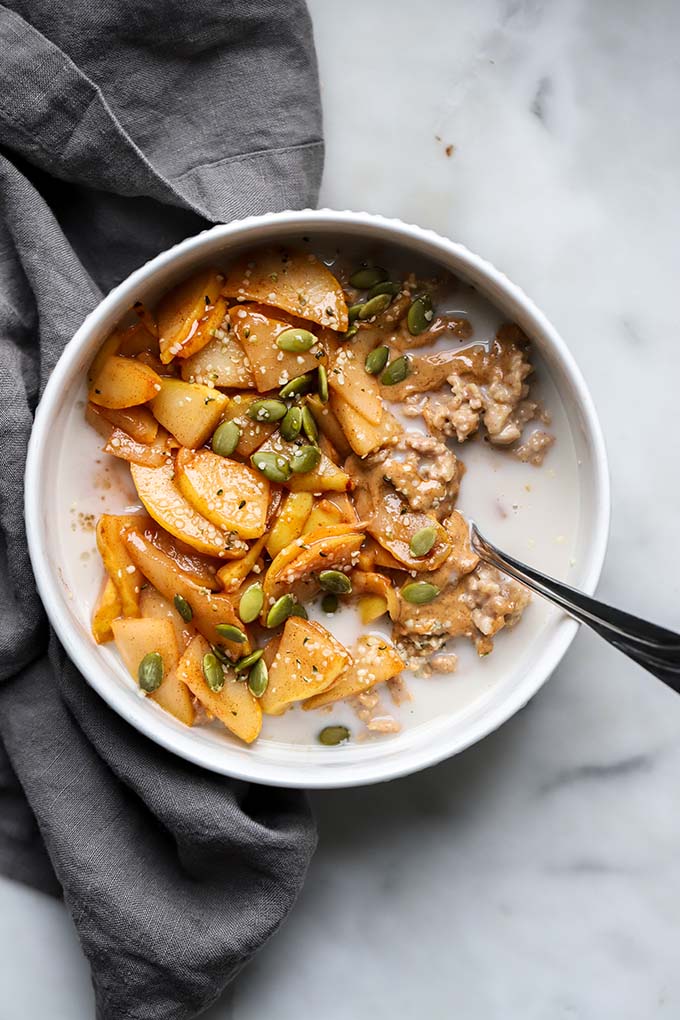 Reader Interactions