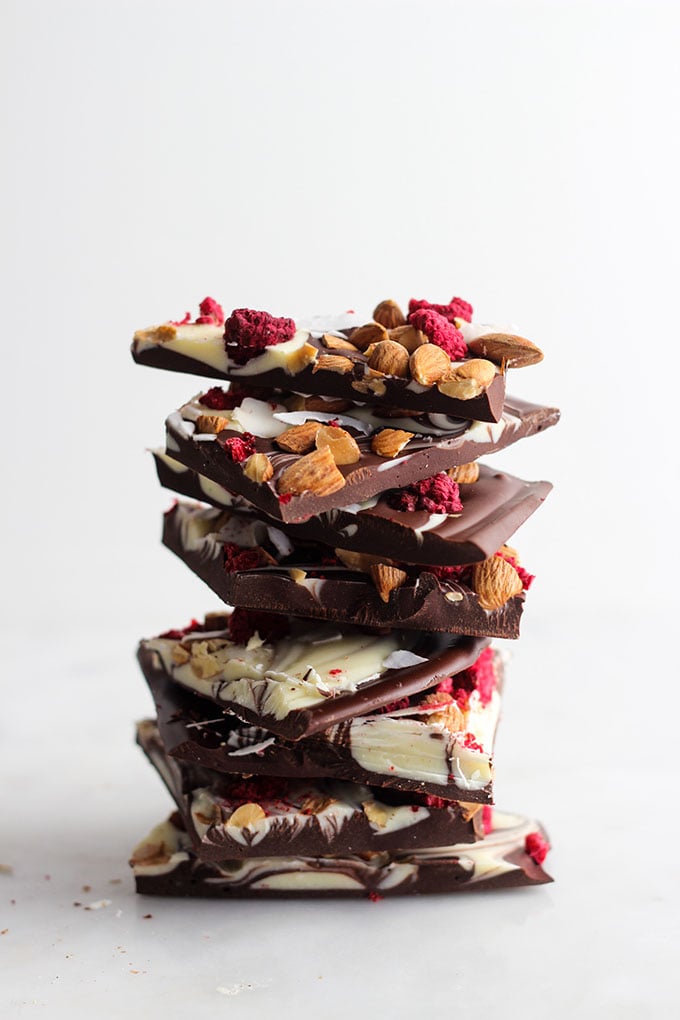 I created this bark around the holidays when I was trying to come up with a simple, homemade gift I could give to coworkers and friends. I made a more traditional chocolate mint bark and then this raspberry almond dark chocolate bark. Both were a huge hit! Since I hadn't shared it on the blog at Christmas-time, I thought this berry and almond bark would be fitting since who doesn't love chocolate and berries on Valentine's Day?
Will and I usually do the traditional overpriced dinner at a nice restaurant to celebrate Valentine's Day. Since we cook at home all the time, it makes eating out more special! Plus, with so many fabulous  restaurants to try here in Chicago, we can't pass up an opportunity to splurge on a nicer one for special occasions. 😉
More Recipes You'll Love
Raspberry Almond Dark Chocolate Bark
Whip up a batch of this raspberry almond dark chocolate bark for your honey this Valentine's day! (Because who doesn't love getting homemade chocolate?)
Ingredients
1 lb. dark chocolate
10 oz. bag white chocolate chips
1 cup chopped roasted almonds
1 cup freeze dried raspberries
1 cup coconut chips
1/8 th teaspoon sea salt
Instructions
Chop your dark chocolate into large pieces and transfer to a bowl.

Fill a medium saucepan with an inch of water and place bowl over top so that mouth of the pan is covered by the bowl. (You can also use a double boiler.) Over medium high heat, melt the dark chocolate.

Do the same for your white chocolate chips. (I did mine in the microwave since I only have one bowl/saucepan combo that works for melting chocolate.) If using the microwave, heat chips for 10 seconds at a time, stirring between each cooking session until melted.

Line a baking sheet with a piece of parchment paper. Spread dark chocolate in an even layer over the pan. Drop white chocolate onto the dark chocolate by large spoonfuls. Use a knife to swirl the two chocolates together.

Sprinkle the almonds, raspberries, coconut chips, and sea salt evenly over the chocolate.

Carefully transfer to the freezer for 30-45 minutes or until chocolate is firm. Break into large pieces to serve.
Nutrition
Serving: 1serving | Calories: 379kcal | Carbohydrates: 29g | Protein: 6g | Fat: 27g | Saturated Fat: 15g | Polyunsaturated Fat: 2g | Monounsaturated Fat: 9g | Trans Fat: 1g | Cholesterol: 5mg | Sodium: 25mg | Potassium: 383mg | Fiber: 6g | Sugar: 20g | Vitamin A: 20IU | Vitamin C: 2mg | Calcium: 89mg | Iron: 4mg
Reader Interactions