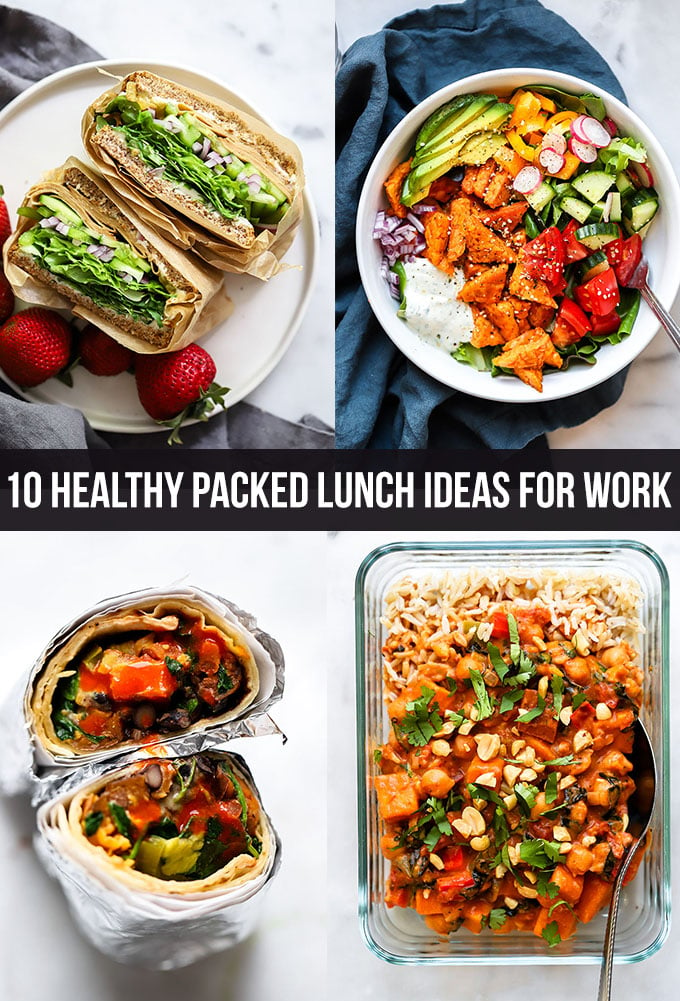 Although I am finished with school, knowing that fall is fast approaching makes me feel like getting my life/schedule organized. Juggling a full time job with this blog and volunteer activities often makes me feel a bit frazzled! Here's to setting some goals for the rest of the year and feeling less stressed. (Fingers crossed?!)
Maybe the fall has you feeling like getting back on track too? I love having a healthy lunch packed for work each day to keep me fueled for a productive afternoon. In case your desk lunch needs a little pizazz, I thought I would share my 10 healthy packed lunch ideas for work with you all!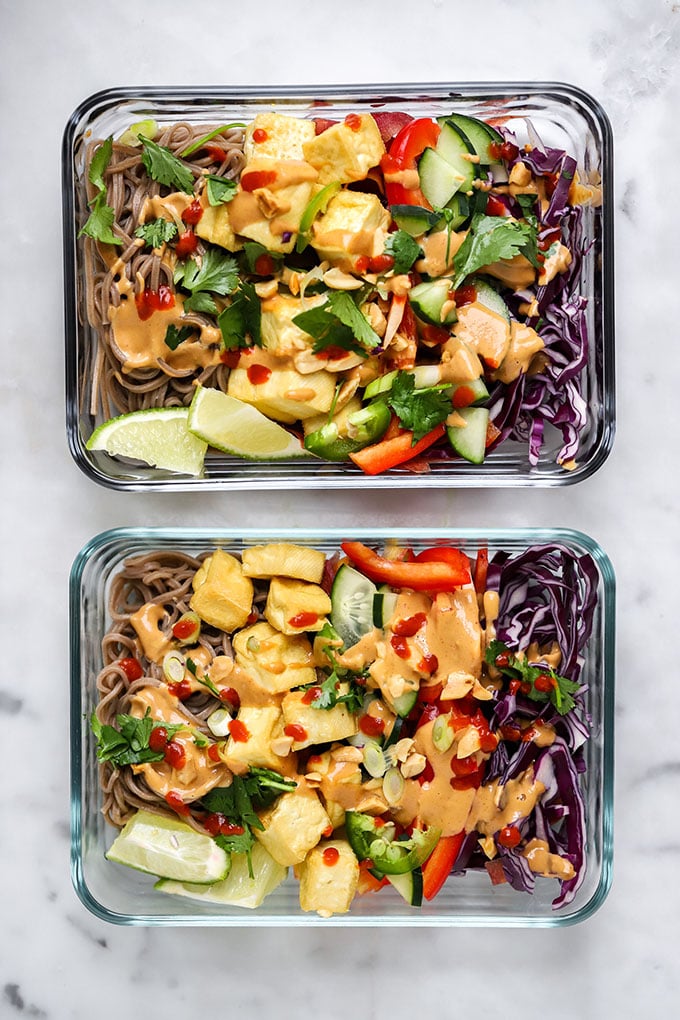 Soba Noodles with Peanut Sauce: You'll want to put the peanut sauce for this soba noodle recipe on everything, it's sooo good! I serve these up cold, kind of like a soba noodle salad. Feel free to add whatever veggies you have on hand to these, but I recommend colorful ones! I usually make this up on the weekend and divvy it up into serving dishes so I'm all set for the first part of the week.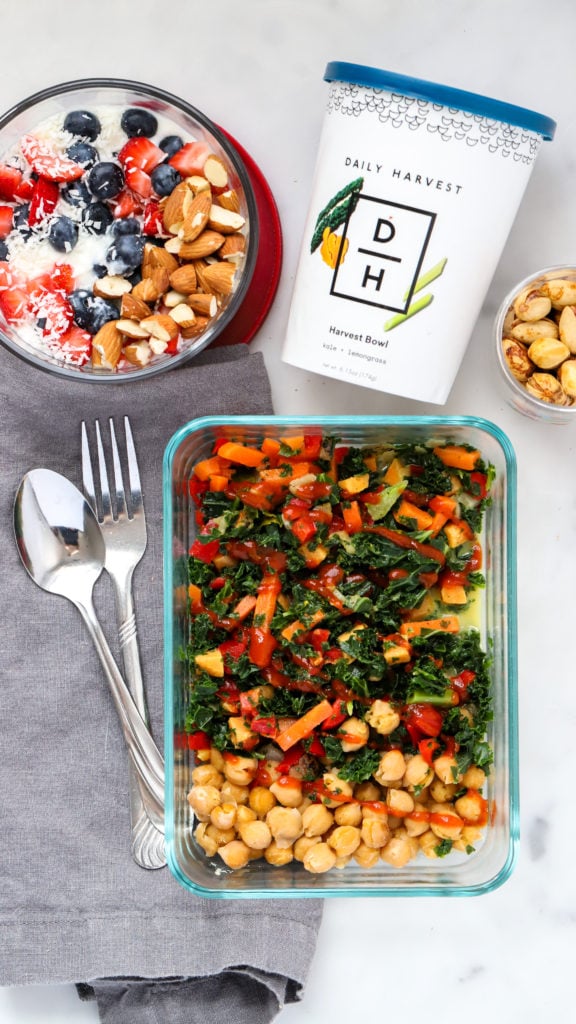 Daily Harvest Bowl (Affiliate Link): Whenever I am short on time or my fridge is looking too bare to create a lunch, I pack a Daily Harvest bowl! I love their simple, whole foods approach and so far everything I have tried from them is so tasty! Also, if you use code DEBBIE at checkout you can get $25 off your first order. 😉 They also have some yummy smoothie options as well as soups, lattes, and more. Keep a few cups stocked in your freezer and you'll have a quick, healthy meal option any time!
Taco Salad: More often than not, my lunch consists of a big salad. Taco salads are definitely my favorite and this is a good example of what I usually include: black beans, roasted sweet potatoes, and avocado are essential. I recently came up with the creamy cashew dressing on the one above and can't get enough of it!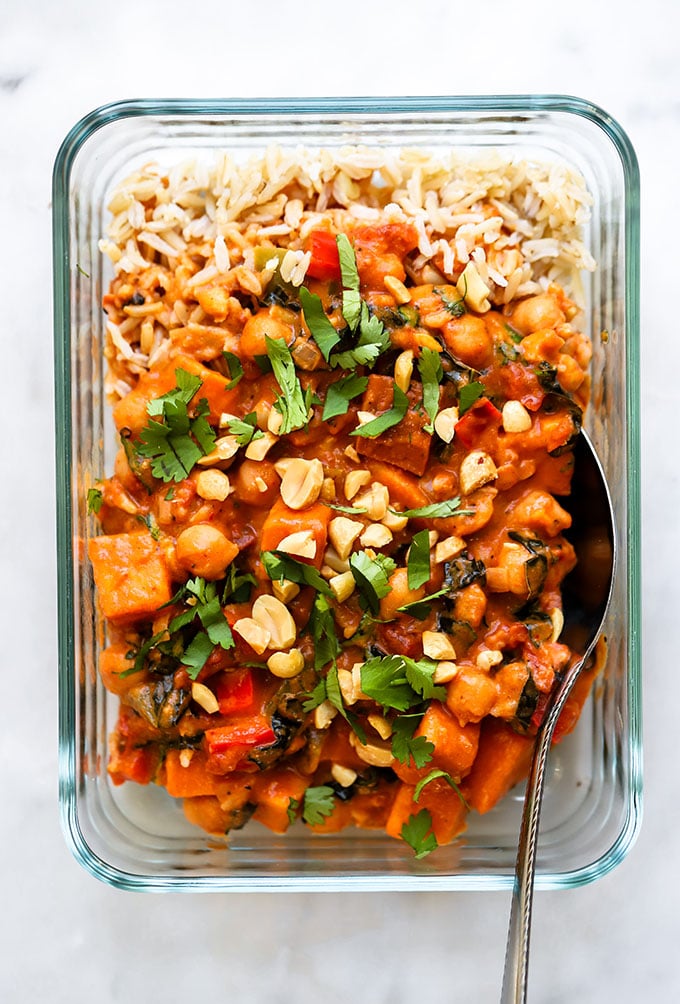 Vegan Peanut Curry with Chickpeas and Sweet Potato: I probably should have put this recipe first since it is one of my absolute favorite recipes from the blog! Like seriously, I would be content eating this at least 3 days a week for lunch all winter long. This recipe is so simple to make and sooo good! I think it tastes even better when packed as leftovers for lunch along with some brown rice.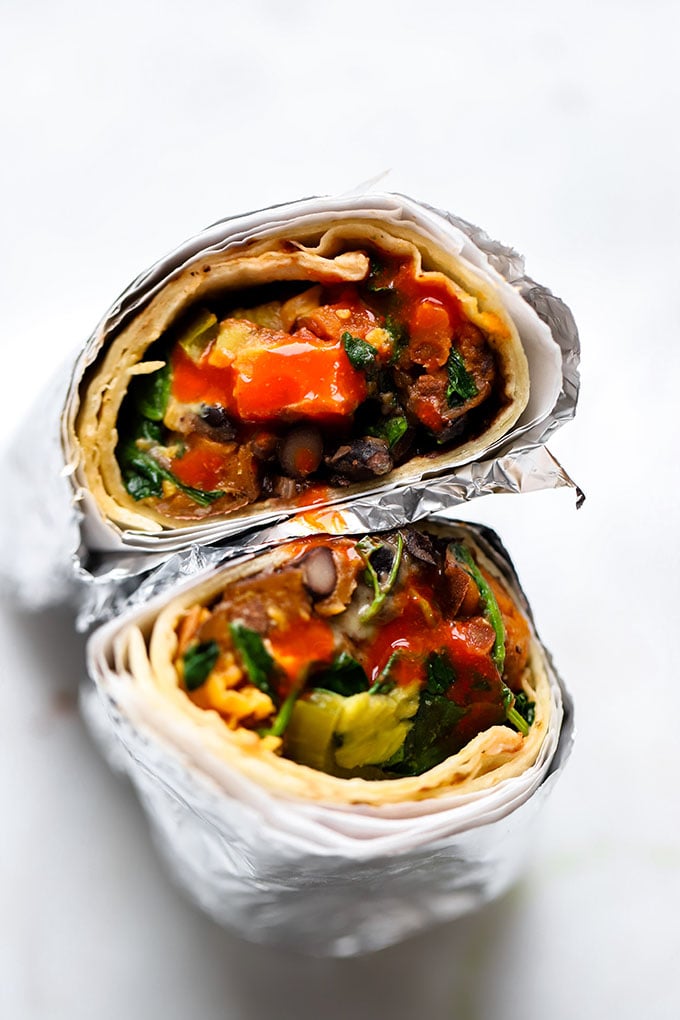 Vegetarian Black Bean Sweet Potato Burrito: You can't go wrong with a burrito! This one includes my favorite combo – black beans and sweet potato. You can obviously add and subtract toppings in this based on your preferences, but it sure is a tasty lunch. I make a batch of 4-5 on the weekend and wrap them up individually so that they stay together when I pack them in my lunch. It also makes them easier to freeze in case you won't finish them that week.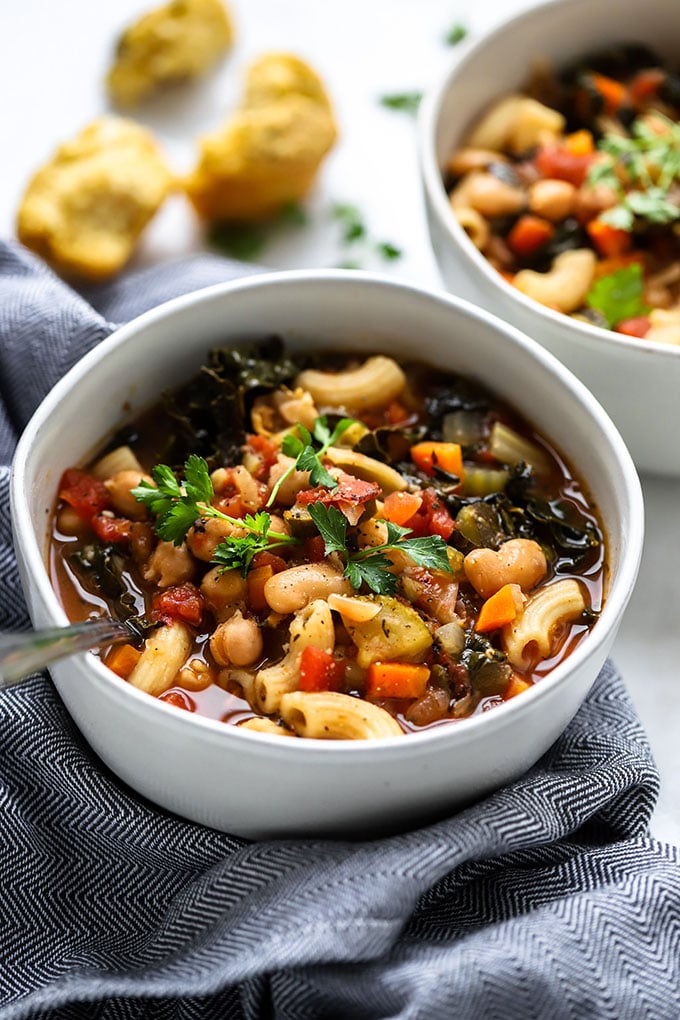 Crockpot Vegan Minestrone Soup: Colder weather will be here before we know it and soup is a great option for lunch at work. This crockpot vegan minestrone soup is the perfect way to warm up. This makes a bit pot of soup so you'll have more than enough for yourself and your partner for most of the week. Not a fan of minestrone? Check out my other soup recipes: vegetarian lasagna soup, thai tomato soup, vegan cheddar broccoli soup, and miso soba noodle soup.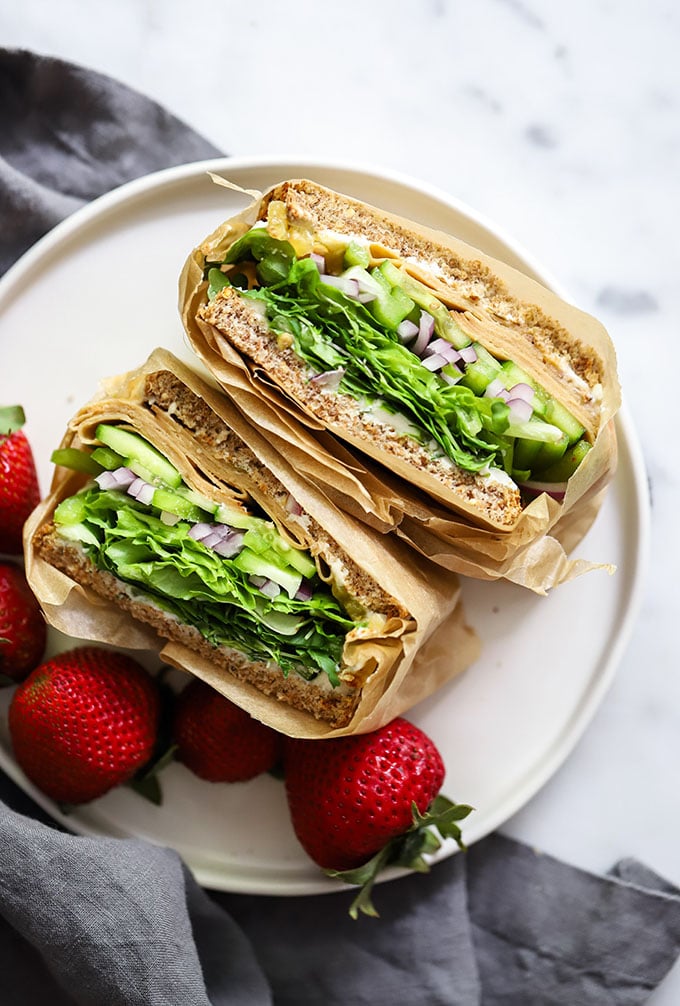 Veggie and Tofurky Sandwich/Wrap: You can't go wrong with a sandwich! For the longest time, I wasn't really packing sandwiches much since I was having trouble coming up with meatless fillings other than peanut butter or hummus. Then I fell in love the Tofurky deli slices! I love using those in a wrap or sandwich for an easy lunch option. I've also made a wrap with cooked tempeh and the peanut sauce from the soba noodle bowl above which I highly recommend. 😉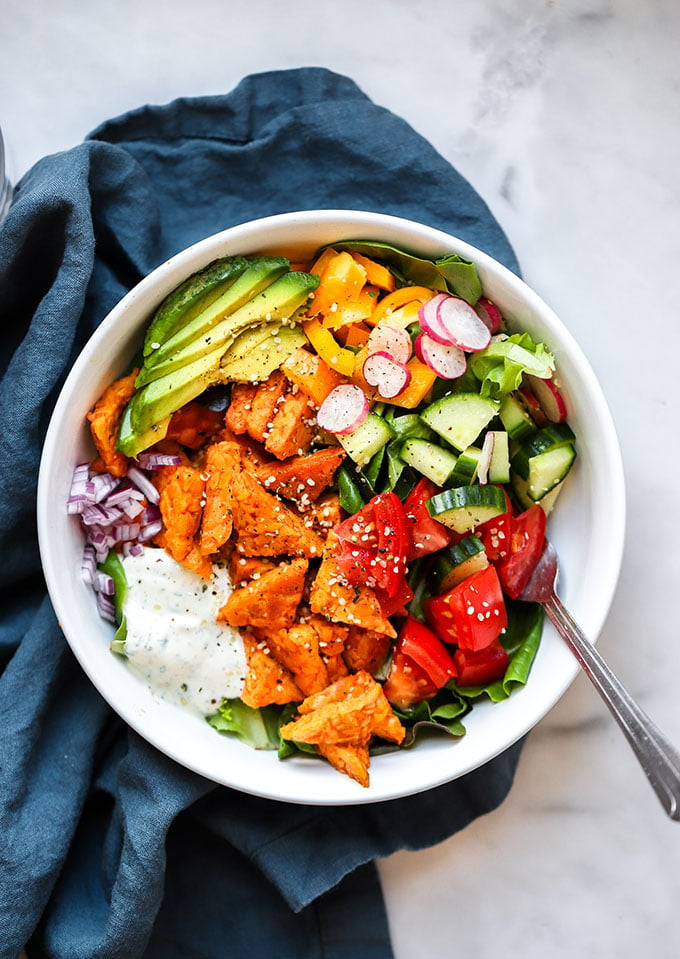 Buffalo Tempeh Salad: If you follow along with me on instagram, you may already know that salad is one of my go-to packed lunch options. I love that it is so easy to add variety and avoid boredom! I love buffalo sauce, but hadn't been using it much until I found out how well it pairs with tempeh. Just cook up a package of tempeh over the weekend and pack alongside of your favorite salad fixings.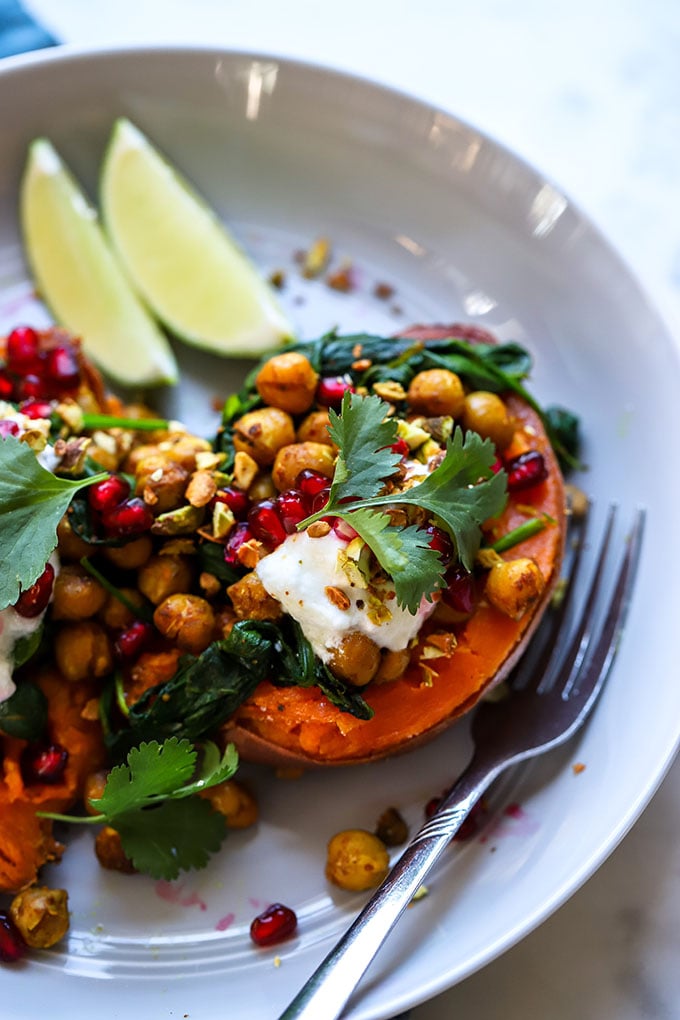 Curry Chickpea Stuffed Sweet Potatoes: I am just now realizing how many of these recipes include sweet potatoes, but I just love them! These curry chickpea stuffed sweet potatoes are so easy to make and can easily be meal prepped on the weekend so you are all ready to go with these over the week. I usually save this recipe for the fall/winter when pomegranates are back in season since they are perfect for this dish.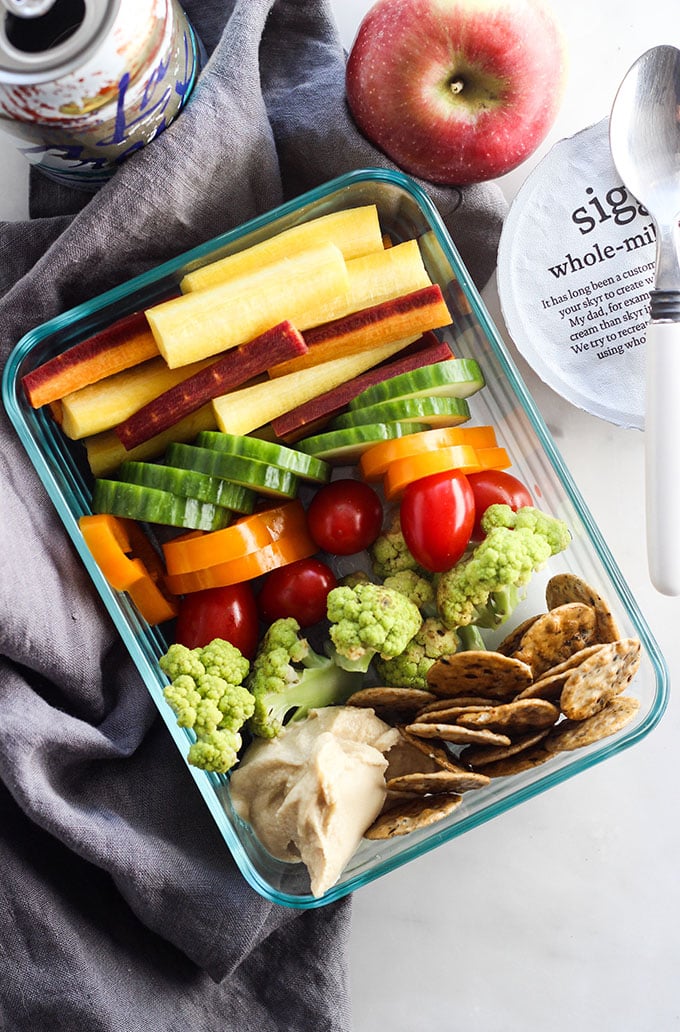 Hummus and Veggies: Sometimes I don't feel like putting together a salad so I'll pack some cut up veggies and hummus. Honestly, it's kind of fun to have a lunch made up of finger foods! It's basically the homemade, grown-up version of a lunchable. (Did you have those as a kid? Our family never bought them, but I was always jealous of these kids who did have them!)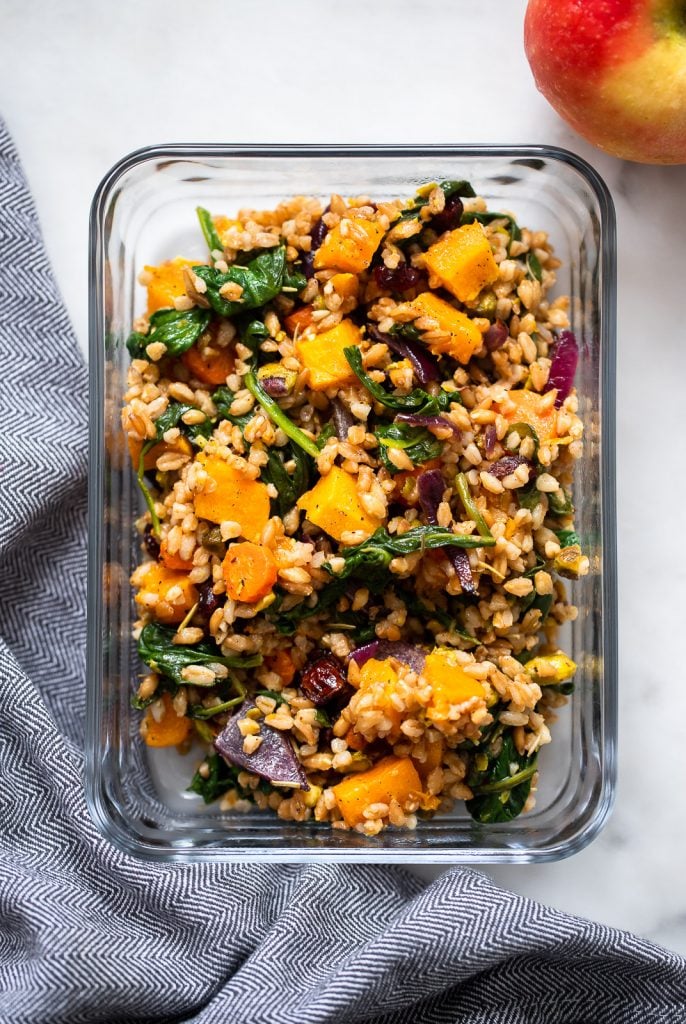 Warm Farro Salad with Roasted Vegetables: I am a huge fan of grain based salads like this warm farro salad with roasted vegetables. You can serve either warm or cold. It's great for meal prep since it keeps well in the fridge and tastes even better the day after it is made! Pack in your lunch and eat it either warm or cold – it's delicious either way.
What are your favorite healthy packed lunch ideas for work?