Nothing is more iconic of summer than 4th of July fireworks and popsicles. Are you headed to any 4th of July picnics this weekend? Are you looking for an easy recipe for something to bring with you? Well, look no farther! Everyone loves popsicles – especially homemade ones that include a few of my favorite things – ie. peanut butter and chocolate! In addition to being ridiculously easy to make, these peanut butter banana popsicles are super delicious, vegan, and require <10 ingredients.
I'll be snacking on the batch of these popsicles that I made all weekend. However, if you are looking for even more popsicle inspiration, check out my Pinterest board for dozens more!
Follow Dietitian Debbie Dishes's board Popsicles! on Pinterest.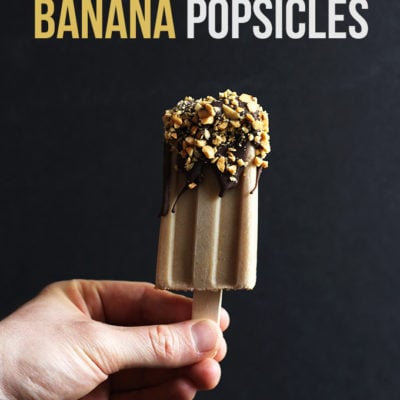 Peanut Butter Banana Popsicles
These vegan peanut butter banana popsicles are sure to please young and old alike! Nothing says summer like a delicious popsicle.
Ingredients
2 cups almond milk
3 ripe bananas
1/3 cup all natural creamy peanut butter
1 cup vegan chocolate chips
1 tablespoon coconut oil
1/2 cup chopped salted peanuts
Instructions
Add the almond milk, bananas, and peanut butter to a blender and puree until smooth. Pour mixture into popsicle mold and freeze.

When ready to make the popsicles, spread a single piece of parchment paper over top of 2 baking sheets.

Once popsicles are frozen solid, melt the chocolate chips in a small bowl in the microwave, stirring every 30 seconds. Stir the coconut oil into the chocolate chips.

Working quickly, remove one popsicle and spoon or drizzle with melted chocolate over the top 2 inches of the popsicle. Sprinkle with chopped peanuts and set on parchment paper.

Use the same technique on all of the popsicles and then place back in the freezer until the chocolate hardens. Serve!
Nutrition
Serving: 1Popsicle | Calories: 197kcal | Carbohydrates: 23g | Protein: 5.5g | Fat: 9g | Saturated Fat: 3.5g | Polyunsaturated Fat: 5.5g | Sodium: 47mg | Fiber: 1.6g | Sugar: 16g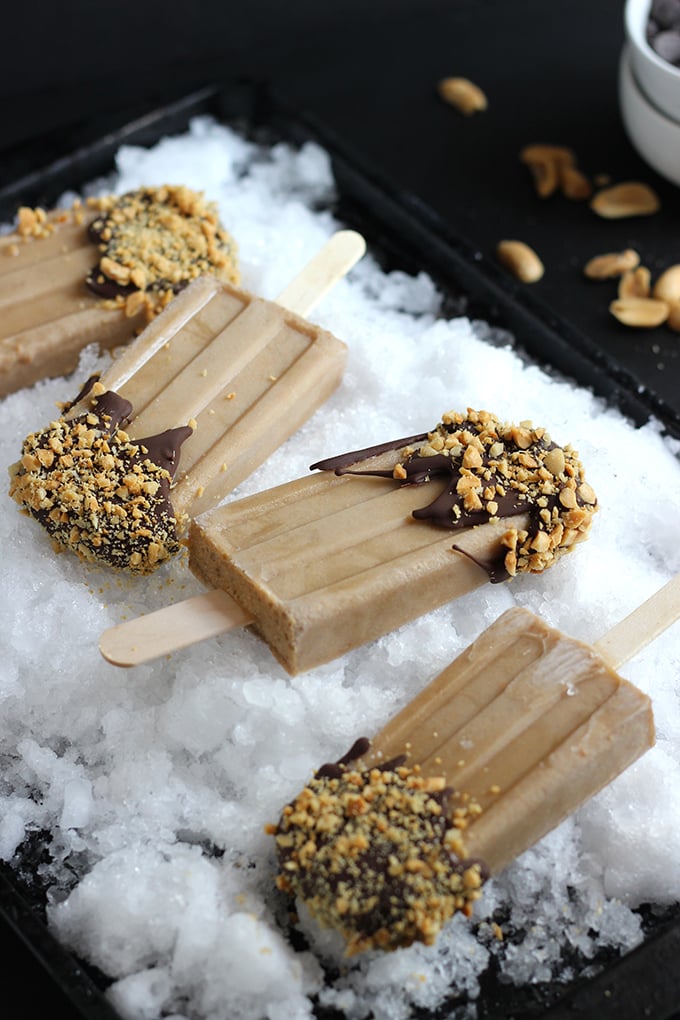 Reader Interactions