Whip up this vegan teriyaki tofu bowl for a delicious take-out meal that you can make at home! White rice is piled high with colorful vegetables and then topped with teriyaki glazed tofu.
I think one of the perks of being in a relationship with another dietitian is that it's perfectly normal to spend your meals out trying to figure out the ingredients in a dish. Last weekend, I was feeling especially hungry after a hard Saturday morning workout (so many burpees!) that I decided to get one of the teriyaki bowls from Whole Foods rather than my typical salad bar picks.
That bowl was so good, I had pulled out my phone to figure out how to recreate a homemade teriyaki sauce at home. Totally normal behavior for a foodie and dietitian! We are always looking for ways to recreate dishes we have had at some of the great restaurants we have here in Chicago!
Luckily it also works out well for gathering inspiration for this little blog of mine.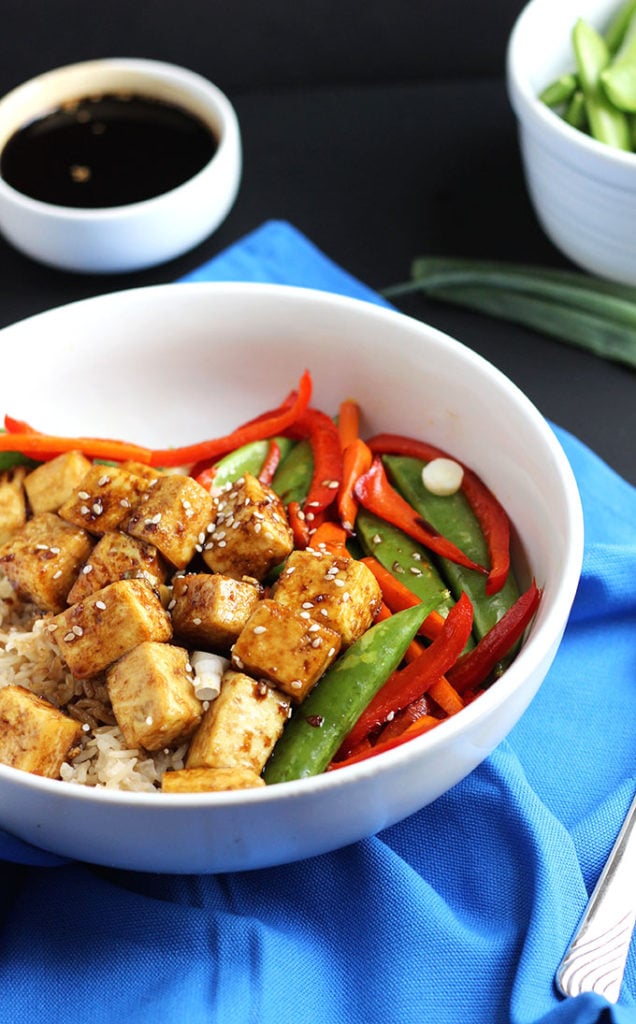 With just a couple ingredients you can make your own homemade teriyaki sauce for this colorful and filling bowl. To make the prep easier for a weeknight meal, I would make the sauce and brown rice beforehand so you only have to cook up some veggies and the tofu.
I used red peppers, carrots, and snow peas for my bowl, but this dish is completely adaptable to whatever vegetables you may have on hand. Some of my suggestions include: purple cabbage, peas, mushrooms, broccoli, or zucchini.
I know I can't wait to make different variations on this same bowl throughout the summer using other vegetable combinations. 
More Tofu Recipes You'll Love
Did you love this recipe? Make sure to leave a ⭐️ rating and tag #dietitiandebbie on instagram!
Vegan Teriyaki Tofu Bowl
Whip up this vegan teriyaki tofu bowl for a delicious take-out meal that you can make at home!
Ingredients
For the Sauce
1/2 cup reduced sodium soy sauce
1 tablespoon brown sugar
1 tablespoon sweet rice wine
2 cloves garlic minced
1 inch piece fresh ginger root peeled and grated
1 tablespoon water
2 teaspoons cornstarch
For the Bowl
1 cup uncooked rice
3 cups vegetable broth
1 red bell pepper sliced in strips
1 carrot peeled and chopped in matchsticks
1 cup fresh snow peas
sliced green onion and sesame seeds
Instructions
Preheat the oven to 350 degrees Fahrenheit.

Drain tofu and wrap in a towel. Place on a plate and then press by placing a heavy object on top. Let sit of about 20-30 minutes.

Start the brown rice by combining the rice and broth in a medium saucepan. Bring to a simmer and cover. Continue to simmer until all the broth has been absorbed and the rice is tender – about 20-25 min.

While the tofu is pressing, make the teriyaki sauce by combining the soy sauce, brown sugar, rice wine, garlic, and ginger in a small saucepan. Begin to warm over low heat, stirring occasionally.

Mix the cold water and cornstarch to make a slurry and then add to the sauce in the pan. Stir and cook over low heat until it begins to thicken, about the same consistency as maple syrup. Turn off the heat and set aside.

Cut the pressed tofu into one inch pieces and place in a large bowl. Drizzle with the olive oil and toss gently to coat. Sprinkle with the cornstarch and again toss to coat.

Spread the tofu in a single layer on a baking sheet lined with parchment paper. Bake for ~30-40 minutes or until lightly browned. Set aside.

In a nonstick skillet, add about 1 tablespoon of oil and the pepper and carrots. Stir fry over medium-high heat until softened and the edges of the pepper begin to blacken – about 7-9 minutes. Add the snow peas and cook another minute. Turn off the heat and set aside.

To assemble to bowls, divide the rice between serving dishes and top with equal parts of the vegetables and tofu. Pour sauce over the bowls, adding as little or as much as you'd like. (I had some sauce leftover for later!) Sprinkle with sesame seeds and chopped green onions.
Notes
Nutrition facts are just an estimate.
Decrease the sodium by using low sodium soy sauce and vegetable broth.
Nutrition
Serving: 1/3 recipe | Calories: 466kcal | Carbohydrates: 67g | Protein: 16g | Fat: 15g | Saturated Fat: 2g | Sodium: 550mg | Fiber: 4g | Sugar: 10g
Reader Interactions