Before I get to this simple tofu vegetable stir fry recipe, I have 2 things. One, I turned 30(!) on Saturday! Eek! Will and I celebrated by enjoying the 6-course vegetarian tasting menu at Lula Cafe which was so delicious. Second, have you listened to S-Town yet? Please say yes! I binged on the entire season over the last couple of days. I mean what's not to love about a murder mystery set in the deep south whose main character is a quirky clock-restorer named John B.?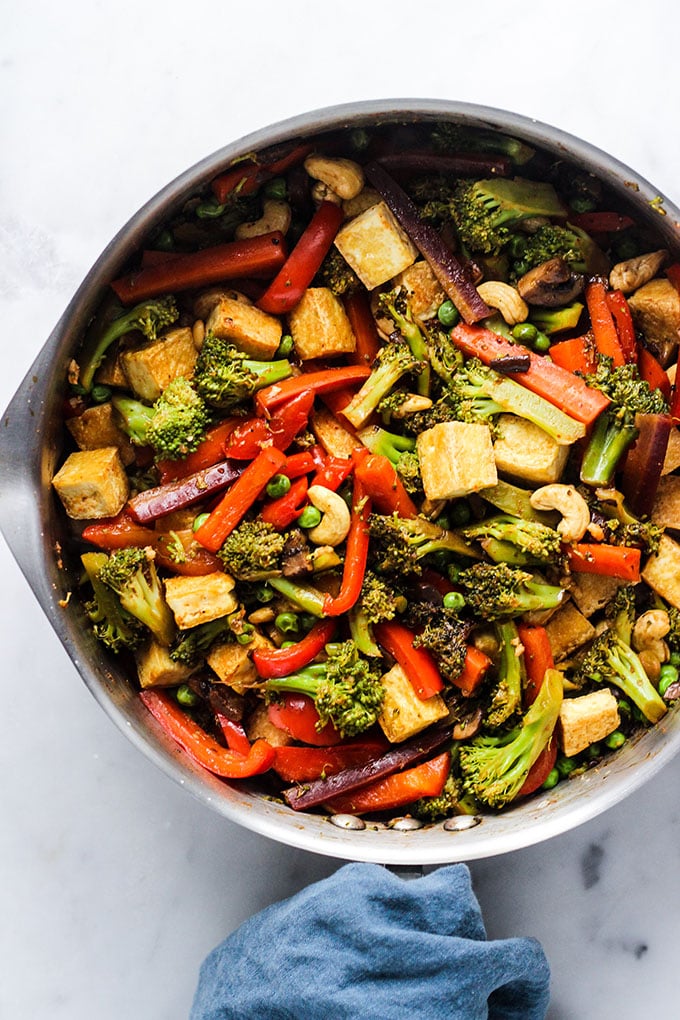 Ok, now back to this stir fry! I've made it a couple of times already and have a feeling it may become a regular in our weeknight meal rotation. I cook the tofu in a separate pan before adding it to the rest of the stir fry in the last couple of minutes of cooking so that it stays nice and crispy. Although the mix of veggies included here is my favorite, you can definitely sub in other veggies you may have on hand. Finally, don't leave out the cashews! They add a lovely crunch to this dish that you don't want to miss.
Also – a quick tip about storing your fresh ginger root. We used to keep it on the counter but kept getting frustrated when it would shrivel up before we could use it. Instead, store it in the freezer! It's also so much easier to grate into dishes like this one when it is frozen too.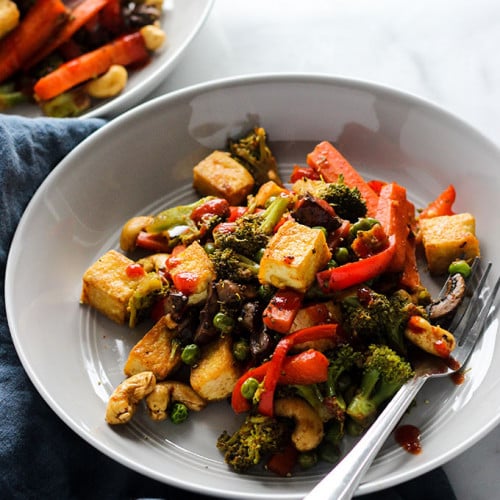 Vegan Tofu Vegetable Stir Fry
Add this vegan tofu vegetable stir fry to your weeknight dinner rotation – it's that simple! I whip it up in two pans, one for the tofu and the other for the veggies for even faster prep.
Ingredients
16 ounce package extra firm tofu drained
2 tablespoons canola oil divided
1/2 tablespoon sesame oil
2 small heads broccoli ~ 18 oz., chopped
1 red bell pepper cut into strips
3 carrots peeled, cut into strips
4 ounces cremini mushrooms chopped
2 tablespoons water
3 tablespoons reduced sodium soy sauce
2 tablespoons sriracha
2 cloves garlic minced
1/2 inch fresh ginger peeled and grated
1 cup frozen peas
1/2 cup cashews
To Serve: brown rice sriracha sauce
Instructions
Cut the tofu in half long ways, wrap in paper towels and press under a heavy object for 15 minutes. Cut into 1″ cubes.

Heat 1 tablespoon of the oil in a non-stick skillet and add the tofu. Let tofu cook for 3 minutes on one side until golden brown. Gently turn onto the next side and repeat until most every side is golden brown. (I usually do 4 sides.)

To cook the vegetables, add the other 1 tablespoon of canola oil and sesame oil into a large, deep skillet. Add the broccoli, pepper, carrots, mushrooms and water. Toss and cook for 1 minute then cover and cook for 10 minutes.

Remove the lid and add the soy sauce, sriracha, garlic, ginger, black pepper, peas, and cashews. Cook for 3-4 minutes or until peas are thawed and any liquid is cooked off.

Toss in the tofu right before serving. Serve with brown rice and additional sriracha sauce.
Nutrition
Serving: 1serving | Calories: 540kcal | Carbohydrates: 55g | Protein: 33g | Fat: 26g | Saturated Fat: 4g | Polyunsaturated Fat: 8g | Monounsaturated Fat: 13g | Trans Fat: 1g | Sodium: 1086mg | Potassium: 2303mg | Fiber: 17g | Sugar: 18g | Vitamin A: 14342IU | Vitamin C: 443mg | Calcium: 297mg | Iron: 8mg
Reader Interactions