This delicious curry spiced brown rice made with curry powder and garam masala is the perfect flavorful addition to any meal. Plus it is vegan and gluten free!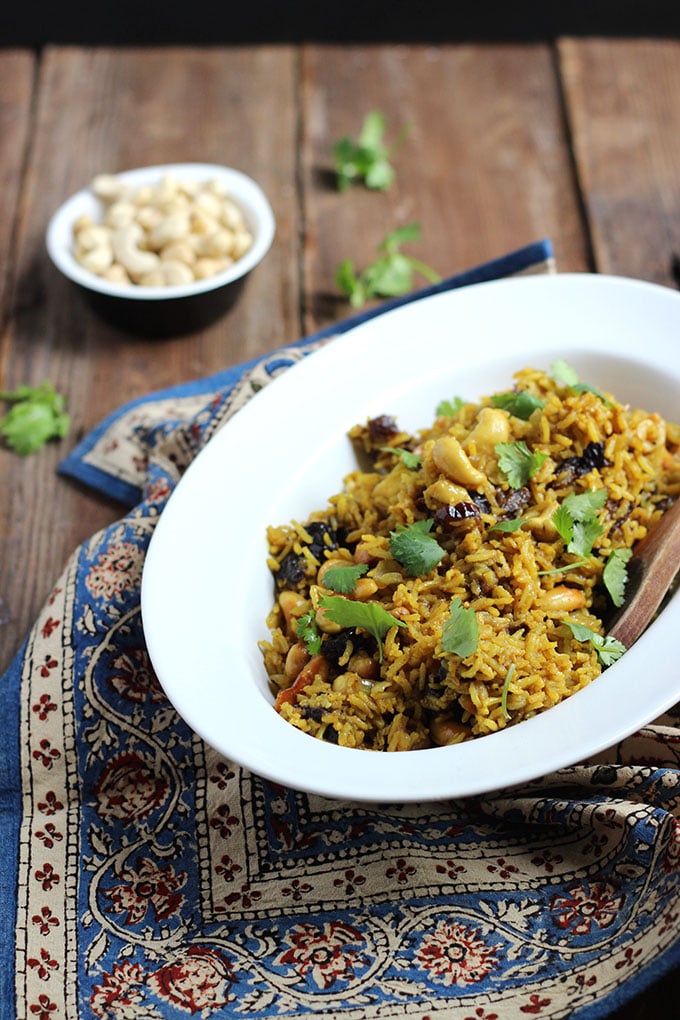 As a registered dietitian who works in with a predominantly geriatric population, I hear a lot about the positive benefits of prunes. However, I had never really tried them. (Shh…. don't tell my patients!) In addition to their digestive benefits, dried plums have a few other healthy benefits to offer as well!
One serving (4-5 dried plums) has ~100 calories, 3 grams of fiber, 293 mg of potassium, and 16 mg of magnesium.
Dried plums contain soluble and insoluble fiber as well as sorbitol. Sorbitol is a sugar alcohol that is digested very slowly. In the large intestine, it soaks up water, increasing the moisture content of stools to help with easier elimination . The combination of fiber and sorbitol contribute to dried plums unique effect on the digestive system.
Postmenopausal women with some bone density loss who consumed 1-2 servings of prunes daily had improved markers of bone health in one clinical trial. Prunes are a good source of a couple of nutrients that are important for bone development/maintenance including: magnesium, potassium, and Vitamin K.
This curry spiced brown rice offers the perfect balance of a little spicy with a little sweet and a blend of other warm flavors from the curry spice mix and garam masala. The muchi curry blend that I used in this rice dish should be available at your local grocery store.
However, if you have trouble finding it, you could create your own version at home by combining turmeric, cumin, ginger, coriander, fenugreek, garlic, celery seed, clove, and cayenne.
More Curry Recipes You'll Love
Did you love this recipe? Make sure to leave a ⭐️ rating and tag #dietitiandebbie on instagram!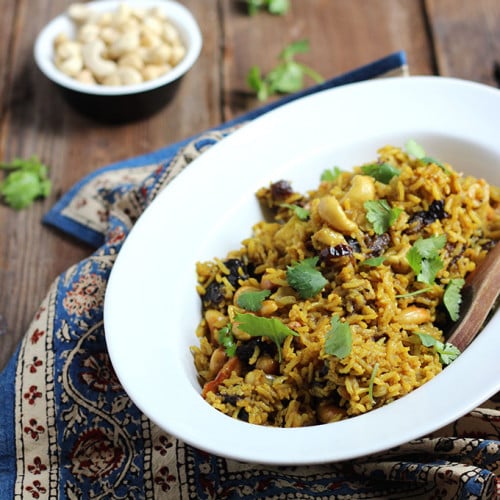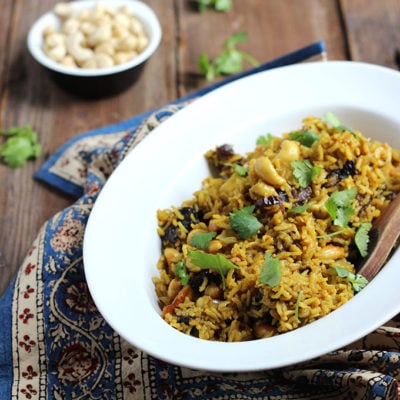 Curry Spiced Brown Rice
This delicious curry spice rice is the perfect flavorful addition to any meal. Plus it is vegan and gluten free!
Ingredients
2 tablespoons coconut oil
1 cup raw or dry roasted cashews
1/2 onion, chopped
2 cloves garlic, minced
1 1/2 teaspoons curry powder
1/2 teaspoon garam masala
1 cup uncooked brown rice
3 cups vegetable broth
3 ounces dried plums, chopped
Salt and ground black pepper to taste
To Serve:
Garnish with fresh cilantro
Instructions
In a medium saucepan, melt 1 tablespoon of the coconut oil and add the cashews. Roast for 2-3 minutes or until the cashews just begin to lightly brown. Remove from the skillet and set aside.

In the same saucepan, met the other 1 tablespoon coconut oil and add the onion. Stir and cook until translucent, ~5 minutes. Add the garlic and spices. Cook another 1-2 minutes.

Add the brown rice and stir. Cook for 2 minutes to lightly brown the rice.

Add the broth and bring to a gentle simmer. Cover and continue to simmer for ~20 minutes or until the broth is absorbed and the rice is tender.

Turn off the heat, stir in the cashews and plums. Season with salt and pepper to taste.
Nutrition
Serving: 1serving | Calories: 397kcal | Carbohydrates: 51g | Protein: 7.5g | Fat: 19g | Saturated Fat: 7.5g | Sodium: 330mg | Fiber: 4g | Sugar: 9.5g
Reader Interactions