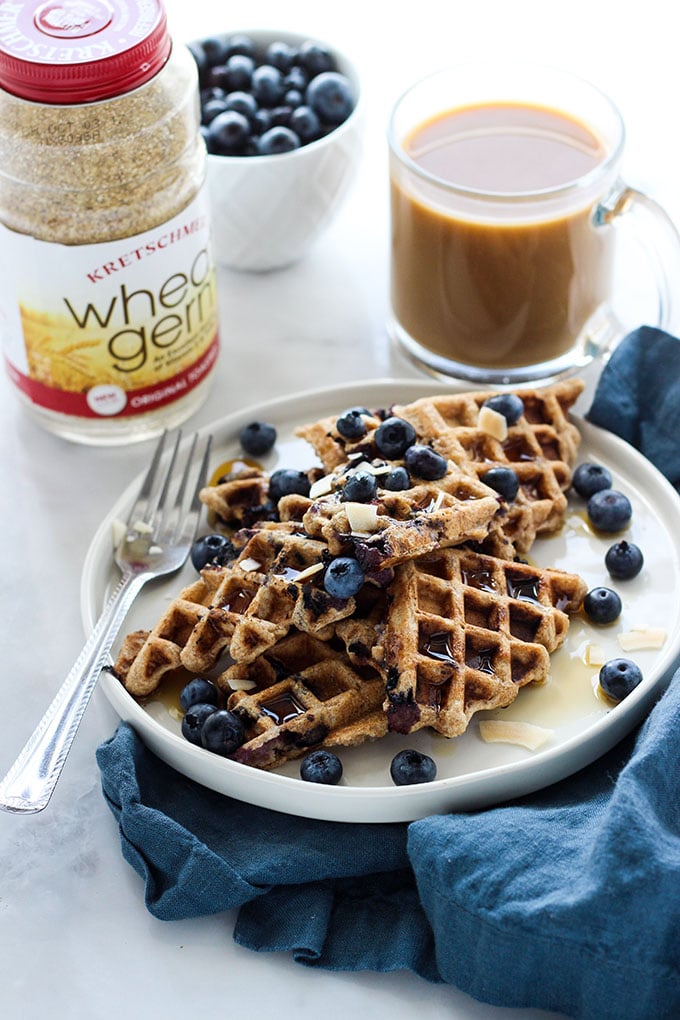 Although my usual go-to breakfast on a workday morning is a green smoothie and a slice of whole grain toast with peanut butter, I do like the idea of switching things up. Starting your day with a healthy breakfast is a great way to get in at least one of your daily servings of fruit, whole grains, and protein.
Some research studies have correlated eating breakfast with lower body weight (1) and even lower risk of heart disease in the Health Professionals Follow-Up study. (2)
These waffles are a great addition to your breakfast routine. To increase the health benefits, I used whole wheat flour and added some wheat germ.
What is wheat germ?
Wheat germ is the nutrient packed part of wheat that helps it germinate and form into a plant. Unfortunately, it is often removed when wheat is processed into white flour which means all those nutrients are lost too.
The great thing about wheat germ is that it can easily be added to a variety of baked goods as well as smoothies, oats, cereal, yogurt, and more. Just 2 tablespoons of wheat germ provides 4 grams of protein, 20% of your RDA for both vitamin E and folic acid, and at least 10% of your daily needs for vitamin A, zinc, and phosphorus.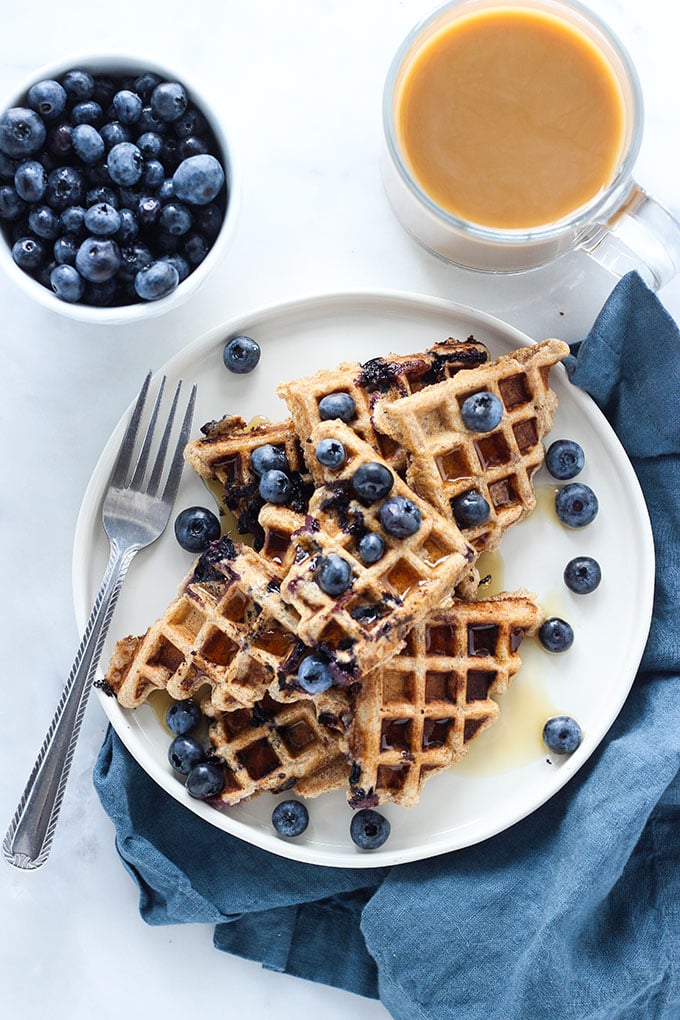 These waffles are perfect for breakfast on the weekends. However, they can also be a great option for busy days during the week and when the new school year starts. They freeze well so you can easily make a double batch on the weekend and freeze the leftovers.
When you are ready to eat, just pop it into the toaster to reheat it. As I rush to get ready for work in the morning, I will eat these like toast with almond or peanut butter. (I highly suggest it!)
More Breakfast Recipes You'll Love
Did you love this recipe? Make sure to leave a ⭐️ rating and tag #dietitiandebbie on instagram!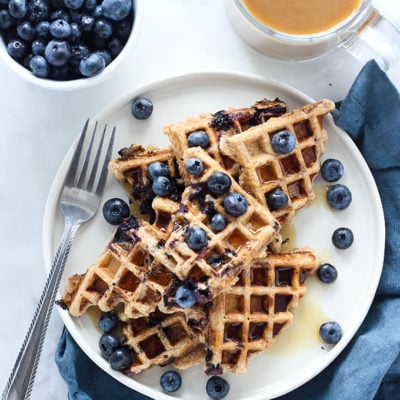 Vegan Whole Wheat Blueberry Waffles
Make a double batch of these vegan whole wheat blueberry waffles on the weekend for a quick breakfast you can enjoy any weekday. Thanks to the addition of wheat germ and fresh blueberries, these are loaded with good for you nutrients.
Ingredients
1 1/2 cups whole wheat flour
1/4 granulated white sugar
1 teaspoon baking powder
1 tablespoon cornstarch
1/8 th teaspoon sea salt
1/4 cup Kretschmer wheat germ
1 1/2 cups unsweetened almond milk
1/4 cup canola oil or other neutral oil
1 teaspoon vanilla extract
1 cup fresh or frozen blueberries
Instructions
Turn on waffle iron to heat up while you prepare the batter.

In a large mixing bowl add all of the ingredients listed in the order above except for the blueberries. Stir well with a wooden spoon until no longer clumpy.

Add blueberries to the bowl and stir to mix evenly throughout the batter.

Add 1/2 cup of the batter to waffle iron and cook until crispy on outside and browned. Repeat until all the batter is used up. The recipe should make about 6-7 waffles. Eat with a drizzle of maple syrup and additional blueberries.
Nutrition
Serving: 1waffle | Calories: 232kcal | Carbohydrates: 29g | Protein: 6g | Fat: 11g | Saturated Fat: 1g | Polyunsaturated Fat: 4g | Monounsaturated Fat: 6g | Trans Fat: 1g | Sodium: 154mg | Potassium: 172mg | Fiber: 5g | Sugar: 3g | Vitamin A: 16IU | Vitamin C: 2mg | Calcium: 128mg | Iron: 2mg
Thanks to Kretschmer wheat germ for sponsoring this post! All opinions, post images, and the recipe are my own. Thanks for letting great brands like Kreschmer support Dietitian Debbie Dishes!
Reader Interactions