This cinnamon oatmeal recipe is a simple and delicious way to start your day. My favorite way to enjoy this flavorful oatmeal is with fresh chopped apples and a spoonful of almond butter.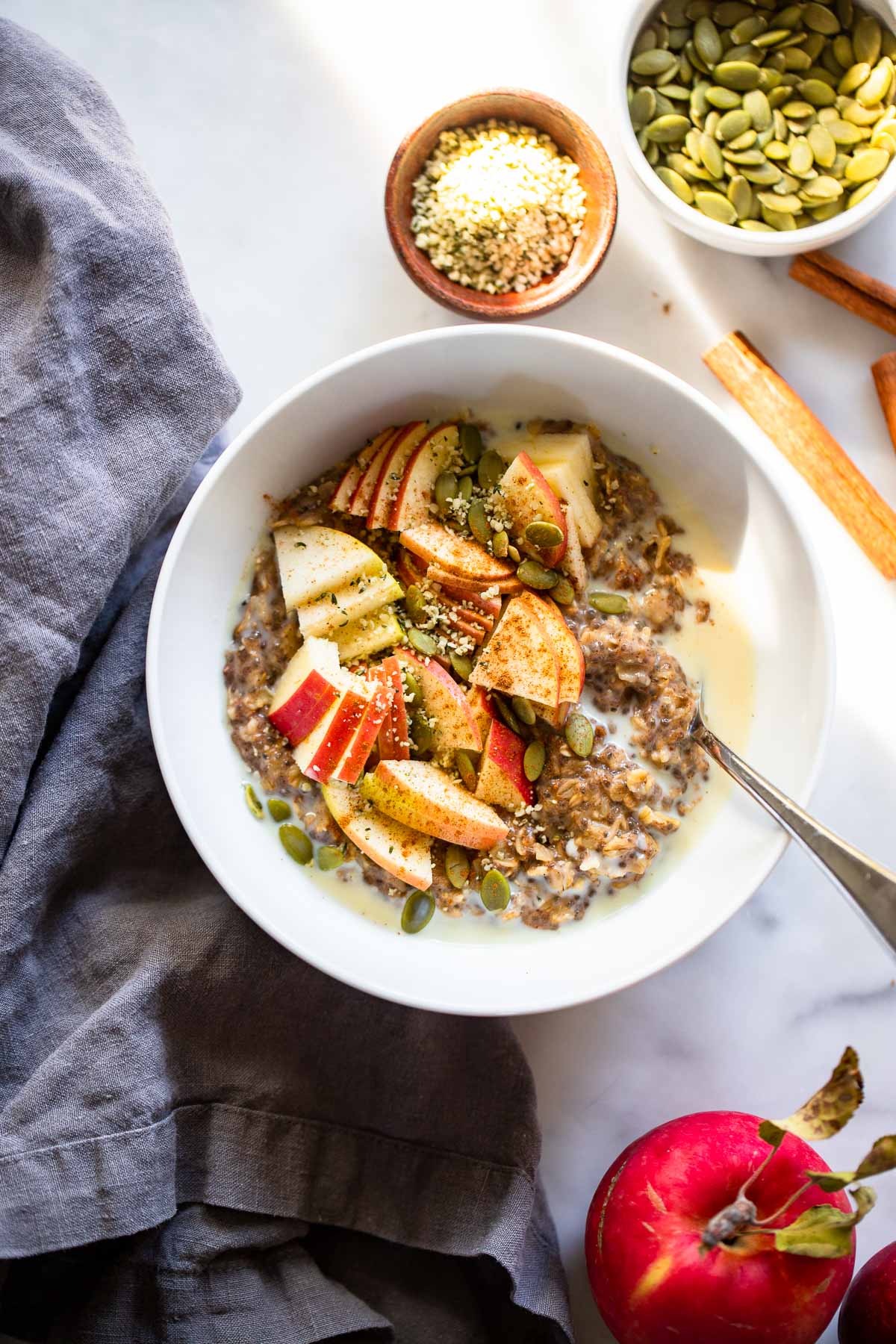 Adding some cinnamon to your morning bowl of oatmeal not only tastes delicious, but can offer some health benefits too! We love serving this cinnamon oatmeal with some chopped apples on top and a spoonful of almond butter. Adding lots of toppings like fruit, nut butter, and seeds not only makes oatmeal delicious, but the extra fiber and healthy fats means this bowl with keep you full much longer!
Why You'll Love this Recipe
Oatmeal is one of my favorite breakfast options because not only is it filling and easy to make, but oatmeal is also so good for you! Oats are chock full of fiber which can help lower cholesterol and reduce your risk of certain chronic diseases.
Simple to whip up in just about 5 minutes on either the stove or the microwave.
This easy oatmeal recipe can be paired with a variety of different fruits, nuts, etc so that it is never boring.
If you use a plant-based milk for the oatmeal, this recipe is vegan, gluten-free (with certified gluten-free oats), dairy-free, and egg-free.
Ingredients You'll Need
Oats: I like to make my morning oatmeal with old fashioned rolled oats, but you can also use quick cooking oats if you prefer. Steel cut oats will take much longer to cook.
Milk: Use any milk that you like for this oatmeal recipe. I like plain, unsweetened soy milk best because it makes for such creamy and delicious oats.
Water: Helps hydrate the oats without making them glue-y. You can use only water for your oatmeal, but they will be much creamier if you use a combination of water and milk.
Cinnamon: You can use anywhere from 1/2 to 1 teaspoon of ground cinnamon for this recipe. I usually use a full teaspoon to make them extra cinnamon-y.
Maple Syrup: Adds just a hint of sweetness as well as maple flavor. You can also sweeten with honey or brown sugar if you'd like.
Salt: A dash of salt in your oats will bring out and balance the flavors. Don't skip it!
Chia seeds (optional): I like to add some chia seeds to my oats for some extra fiber and healthy omega 3 fats.
How to Make Cinnamon Oatmeal
MICROWAVE: You can also make it in the microwave if you prefer. Simply add all of your oatmeal ingredients to a large microwave safe bowl and heat for up to 5 minutes in the microwave. (Oats can swell in the microwave so use a bigger bowl than you think you need! I like to use a small mixing bowl.) Stir oats occasionally while they cook in the microwave. Carefully remove from microwave when oats have thickened to your liking.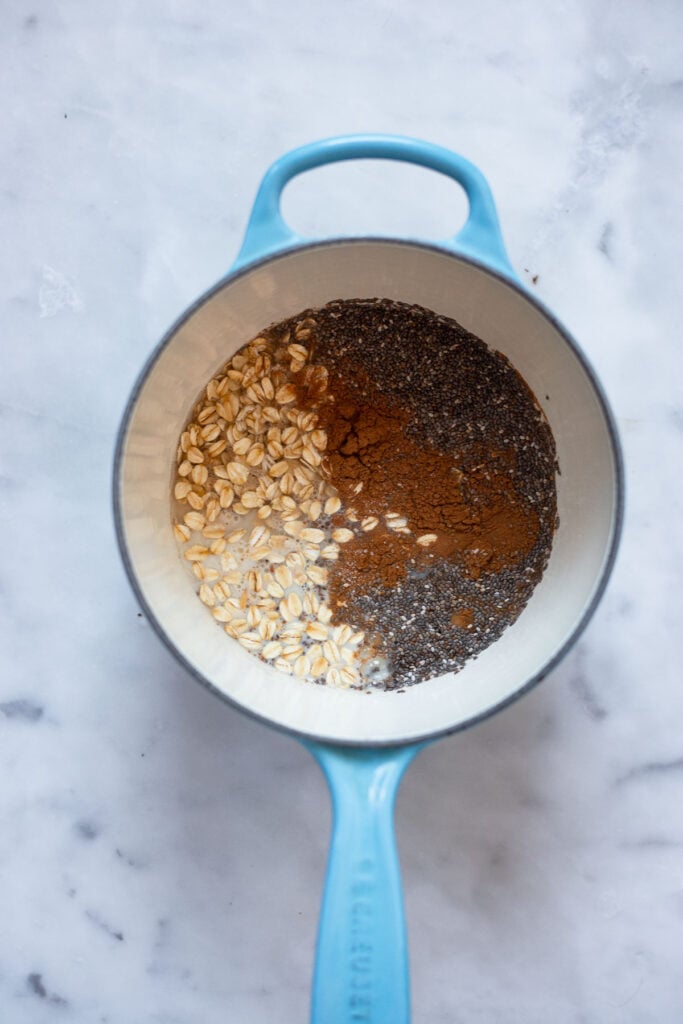 STOVETOP: Add the oats, milk, water, cinnamon, maple syrup, chia seeds, and salt to a small saucepan. Bring to a simmer over medium heat. Simmer until oatmeal has thickened to your desired consistency, usually takes about 5 minutes.
Cinnamon Oatmeal Toppings
Cooked Fruit: I love adding some sautéed apple slices to this cinnamon oatmeal. The pairing of cooked apples and cinnamon is a match made in heaven. A fruit compote like this peach one or this strawberry rhubarb one would also be a delicious topping.
Fresh Fruit: Some of my favorite fruit to add to this cinnamon oatmeal includes: blueberries, raspberries, apple, pear, banana, strawberries, peaches, figs, and plum.
Nut Butter: Add some cashew or almond butter to your cooked oats. I love how the hot oats melt the nut butter so it adds a ton of creaminess to the oatmeal.
Chopped Nuts or Seeds: Add some crunch by sprinkling your cinnamon oatmeal with some chopped nuts. Honestly, almost any nut or seed will work with this recipe including: pistachios, walnuts, pumpkin seeds, pecans, and almonds.
Health Benefits of Cinnamon
Cinnamon is loaded with antioxidants, those compounds in food that can help reduce inflammation in your body. Some inflammation is necessary, but chronically high levels of inflammation can lead to chronic diseases like heart disease.
Eating cinnamon with a meal can help with better blood sugar control. Cinnamon may play a role in blood sugar management in a couple of ways 1) more sensitivity to the hormone insulin which helps sugar in your bloodstream enter cells and 2) reduced absorption of sugar/carbohydrates from a meal.
Some other potential health benefits of cinnamon that still need more research include: lower cholesterol, reduced risk of Alzheimers disease, and lower blood pressure.
Frequently Asked Questions
Can this recipe be made into overnight oats?
Yes! Simply add all the ingredients to a bowl or jar and stir. Cover and let it sit in the refrigerator overnight to thicken. Serve warm or chilled with desired toppings.
How can I make these oats higher in protein?
My favorite way is to add a scoop of protein powder before cooking. You could also stir in a couple of tablespoons of chia seeds or hemp hearts to boost the protein by as much as 10 grams.
Do steel cut oats work for this recipe?
 Steel cut oats will take anywhere from 20-30 minutes to cook through. Speed up the cooking time by soaking the steel cut oats in the water and milk from the recipe overnight. In the morning, just pop the soaked steel cut oats into a saucepan or microwave bowl with the rest of your ingredients to cook.
More Delicious Recipes You'll Love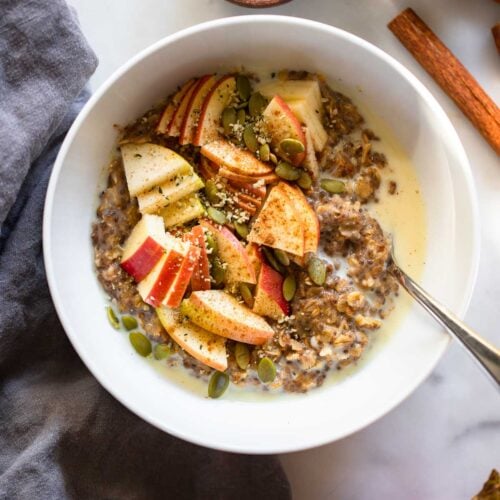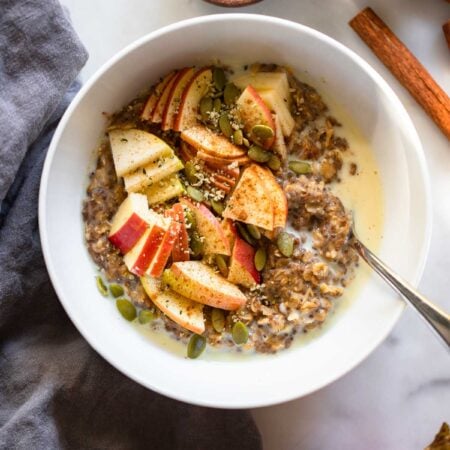 Cinnamon Oatmeal
This cinnamon oatmeal recipe is a simple and delicious way to start your day. My favorite way to enjoy this flavorful oatmeal is with fresh chopped apples and a spoonful of almond butter.
Instructions
Add all of the oatmeal ingredients to a small saucepan and bring to a simmer over medium-high heat.

Simmer, stirring occasionally, until thickened to desired consistency. (Usually about 5 minutes.)

To serve, add desired toppings like cinnamon apples, chopped walnuts, or almond butter.
Notes
Topping suggestions: chopped nuts (walnuts are my fave), almond butter, hemp hearts, or sliced apples or pear. 
Make Ahead: Allow cooked oatmeal to cool then add to an airtight container. Can store in the fridge for up to 4 days.
Reheat: To reheat leftover or prepped oatmeal, add a splash of milk and microwave for a minute or two OR add to saucepan and warm up over low heat.
Nutrition
Calories: 311kcal | Carbohydrates: 50g | Protein: 11g | Fat: 8g | Saturated Fat: 1g | Polyunsaturated Fat: 5g | Monounsaturated Fat: 2g | Trans Fat: 0.02g | Sodium: 96mg | Potassium: 395mg | Fiber: 10g | Sugar: 13g | Vitamin A: 264IU | Vitamin C: 0.3mg | Calcium: 293mg | Iron: 3mg
Reader Interactions