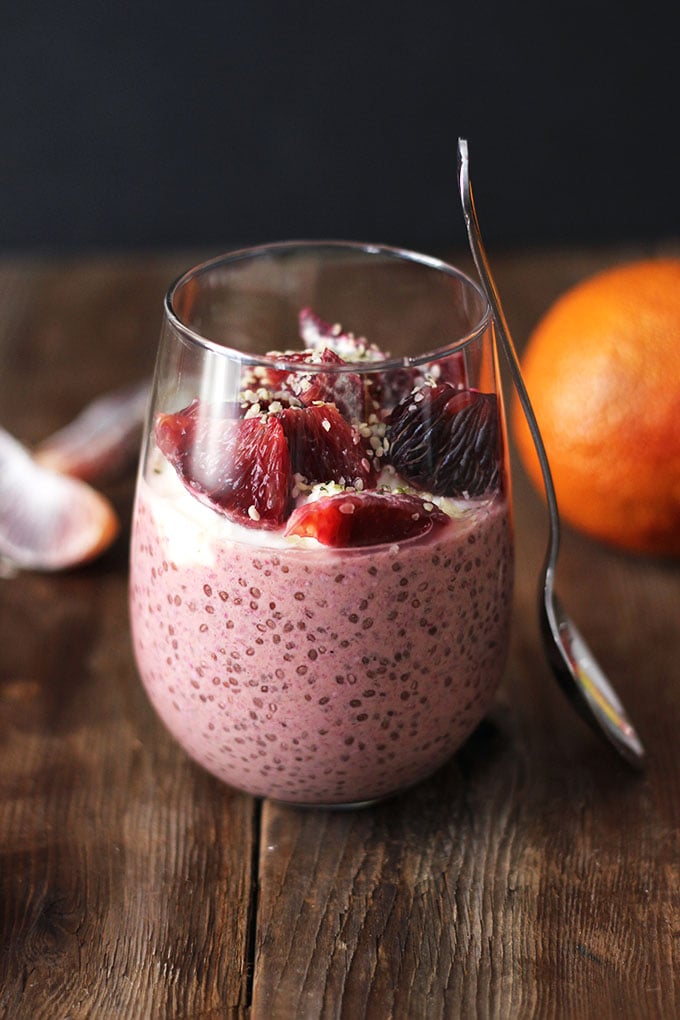 Citrus rules the produce aisle in the winter in my opinion. One citrus fruit I am totally crushing on of late is the blood orange. We actually found mini blood oranges at Trader Joe's a couple of weeks ago and I found them to be a fun addition to my lunch during the week.
The ruby red color of blood oranges comes from a higher amount of anthocyanins, a powerful antioxidant. In fact, several observational studies have found that those with higher intakes of foods high in anthocyanins have lower risk of cardiovascular disease.
Combine that with the heart healthy fiber and omega 3 fatty acids from the chia seeds and you have a breakfast that not only tastes great but also protects your heart. (Perfect for February which happens to be American Heart Health Month.)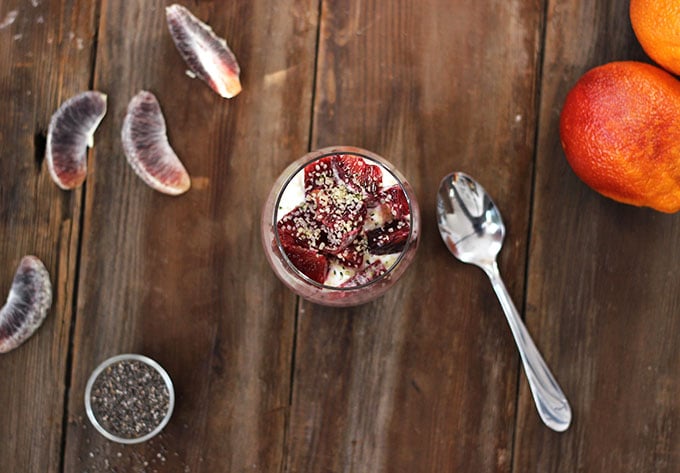 Mix up this blood orange chia seed pudding in the evening and store in a mason jar overnight for a breakfast that you can take with you on-the-go. I find it to be perfect for busy mornings during the work week. The protein and fiber from the chia seeds will help keep you full until lunch time.
Typically, I'll top mine with a dollop of yogurt, some orange sections, and hemp seeds. However, to keep it vegan, try topping with a dash of coconut milk.
More Breakfast Recipes You'll Love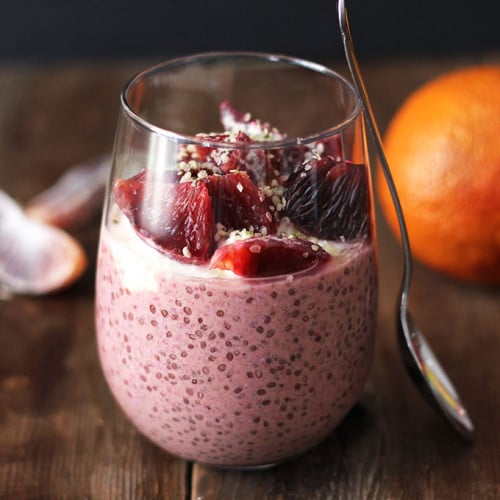 Blood Orange Chia Seed Pudding
Change up your breakfast routine and make up a batch of this healthy blood orange chia seed pudding which is chock full of fiber and vitamin C.
Ingredients
1 blood orange peeled
1/2 cup almond milk
1/4 inch piece peeled fresh ginger
1/4 cup oats
2 tablespoons chia
Instructions
Place peeled orange, almond milk, ginger, and oats into a blender. Puree until smooth.

Stir in chia seeds and place in a sealed container overnight.

Serve with yogurt, a dash of coconut milk, hemp seeds, and blood orange sections.
Notes
You can either try to pick the seeds out from the blood orange sections before pureeing or leave them. I found that the blender purees smooth so you don't actually have to worry about them!
Nutrition
Calories: 330kcal | Carbohydrates: 56g | Protein: 10g | Fat: 12g | Saturated Fat: 1.3g | Fiber: 17g | Sugar: 24g
Reader Interactions