This mocha banana bread is a tasty twist on your traditional banana bread with richness of dark chocolate and coffee. Serve warm spread with peanut butter.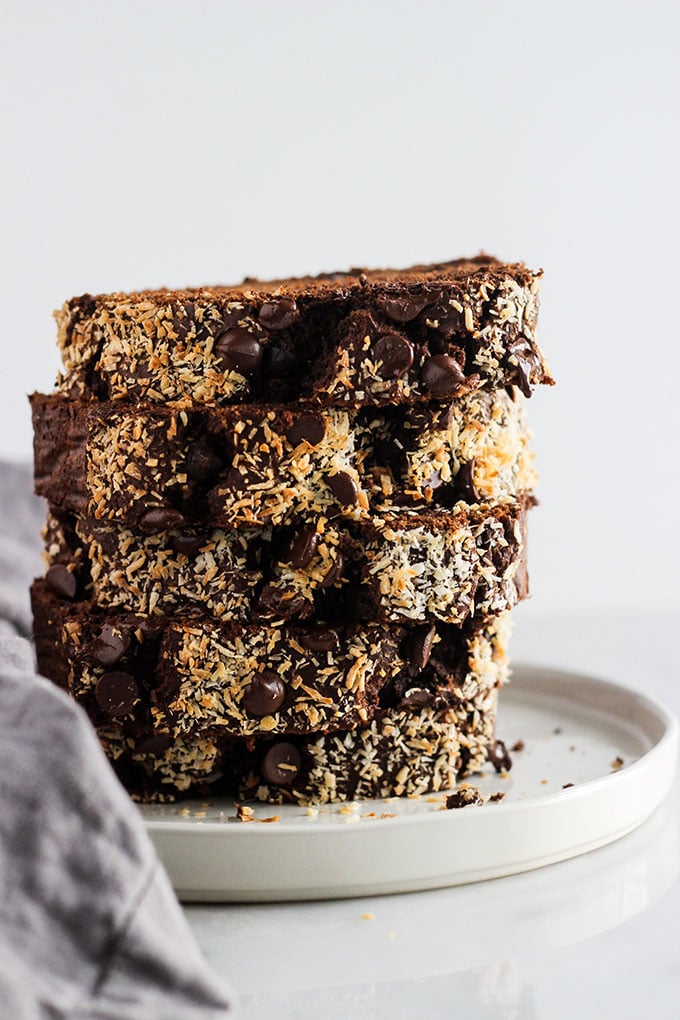 Will and I are moving the last weekend of this month and I spent the weekend testing recipes to further procrastinate from packing. At least I was still being productive! I have some recipes that I am really excited to share with you all over the next week.
I think the upcoming move is stressing me out more than I realized because the next few recipes are total comfort foods – ie. pizza and nachos. 😉 I am actually excited about our new place which will be within walking distance of our favorite farmer's market and restaurants. I just dread the actual moving part. Ugh.
Speaking of procrastinating, this bread is also a great excuse to put off your to-do list just a little longer. I mean, who doesn't find tackling their to-do list a little easier with a cup of coffee and a slice of this bread in hand? This mocha banana bread incorporates all of my favorites: coconut, chocolate, and coffee in one delicious recipe.
We had a couple of extra ripe bananas hanging out on our counter so I was inspired to adapt my previous banana bread recipe to incorporate even more chocolate and coffee flavor.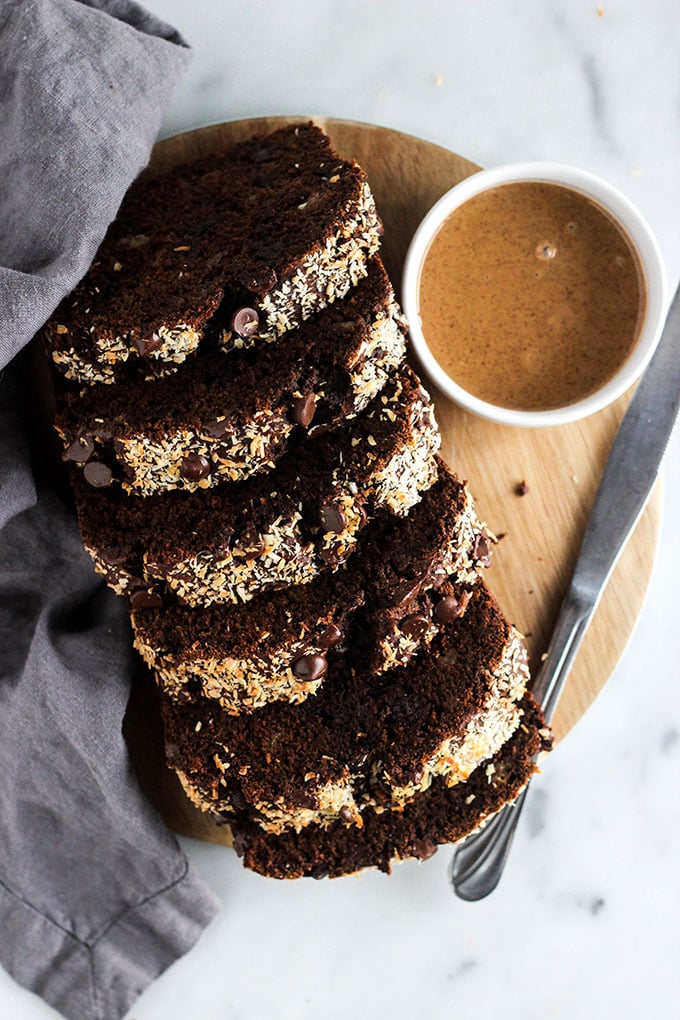 If you are a fan of extra dark chocolate (like me!), you'll also love this bread because it isn't super sweet and has that same rich chocolate flavor.
To serve, I usually toast this bread for just under a minute in our toaster oven to warm it up and get the chocolate chips inside all gooey again. I'll then top it with a bit of almond or peanut butter for the ultimate treat and pair it with a this honey coconut latte.
More Bread & Muffin Recipes You'll Love
Did you love this recipe? Make sure to leave a ⭐️ rating and tag #dietitiandebbie on instagram!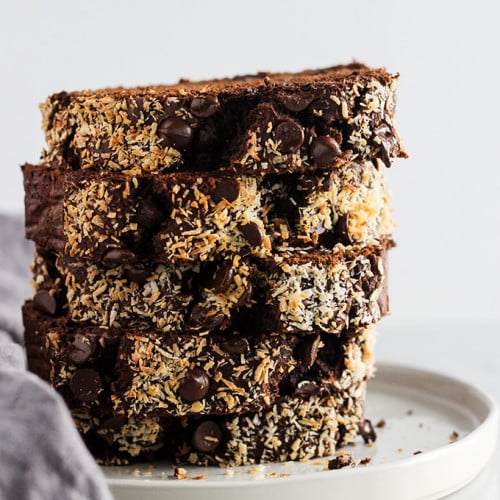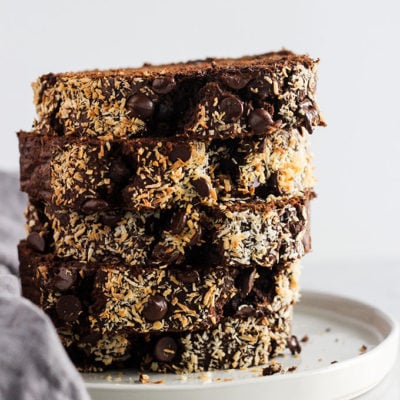 Mocha Banana Bread
This mocha banana bread is a tasty twist on your traditional banana bread with richness of dark chocolate and coffee. Serve warm spread with peanut butter.
Ingredients
1 3/4 cup white whole wheat flour
1/3 cup cocoa powder
1 teaspoon baking soda
1/4 teaspoon sea salt
1 tablespoon instant espresso powder
3 extra ripe bananas ~1 heaping cup mashed
1 teaspoon vanilla extract
1/3 cup canola or coconut oil
2 eggs
1/3 cup almond milk
1/3 cup maple syrup
1/2 cup semi-sweet chocolate chips
2 tablespoons unsweetened shredded coconut
Instructions
Preheat the oven to 350 degrees Fahrenheit. Line a bread pan with parchment paper and set aside.

In a large mixing bowl, add the flour, cocoa powder, baking soda, salt, and espresso powder. Mix with a whisk to combine.

In a small bowl, mash the bananas with a fork.

Add the bananas, vanilla, oil, eggs, milk, and maple syrup into the mixing bowl with the dry ingredients. Stir with a wooden spoon just until all the dry ingredients are incorporated. Don't over stir.

Sprinkle in the chocolate chips, reserving a few for the top of the bread. Stir until evenly distributed in the batter.

Pour the batter into the bread pan and sprinkle with reserved chocolate chips and coconut.

Bake for 55-60 minutes or until toothpick inserted into the top of the loaf comes out clean.

Allow to cool in the pan for 10 minutes then transfer out of the pan to a baking rack to cool completely before slicing.
Nutrition
Serving: 1slice | Calories: 249kcal | Carbohydrates: 35g | Protein: 5g | Fat: 10.5g | Saturated Fat: 2g | Polyunsaturated Fat: 8.5g | Cholesterol: 125mg | Sodium: 214mg | Fiber: 2.5g | Sugar: 11.5g

SaveSave
Reader Interactions