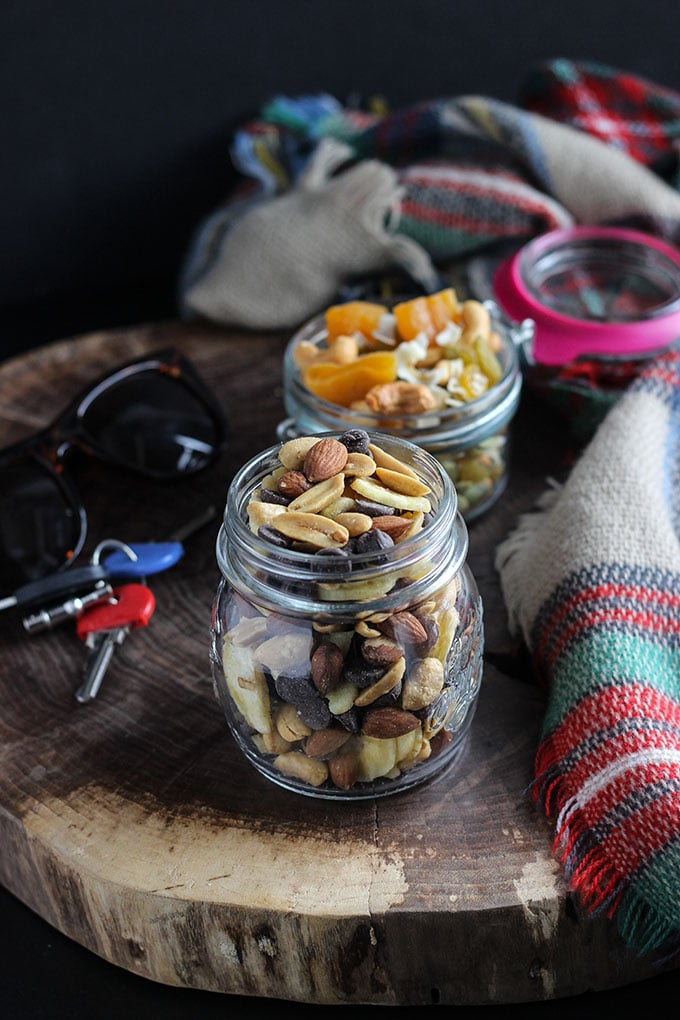 I can't believe Will and I get married next week! On Friday, we leave for a two week cross country road trip that starts here in Chicago and takes us east to Pennsylvania, south to Memphis, Austin, Albuquerque, LA, and then north again to Seattle. I am so excited to celebrate our marriage with good friends and family along the way!
As I mentioned last week, I've been trying to squirrel away travel friendly snacks for the road because it is so hard to find healthy snacks in roadside gas stations. These two trail mixes are great for road trips, hiking adventures, or even the office. Both of them are great for keeping your energy levels up while on the road since they provide the perfect balance of carbohydrates, protein, healthy fat, and fiber to keep you feeling satisfied until your next meal.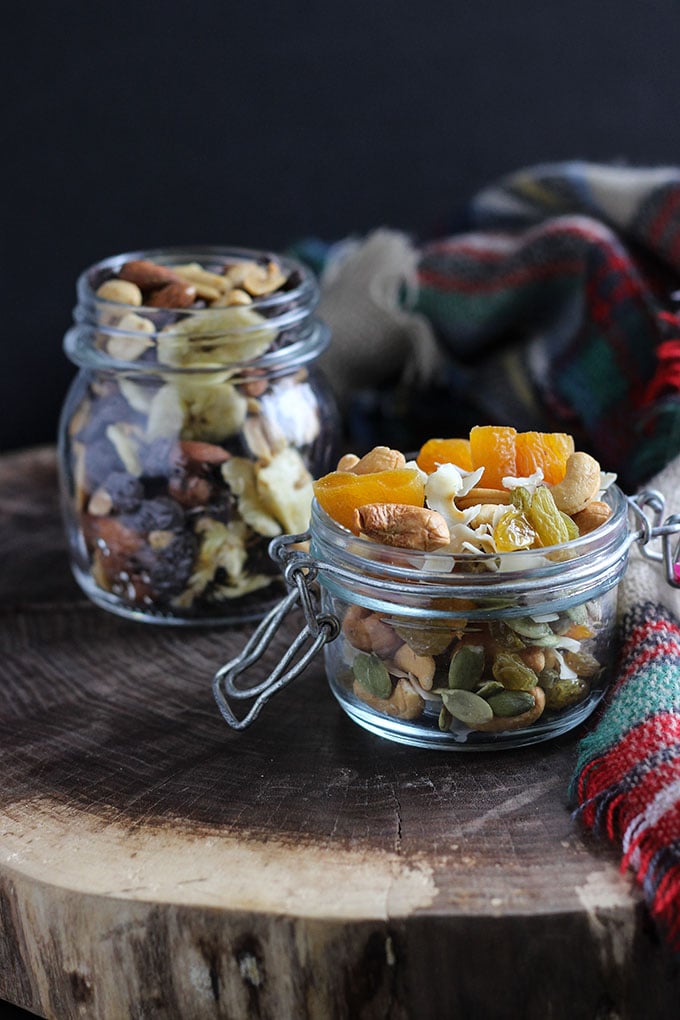 These healthy road trip trail mixes are a great way to keep you energy levels up when on the road, hiking the trails, or fending off the afternoon slump at work.
Ingredients
1 cup roasted lightly salted cashews
1 cup dried apricots cut into quarters
1/2 cup pepitas
1 cup unsweetened coconut chips
1 cup golden raisins
Instructions
Combine the ingredients for trail mix in a large bowl. Divide into containers by individual serving or pour into a large, airtight container to store.
Notes
Store in an airtight container. 
Nutrition
Calories: 285kcal | Carbohydrates: 33g | Protein: 6g | Fat: 17g | Saturated Fat: 8g | Polyunsaturated Fat: 2g | Monounsaturated Fat: 6g | Trans Fat: 1g | Sodium: 11mg | Potassium: 511mg | Fiber: 4g | Sugar: 21g | Vitamin A: 586IU | Vitamin C: 1mg | Calcium: 31mg | Iron: 2mg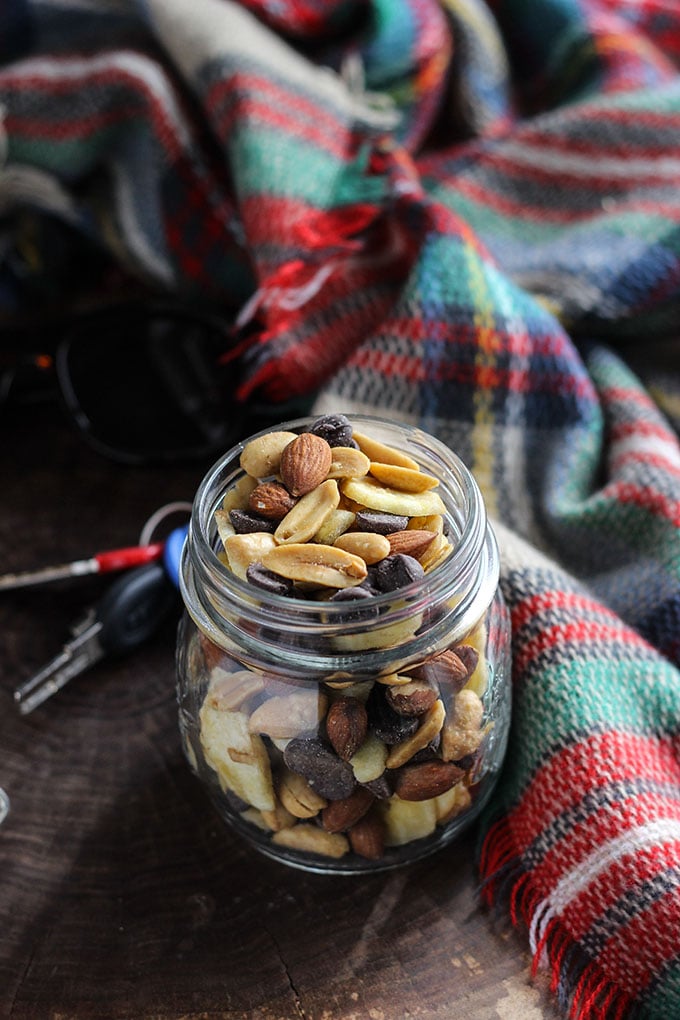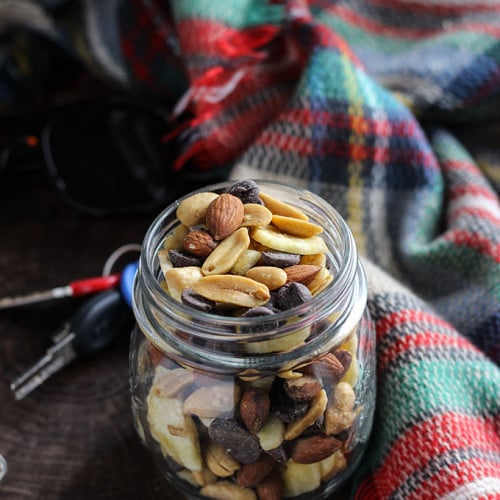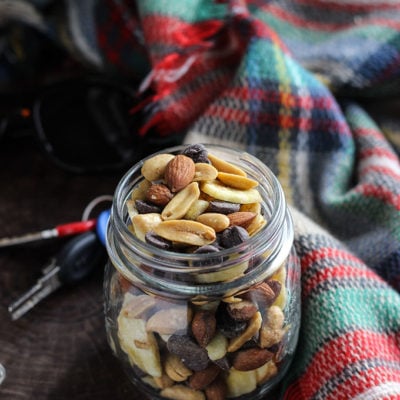 Banana Chocolate Trail Mix
Ingredients
1 cup chocolate chips
1 cup roasted almonds
1 cup banana chips
1 cup salted peanuts
Instructions
Add all of your ingredients to a contain and shake to combine.
Nutrition
Calories: 337kcal | Carbohydrates: 23g | Protein: 9g | Fat: 26g | Saturated Fat: 8g | Polyunsaturated Fat: 5g | Monounsaturated Fat: 10g | Trans Fat: 1g | Cholesterol: 4mg | Sodium: 85mg | Potassium: 330mg | Fiber: 5g | Sugar: 13g | Vitamin A: 9IU | Vitamin C: 1mg | Calcium: 68mg | Iron: 1mg
Reader Interactions