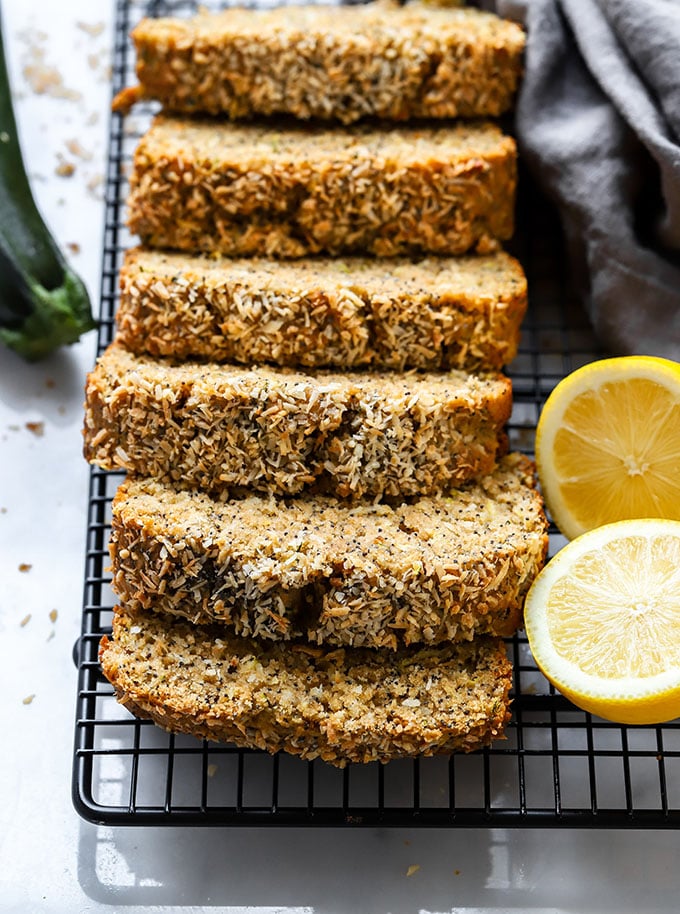 This lemon poppyseed zucchini bread is so good, I keep making it to "test" the recipe but honestly I just want more of it to enjoy with my morning coffee (or this honey coconut latte). 😉 I hope you will fall in love with this recipe too. As zucchini season is reaching its peak right about now, you may have a few extra around that you need to use up. Zucchini bread to the rescue!
Just recently, I discovered that I had not yet published a zucchini bread recipe on the blog. A revelation that shocked me since I've been doing this for several years now. How have I not posted a zucchini bread recipe?! I was tempted to do a chocolate chip zucchini bread recipe, but I was afraid the internet was flooded with too many of those already. I created this lemon poppyseed zucchini bread recipe instead and was really happy with the result.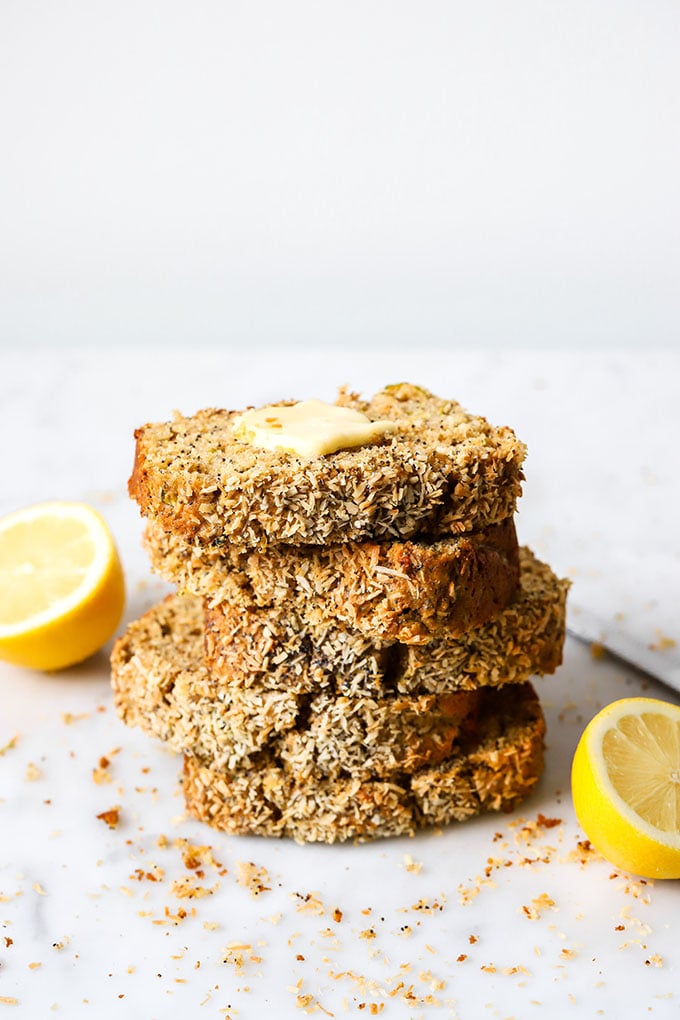 Rather than just adding lemon and poppyseeds to a traditional zucchini bread recipe, I also made a couple of other substitutions. I used a whole wheat flour instead of white flour and subbed in olive oil instead of vegetable oil.
Although you typically don't use olive oil in sweet baked goods, I love it in this bread as it pairs so well with the bright lemon flavor. Don't knock it before you try it! If you are hesitant to jump in with the olive oil, just do half olive and half vegetable oil instead.
Also, I've found that using yogurt in bread recipes is my new favorite thing. I think it makes it the bread stay so much more moist after baking even when using a whole wheat flour. Also, the coconut flakes on top brown so nicely I was jumping for joy at how pretty it looked when it came out of the oven.
More Recipes You'll Love
Lemon Poppyseed Zucchini Bread
Skip the traditional zucchini bread and make this lemon poppyseed zucchini bread with all of your extra garden zucchini! The perfect accompaniment to your morning coffee. 
Ingredients
2 cups whole wheat all-purpose flour
1/2 teaspoon baking powder
1/2 teaspoon baking soda
1/2 teaspoon sea salt
3 tablespoons poppyseeds
1/3 cup unsweetened shredded coconut
2 eggs
1/2 cup olive oil
1/2 cup granulated sugar
1/2 cup full fat plain yogurt
Zest from 1 lemon ~1 1/2 tablespoons
Juice from 1 lemon ~3 tablespoons
1 teaspoon vanilla extract
1 cup shredded zucchini
Optional: 2 tablespoons shredded coconut for top of loaf.
Instructions
Preheat the oven to 325 degrees Fahrenheit. Line a 9-by-4 1/2-inch loaf pan with parchment paper and spray with cooking oil. Set aside. 

In a small mixing bowl, whisk together dry ingredients (flour, baking soda, baking powder, salt, poppyseeds, and coconut). 

In a large mixing bowl, stir together wet ingredients (eggs, olive oil, sugar, yogurt, lemon zest, lemon juice, and vanilla extract). Stir in the shredded zucchini. 

Add the dry ingredients to the wet ingredients bowl. Stir just until no more dry clumps are visible in dough. 

Pour dough into prepared loaf pan. Evenly sprinkle shredded coconut over top of the dough. Bake for 70 minutes or until golden brown on top and toothpick inserted into bread comes out clean. 

Transfer loaf to cooling rack and let cool for at least 10 minutes. Lift bread out of the pan using the parchment paper and let cool completely before slicing. 
Nutrition
Serving: 1slice | Calories: 222kcal | Carbohydrates: 26g | Protein: 3.5g | Fat: 10.5g | Saturated Fat: 2g | Polyunsaturated Fat: 8.5g | Cholesterol: 29mg | Sodium: 166mg | Fiber: 1g | Sugar: 9g
SaveSave
SaveSave
Reader Interactions