You'll be sure to love this easy homemade vegan ranch dressing made without cashews or mayo. Instead this dressing gets it's creaminess from a combination of vegan yogurt and sour cream.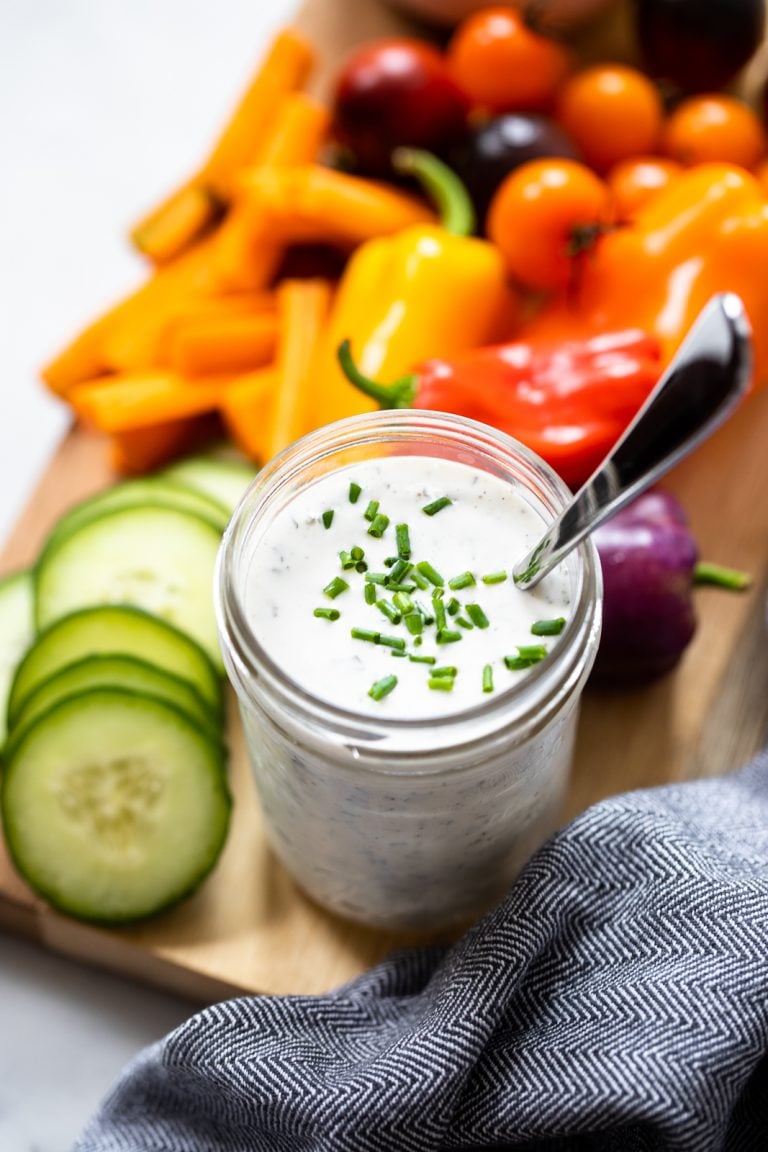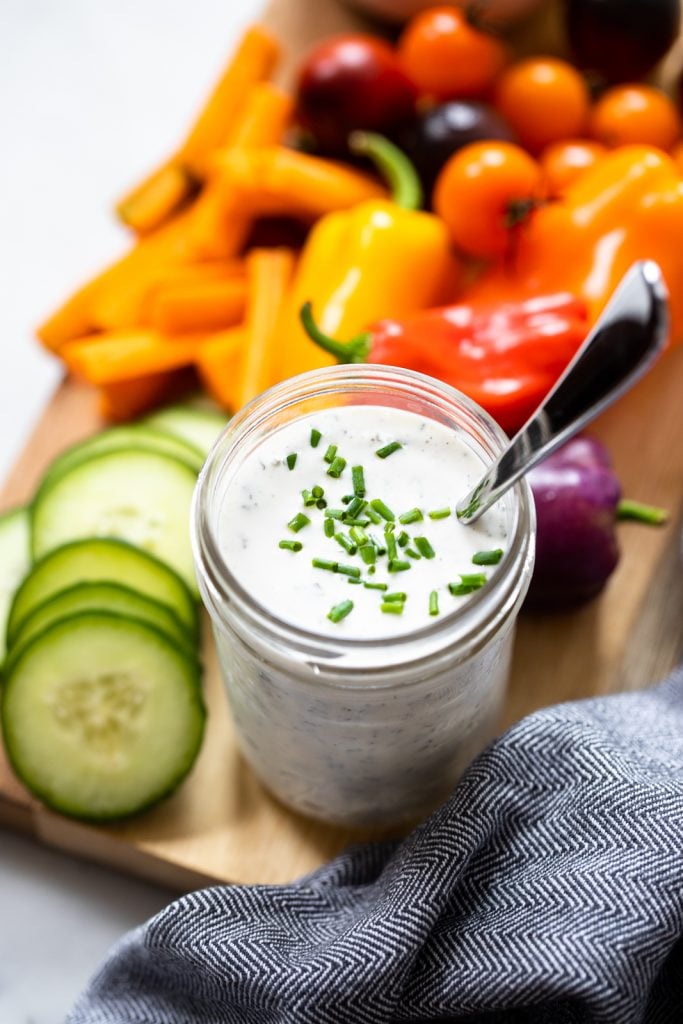 Since going vegan, I have struggled to find a ranch dressing that I really loved. I tried a few different store-bought vegan ranch dressings but was always disappointed in the flavor so I decided to try my hand at making my own. Through a lot of trial and error, I have landed on this simple homemade vegan ranch dressing recipe.
Once you've made this homemade ranch, you are going to fall in love with making your own dressings. Here are a few more of our family favorite vegan dressing recipes: strawberry balsamic dressing, lemon dijon dressing, and tahini Caesar dressing.
Why You'll Love this Recipe
Easily make this in 5 minutes or less in just one bowl.
No cashews(!) or mayo needed for this recipe. I know cashews are a great way to add creaminess to vegan recipes, but sometimes I want a shortcut.
Use it on everything from salads to wraps.
Great for a variety of dietary preferences/restrictions: vegan, dairy free, gluten free, egg free.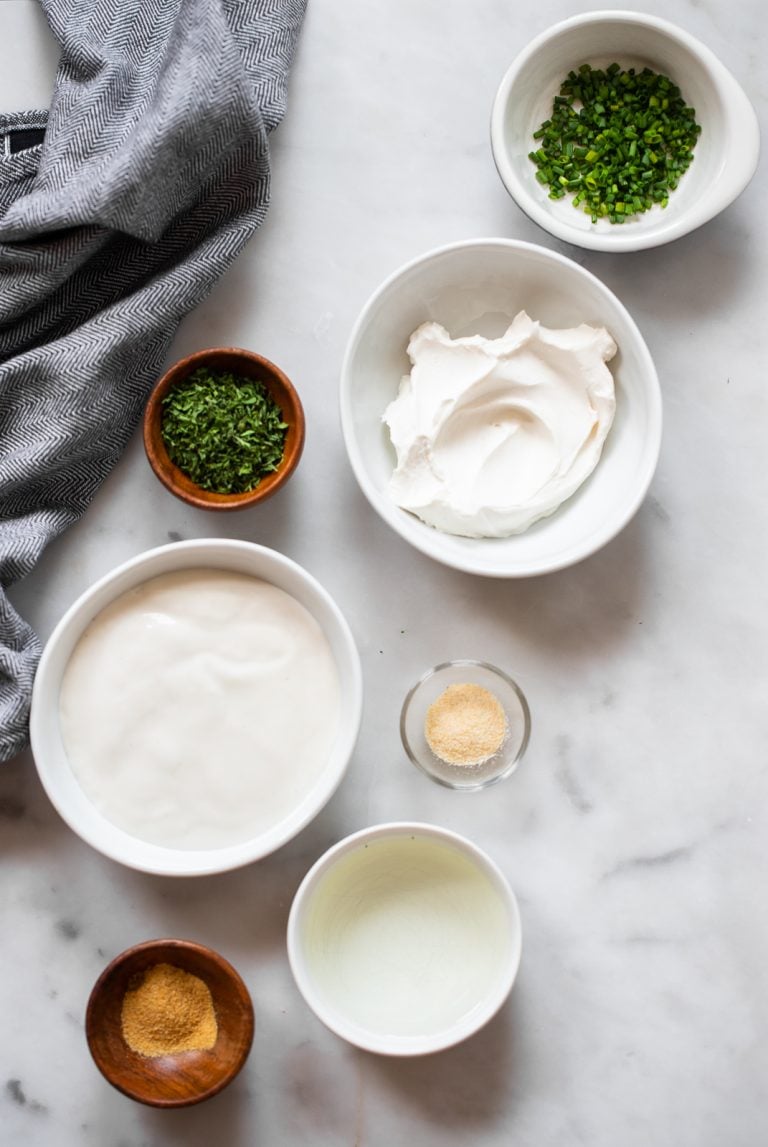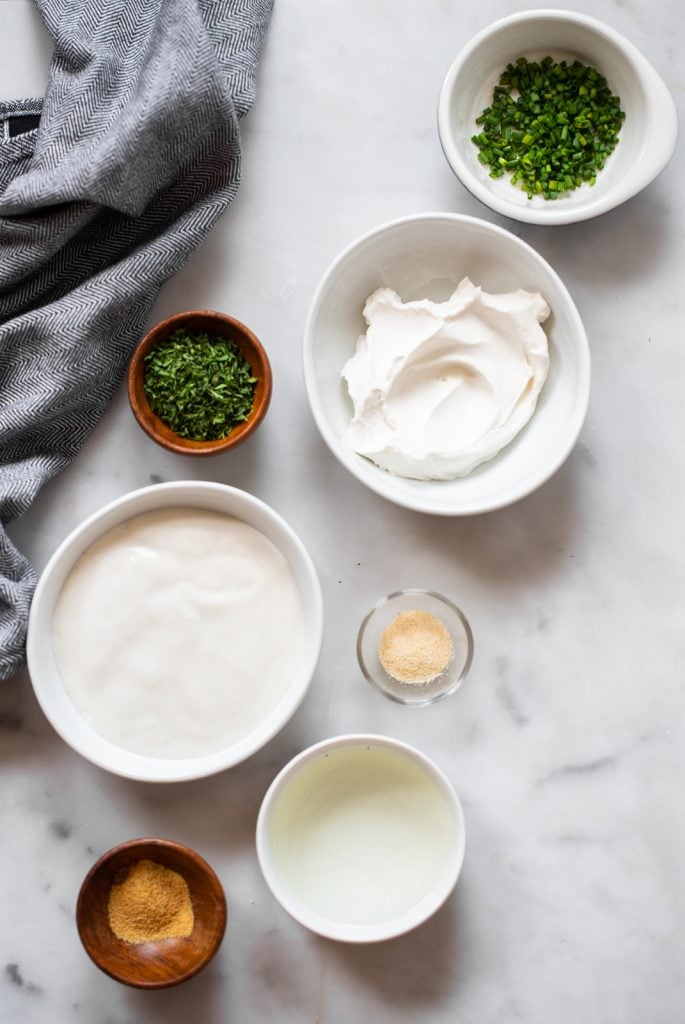 Ingredients You'll Need for this Ranch Dressing
Vegan Yogurt: use any vegan plain, unsweetened yogurt that you like. I really like this one.
Vegan Sour Cream: use any vegan sour cream brand that your store carries. I really like this one.
Dill Pickle Juice: sounds strange but this is a key ingredient for adding a bit of dill flavor as well as acidity to cut through the creamy yogurt and sour cream.
Parsley: I typically use dried parsley, but you can also use chopped fresh parsley leaves if you'd like.
Onion/Garlic Powder: I used the granulated version of both of these. Fresh onion and minced garlic can be a little overpowering so I prefer the dried spices for this ranch recipe.
Sea salt and Black Pepper: adjust to your liking in the final recipe.
How to Make this Recipe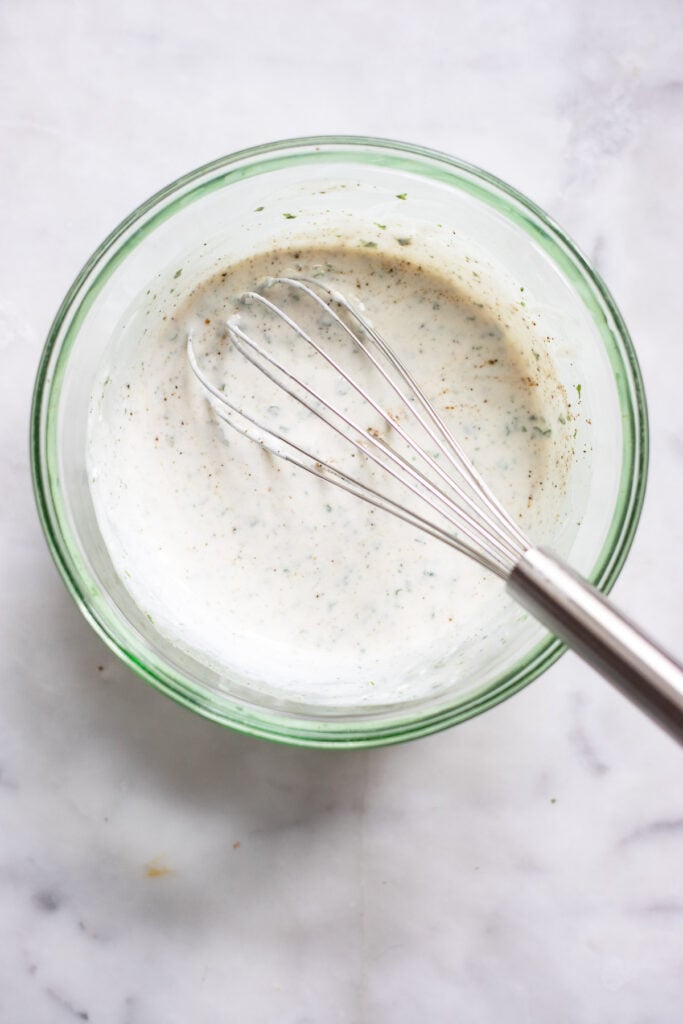 STEP 1: Add all of your ranch dressing ingredients to a bowl and whisk well. If you want a thicker ranch, add more sour cream – about a tablespoon at a time. For a thinner ranch, add some plain unsweetened soy milk, about a teaspoon at a time. Transfer to a jar to store in the fridge. The flavor will continue to develop over time. Usually, this dressing tastes even better the next day!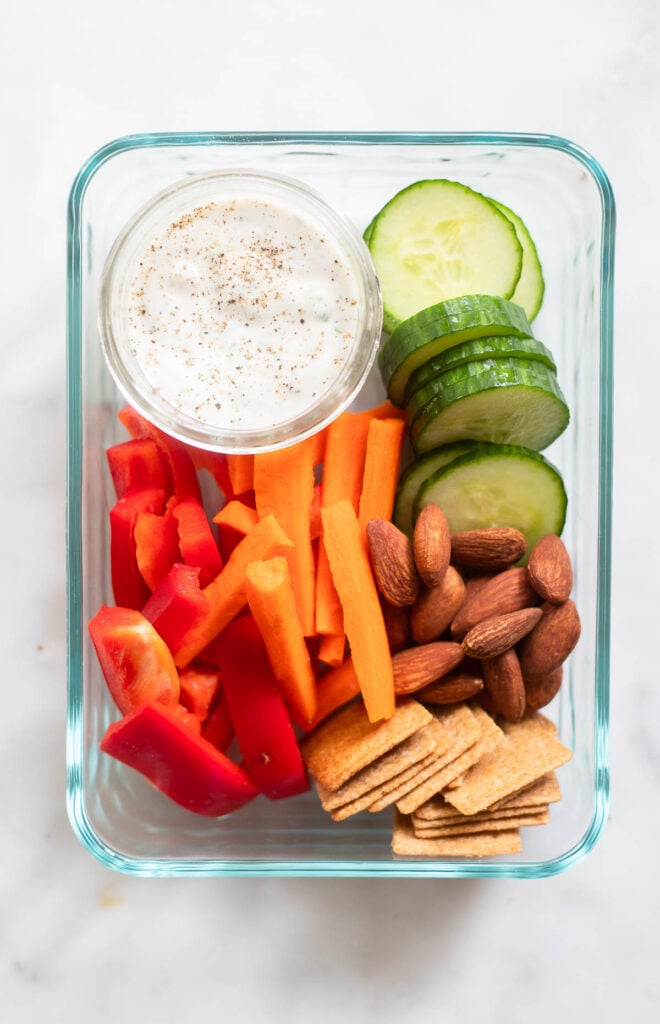 Frequently Asked Questions
Why dill pickle juice? I think that fresh dill can be a bit overpowering in a dressing like this, so I opted for dill pickle juice for a milder flavor. The pickle juice also adds a nice tang from the vinegar that cuts through the creaminess from the yogurt and the sour cream. Trust me!
What gives ranch dressing its flavor? Ranch dressing gets all of its flavor from a combination of creamy ingredients (mayo, buttermilk, etc), herbs (parsley, dill) and alliums (garlic and onion). In this vegan version, you'll use vegan sour cream and yogurt to give this ranch its creaminess.
How long does this homemade ranch dressing last? You can keep this homemade ranch dressing in a sealed container for up to 1 week in the refrigerator. I like to store it in a mason jar.
Is ranch dressing healthy? Ranch dressing has a bad reputation for being "unhealthy" because it is higher in saturated fat. Honestly, I don't discourage people from using ranch – especially if it means they will eat more veggies!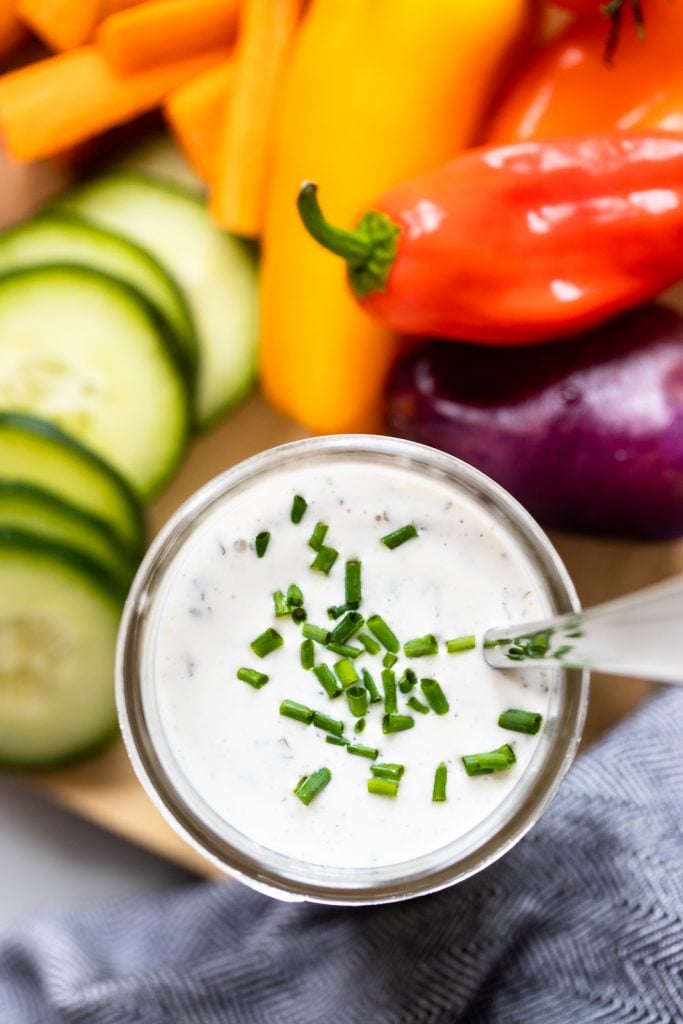 How to use this ranch dressing
Use this ranch dressing however you would normally use ranch! I love using it on salads (of course) but you can also use it as a dip for veggies, tofu, or tempeh. I also love to use it as a dressing on a wrap sandwich. Here are a few recipes from the blog that would be perfect with this homemade vegan ranch dressing:
Did you love this recipe? Make sure to leave a ⭐️ rating and tag #dietitiandebbie on instagram!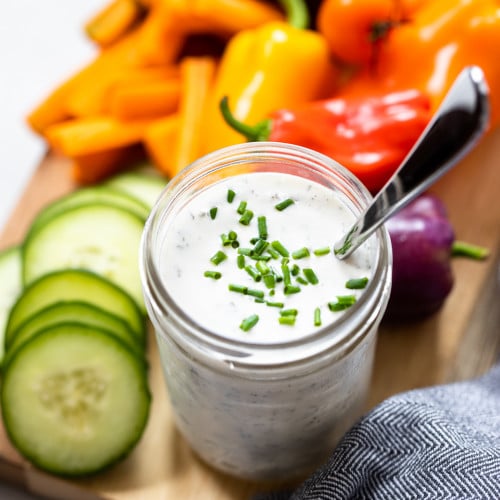 Homemade Vegan Ranch Dressing
This simple and delicious vegan ranch dressing is made extra creamy with vegan yogurt and sour cream mixed with parsley, garlic, and onion to punch up the flavor.
Instructions
Add all of the ingredients to a bowl and whisk well to combine. Store in a glass jar in the refrigerator. 
Notes
Makes ~9 oz dressing. 
Nutrition
Serving: 2tablespoons | Calories: 48kcal | Carbohydrates: 1.7g | Protein: 2g | Fat: 3.7g | Saturated Fat: 1.8g | Polyunsaturated Fat: 1.9g | Sodium: 15mg | Sugar: 1g
Reader Interactions