This buffalo tempeh wrap with homemade ranch is a super simple lunch option that packs a lot of flavor and plant-based protein.
I have been making these buffalo tempeh wraps on repeat lately for lunch at home because it is so good and you can whip it up in just a few minutes. They are one of my favorite easy vegan lunch ideas for work <– check out this post to see them all!
What is Tempeh?
Tempeh is a soy product that originated in Indonesia. It is made by taking whole soybeans, soaking them until softened, slightly cooking them, and then fermenting them so that they form a solid block. Tempeh has a mild, nutty flavor which works well in any number of savory dishes like these buffalo wraps. Check out my plant-based protein guide for more info about tempeh and other plant sources of protein!
Ingredients You'll Need for this Wrap
Tempeh: love the combination of tempeh and buffalo sauce together.
Oil: Use any neutral oil to pan fry the tempeh to give it a little color.
Buffalo Sauce: I used Frank's red hot buffalo sauce which is vegan but you can also make your own by combining hot sauce and melted vegan butter.
Carrot: love the pop of color shredded carrots add to this wrap.
Pickled Red Onion: such a tasty addition to salads, sandwiches and wraps like this one. So simple to make (here's how I make them!), I just keep a jar in my fridge.
Lettuce: romaine, iceberg, butter lettuce all work well.
Ranch Dressing: use your favorite storebought vegan ranch dressing or make your own. Here's a link to my homemade vegan ranch dressing recipe!
Spinach Wraps: use any flavor wrap that you like.
Variations
Don't like tempeh? Use crispy tofu or chickpeas instead.
Switch up the veggies – other great options include thinly sliced purple cabbage, celery, avocado, and black olives.
Want to make it gluten free? Double check that your tempeh doesn't also include grains (some contain barley) and use a gluten-free wrap.
More Great Lunch Recipes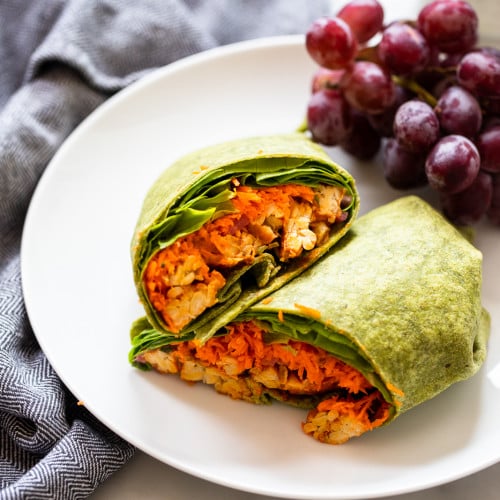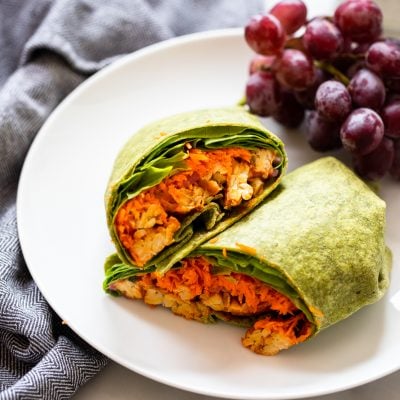 Buffalo Tempeh Wrap
This buffalo tempeh wrap with homemade ranch is a super simple lunch option that packs a lot of flavor and plant-based protein.
Ingredients
For the Tempeh:
1/3 package tempeh ~3 oz
1 tablespoon olive oil or other cooking oil
3-4 tablespoons buffalo sauce
For the Wrap:
1 spinach wrap sub any wrap you prefer
2-3 tablespoons vegan ranch dressing
Pickled red onion shredded carrot, lettuce
Instructions
Cut tempeh into 1/2 inch cubes and then halve into triangle shaped pieces. 

Add oil to a nonstick skillet over medium-high heat. Cook tempeh until golden brown, about 2-3 minutes on each side. 

Turn off the heat and toss the tempeh in buffalo sauce. 

To assemble the wraps, add tempeh, veggies, and drizzle with ranch dressing and serve!
Notes
Buffalo sauce can be high in sodium so you may want to make your own with a low sodium hot sauce and unsalted vegan butter if watching your sodium intake. (Add 1/2 cup butter to 2/3 cup hot sauce and melt over low heat in a saucepan.)
Nutrition
Serving: 1wrap | Calories: 395kcal | Carbohydrates: 18g | Protein: 18g | Fat: 30g | Saturated Fat: 4.5g | Polyunsaturated Fat: 25.5g | Sodium: 945mg | Fiber: 9.5g | Sugar: 3.5g
Reader Interactions