Vegan pumpkin baked oatmeal is a simple, make-ahead breakfast that is delicious when paired with a cup of coffee on a crisp fall day. All you need to create this recipe at home is a few simple pantry ingredients like oats, canned pumpkin, pumpkin pie spice, and pecans.
Fall is just around the corner which means that the time for all things pumpkin spice is here. Baked oatmeal has always been one of my favorite meal prep breakfast options for the week – even more so now that I have a newborn! This pumpkin baked oatmeal is packed with fall flavors and the perfect accompaniment to a cup of coffee on a crisp fall day.
What You'll Need
Oats: use old-fashioned oats for this recipe no quick cooking or it will be too mushy
Canned Pumpkin: make sure to buy the unsweetened plain canned pumpkin not the canned pumpkin filling
Pumpkin Pie Spice: Made from a combination of cinnamon, nutmeg, allspice, cloves, and ginger.
Milk: Use any plant-based milk you prefer. I prefer soy milk since it has more protein than other options.
Baking Powder: Add lightness to this baked oatmeal.
Ground Flax Seed: Use as an egg replacer to help bind the oats together to form a cake-like texture.
Oil: Just a little oil is needed to add a bit of fat since you don't use eggs in this vegan version of baked oatmeal.
Pecans & Pumpkin Seeds: Feel free to use other nuts if you prefer. Walnuts would be a great option.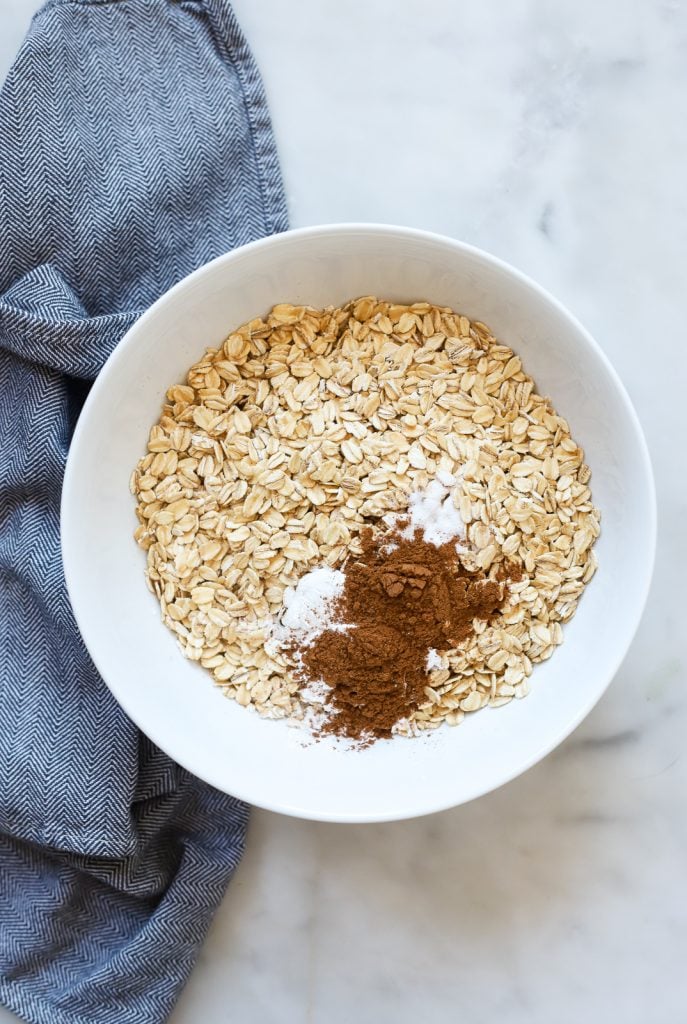 How to Make Pumpkin Baked Oatmeal
One of the reasons I love making baked oatmeal is that the prep is so incredibly simple! You just mix the dry ingredients (oats, spices, baking powder, salt) and the wet ingredients (pumpkin, milk, flax egg, and oil) in two different bowls and then combine. Transfer the mixture to a greased baking dish and enjoy the wonderful smells that permeate your kitchen as this pumpkin baked oatmeal bakes. Seriously, I wish I could make that scent into a candle!
To serve, I like adding a splash of milk and a drizzle of maple syrup. You could also add some nut butter (almond butter would be great).
How to Store Baked Oatmeal
This recipe can easily be prepped ahead and reheated if you would like. After the baked oatmeal is cooled, you can slice into individual servings and store in an airtight container in the refrigerator for up to 3 days. When ready to serve, reheat in the microwave for a few minutes (1 minute 30 seconds to 2 minutes is usually good for me!) or use a toaster oven to reheat. You can also reheat the entire pan of baked oatmeal in the oven covered with aluminum foil at 300 degrees Fahrenheit when ready to serve.
Can I freeze Baked Oatmeal?
Yes! This pumpkin baked oatmeal can easily be frozen just like other baked oatmeal recipes. I like to cut it into individual slices and store those in a Tupperware container with parchment paper between any stacked slices to keep them from sticking together. When ready to serve, I just reheat it a serving in the microwave for 3-4 minutes or until defrosted and warmed through. You can also reheat in the oven at 300 degrees Fahrenheit until warmed.
Other Tasty Oat Recipes
Reader Interactions