I wasn't quite sure how to name this salad because it is a hybrid between a potato salad and a greens based salad. Whatever you want to call it, this roasted potato salad with wilted arugula is so delicious! Roasted potatoes get seasoned with a bit of rosemary, garlic, and smoked paprika and then tossed with arugula, and parmesan crisps. Drizzled over top is a simple lemony dressing that brings is all together. I'm drooling just thinking about it!
How to Make the Parmesan Crisps
The parmesan crisps were inspired by a salad I had at a local restaurant that I couldn't wait to recreate for salads at home. They are like cheesy little croutons! Just make sure to look for a parmesan that is vegetarian as most use animal rennet. I was able to find a great one at Trader Joe's which I used in this recipe.
To make the crisps, you'll add about 1-2 tablespoons of shredded parmesan onto a parchment lined baking sheet. Leave space between the spoonfuls of cheese since they spread a little as they bake. Bake until the cheese has melted and started to turn golden brown. Allow to cool on the pan for several minutes until they have crisped up. So simple and such a fun addition to this salad!
More Delicious Salads You'll Love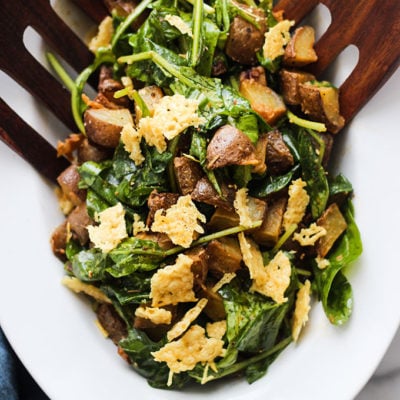 Roasted Potato Salad with Wilted Arugula
This roasted potato salad with wilted arugula may not be super colorful, but the light lemony dressing and parmesan crisps can compete with any salad.
Ingredients
For the Potatoes:
24 oz. small red potatoes chopped
3 tablespoons olive oil
1/2 teaspoon rosemary
1/4 teaspoon garlic powder
1/4 teaspoon smoked paprika
1/8 th teaspoon sea salt
1/8 th teaspoon ground black pepper
For the Cheese Crisps:
1 ounce shredded parmesan cheese
For the Dressing:
1/2 lemon juiced
1 tablespoon red wine vinegar
1 teaspoon Dijon mustard
1 tablespoon olive oil
Sea salt and ground black pepper to taste
For the Salad:
4 oz. package baby arugula I used Bright Farms brand
Instructions
Preheat the oven to 350 degrees Fahrenheit.

In a large mixing bowl, toss together the potatoes, olive oil, rosemary, garlic powder, paprika, salt and ground pepper. Toss to coat and transfer onto a baking sheet. Spread into a single layer and bake for until tender and golden brown about 30-35 minutes. Stir potatoes at about 20 minutes into the cooking time.

Meanwhile, line a baking sheet with parchment paper. Arrange parmesan cheese onto the pan in 6 small 2 inch piles. Bake for 5-8 minutes or until golden brown. Allow to cool on the pan. They will harden/crisp up as they cool.

Add all of the dressing ingredients to a jar and shake well to mix.

To assemble the salad, add the arugula, potatoes, and dressing to a large bowl and toss to mix. Add a bit more salt and pepper if needed, to taste. Crumble parmesan crisps onto the top of the salad and divide into bowls to serve.
Nutrition
Serving: 1/5 recipe | Calories: 200kcal | Carbohydrates: 24g | Protein: 5g | Fat: 10g | Saturated Fat: 2g | Polyunsaturated Fat: 8g | Cholesterol: 4mg | Sodium: 125mg | Fiber: 2.5g | Sugar: 2.5g
Reader Interactions