Too many of us don't eat enough vegetables. One easy way to sneak some more into your diet is to add them to your morning smoothie! Here are the 12 best vegetables for smoothies as well as their specific health benefits and a roundup of some delicious veggie smoothie recipes.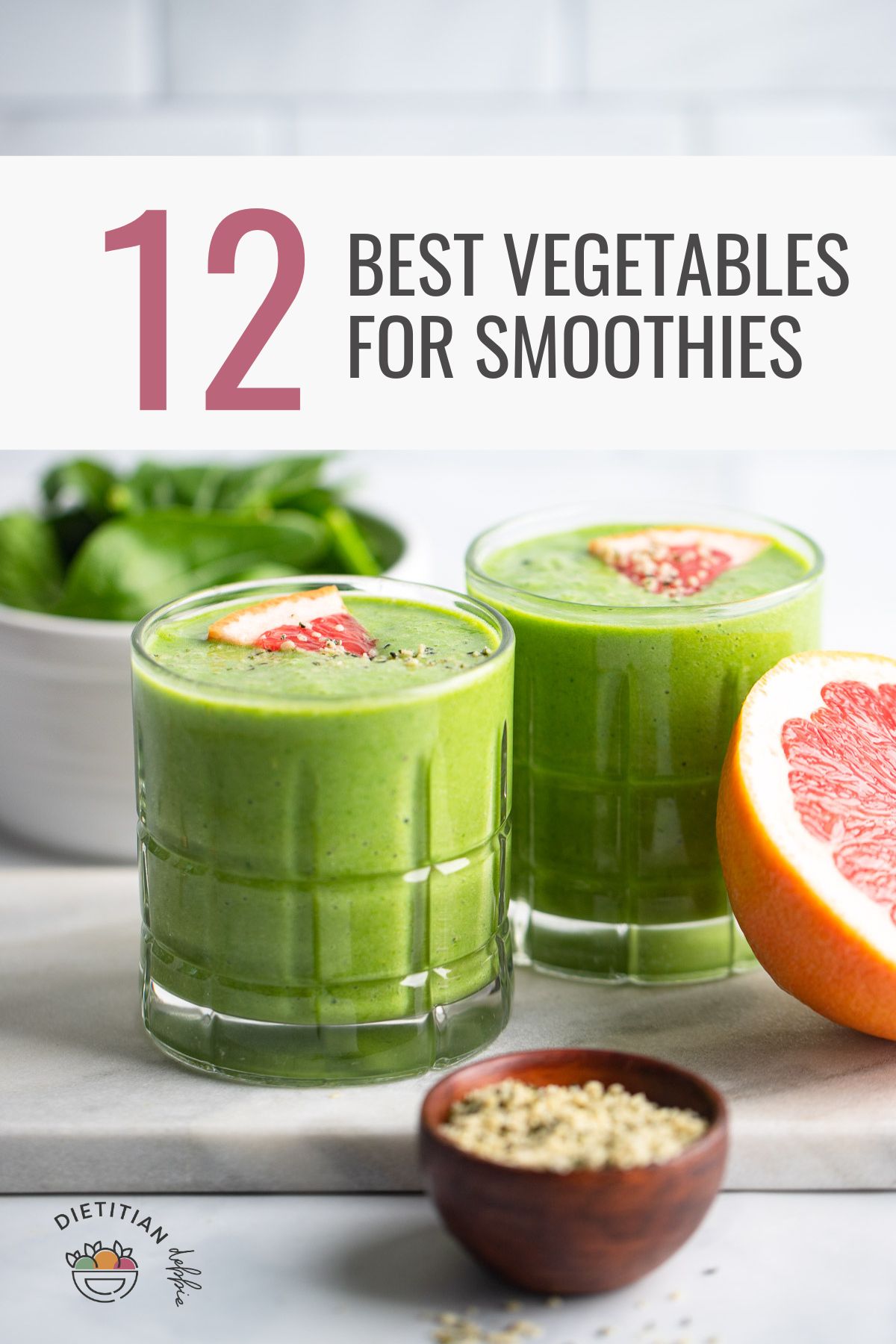 Smoothies are quick, convenient, and portable so they continue to be a popular health food. As a plant-based dietitian, I love smoothies because they can be a great way to incorporate more fruits and vegetables into your diet with little extra effort.
If you have not tried adding vegetables to your smoothies yet, this guide will help you decide what vegetables taste best in smoothies and how to include them. There are also plenty of vegetable smoothie recipes included so you can discover your favorite veggies for smoothies. 
Are Smoothies Healthy?
Smoothies can be nutrient-dense and convenient option for a meal or snack. Although the internet is full of expensive superfoods and powders for smoothies, simple whole food ingredients like fruit, veggies, and yogurt are all you need to create a healthy smoothie at home. Add a serving of vegetables to your smoothie and reap the healthy benefits.
Why Add Vegetables to a Smoothie?
Only 1 in 10 US adults consumes the recommended servings of 2-3 cups of vegetables per day (1). Adding a serving of vegetables to your morning smoothie can be an easy way to help you reach those daily servings. One barrier to eating more vegetables that I often hear from clients is that they do not know how to cook vegetables to make them taste good. Blending up veggie-packed smoothies like the ones in this round up means no cooking! 
For picky eaters who don't like a lot of vegetables, a vegetable smoothie can also be a great option since the flavor and texture of the vegetable is often masked by the other flavors in the smoothie. 
1) Leafy Greens
How to Use in Your Smoothie

The most popular vegetable to add to veggie smoothies is raw baby spinach since it has little to no flavor and adds a wonderful green color to smoothies.  For the more adventurous, other leafy green vegetables to try in your vegetable smoothies include: romaine lettuce, kale, Swiss chard, and collard greens. Both raw or frozen green leafy vegetables can be used in smoothies.
It's also fun to make homemade juice blender with greens like these: ginger zinger green juice or kale cider green juice.

Health Benefits

Dark leafy greens are nutrient-dense and high in fiber so adding just a handful to your smoothie offers a lot of benefits. For example greens are high in potassium, folate, and vitamins C and K as well as antioxidants.

Recipes
2) Cauliflower
How to Use in Your Smoothie

If you want to add a vegetable to your smoothie, but preserve the pretty color – cauliflower can be a great option! Frozen cauliflower is the best way to include this vegetable in smoothies since it adds a lot of creaminess and the flavor is very subtle.
To freeze your own cauliflower for smoothies, try steaming it first and then freezing for later use. If you don't have a powerful blender, using frozen cauliflower rice may puree better than florets.

Health Benefits

Like most vegetables, cauliflower is a great source of fiber and it also provides more than 10% of the RDA for Vitamins K, C, B6, and folate. Cauliflower is a great source of antioxidants such as glucosinolates and isothiocyanates which have been linked to lower cancer growth in cells (2).
Cauliflower is also one of the few plant-based foods that is high in choline. Choline is an essential nutrient that plays a role in many important functions in the body like neurotransmitter production.

Recipes
3) Beets
How to Use in Your Smoothie

Adding beets to a smoothie produces a beautiful purple color and adds a subtle earthy flavor. For best results, use cooked beets in smoothies since they will puree smoother. You can either chop them and cook in a steamer basket until tender or roast them whole in the oven until tender.
Raw beets can be added to smoothies, but you'll need a high powered blender in order to puree them smooth. Avoid canned or pickled beets for smoothies.
I also love using beets in juice like this blender beet juice recipe.

Health Benefits

Even though they aren't a favorite vegetable for many, beets offer a lot of great health benefits. Like leafy grants they are also a good source of folate which is important for growth and heart health.
The dietary nitrates in beets have been linked to lower blood pressure and improved athletic performance (3). Betalains which are a bioactive compound found in beets have been of interest to researchers since it is a powerful antioxidant.

Recipes
4) Cucumber
How to Use in Your Smoothie

Cucumber's mild flavor makes it a great vegetable for adding to smoothies. Depending on the variety of cucumber you buy and the type of blender you have, you may want to peel your cucumber before tossing it into your smoothie.
I like English cucumbers best since they have fewer seeds and thin skin. Fresh or frozen cucumber works well.

Health Benefits

Cucumbers are a good source of nutrients like vitamins C and K, magnesium, and potassium. Like most fruits and vegetables, cucumbers also contain antioxidants. They also have a high water content which can help you reach your hydration goals when adding to smoothies.

Recipes
5) Winter Squash
How to Use in Your Smoothie

Winter squash like pumpkin and butternut squash can be a tasty addition to smoothies in the fall and winter when other fresh fruits and vegetables are not in season. Canned pumpkin or pureed butternut squash is easy to toss into smoothies.
Cooked squash is best for smoothies so toss it into the steamer or roast in the oven until tender before adding to smoothies. Winter squash shines when you add other warm spices like cinnamon, nutmeg, and ginger to the smoothie as well.

Health Benefits

Winter squash is a great source of vitamins A and C both important nutrients for health skin and hair. Squash is also a good source of potassium which plays an important role in blood pressure management but only about 2% of US adults meet the RDA for this nutrient (4).

Recipes
6) Zucchini
How to Use in Your Smoothie

Like cucumber, zucchini has a mild flavor that makes it easy to incorporate into smoothies. Add fresh or frozen raw zucchini. You can also steam the zucchini first and then add it to smoothies if you find that raw zucchini is too difficult to digest. Depending on your blender, you may find that the zucchini purees better once peeled.

Health Benefits

Eating a diet rich in high fiber foods like zucchini has been shown to lower risk of heart disease. Zucchini is high in pectin, a type of soluble fiber that can help lower "bad" LDL cholesterol levels. There is some promising evidence in recent research that eating a diet high in antioxidant-rich fruits and vegetables like zucchini may help reduce risk of Alzheimers and dementia. 
Zucchini is a good source of antioxidants like lutein and zeaxanthin which can lower risk of age-related eye disease like macular degeneration. 

Recipes
7) Sweet Potato
How to Use in Your Smoothie

Sweet potatoes may not be the first veggie that comes to mind when you pull out the blender to make a smoothie, but it can be a tasty addition. Similar to winter squash, sweet potatoes pair well with spices like cinnamon, nutmeg, and ginger. Use cooked sweet potatoes for smoothies for best results.

Health Benefits

Sweet potatoes are a great source of vitamins A and C which both play an active role in immunity as well as eye and skin health. They are also a good source of both soluble and insoluble fiber which both support a healthy gut. Eating a diet rich in fiber has been linked to lower risk of colon cancer.

Recipes
8) Celery
How to Use in Your Smoothie

Celery can be a tasty addition to green smoothies. Usually it pairs well with some leafy greens, apple, and ginger. For best results, try chopping the celery before adding to the the blender.

Health Benefits

Adding celery to your smoothie can be an easy way to bump up the fiber content as it is a good source of insoluble fiber. Like most vegetables, celery is rich in antioxidants. Eating a diet rich in foods high in antioxidants can lower your risk of chronic diseases like type 2 diabetes and heart disease.

Recipes
9) Carrots
How to Use in Your Smoothie

Carrots can be a great addition to smoothies not only for their bright color but also because of their natural sweetness. Like winter squash, carrots can pair well with spices like cinnamon, ginger, and nutmeg. Cooked or raw carrots can be used in smoothies. However, cooked carrots will be easier to puree if you don't have a high powered blender.
Carrots are also a delicious addition to homemade juices. I love this blender carrot ginger juice.

Health Benefits

Carrots are rich in beta carotene which the body converts to vitamin A, a nutrient that is essential for good eye health. They also contain pectin, a type of insoluble fiber found in many fruits and vegetables. Soluble fibers feed the healthy bacteria in your gut and can help lower cholesterol.

Recipes
10) Broccoli
How to Use in Your Smoothie

Broccoli can be a great addition to smoothies if you are looking to be more adventurous with your green smoothies. Use raw or frozen broccoli florets for best results. Avoid cooked broccoli since it can add too much moisture to the smoothie. 
Health benefits

A serving of broccoli contains over 50% of the daily recommendation for vitamin C which is important for immune function and skin health. Broccoli contains a plant compound called sulforophane which gives broccoli its bitter flavor but also helps protect against various types of cancer. 

Recipes
11) Chickpeas or White Beans
How to Use in Your Smoothie

Although chickpeas are also technically a legume, we're going to consider them a vegetable here. Beans like chickpeas or white beans have a mild flavor and they can add creaminess to smoothies. Use cooked or canned chickpeas for smoothies. When using them from a can, just drain the liquid and give them a rinse before adding to your smoothie recipe.

Health Benefits

Chickpeas are also a great source of plant-based protein as well as fiber. They are also a good source of iron so pair them with a fruit high in vitamin C in your smoothie to help with absorption. Chickpeas are rich in choline which is important for the production of certain neurotransmitters, the chemical messengers for your nerve cells.

Recipes
12) Avocado
How to Use in Your Smoothie

Although avocado is technically a fruit, it is commonly eaten and sold as a vegetable so we'll include it in this list. For those who don't like banana, avocado can be a great substitution for adding creaminess to smoothies. The mild flavor of avocado means that it can be easily used in many smoothie recipes.

Health Benefits

Avocados are a good source of heart healthy monounsaturated fats. They are a good source of nutrients like vitamin K which supports bone health. Avocados also contain phytochemical like lutein and zeaxanthin which can help provide antioxidant protection for the eyes.

Recipes
What are the Worst Vegetables for Smoothies?
Both fresh and frozen vegetables can be great additions to smoothies, but avoid canned vegetables if possible. Vegetables in the brassica family (cabbage, brussels sprouts) tend to have a strong bitter taste so they may not be the best for smoothies. Depending on your blender, some stringy vegetables like celery can be too difficult to puree into a smoothie.
How to Make a Vegetable Smoothie
When incorporating vegetables into your smoothies, you'll want to pay attention to how you layer the ingredients in your blender for best results. Here is the best method for making smoothies with veggies.
Start by adding your liquid to the bottom of the blender.
Add your vegetable and blend until smooth.
Add in the rest of your smoothie ingredients and puree until smooth. Add more liquid if needed to thin out the smoothie to your desired consistency.
Vegetable Smoothies for Picky Eaters
If cooked vegetables have never appealed to you or you have a picky eater in the family, incorporating veggies into smoothies can be a great way to help reach the recommended 2-3 servings vegetables per day.
Many are turned off by the smell of cooked vegetables but veggies are added to smoothies either raw or frozen so this can be avoided. For many of the smoothie recipes above, you won't be able to taste the vegetable at all when it is paired with other fruits and spices which can be helpful for picky eaters.
Looking for more smoothie recipes? Check out my smoothie archives for dozens more smoothie recipes created by a plant-based dietitian that you are sure to love.