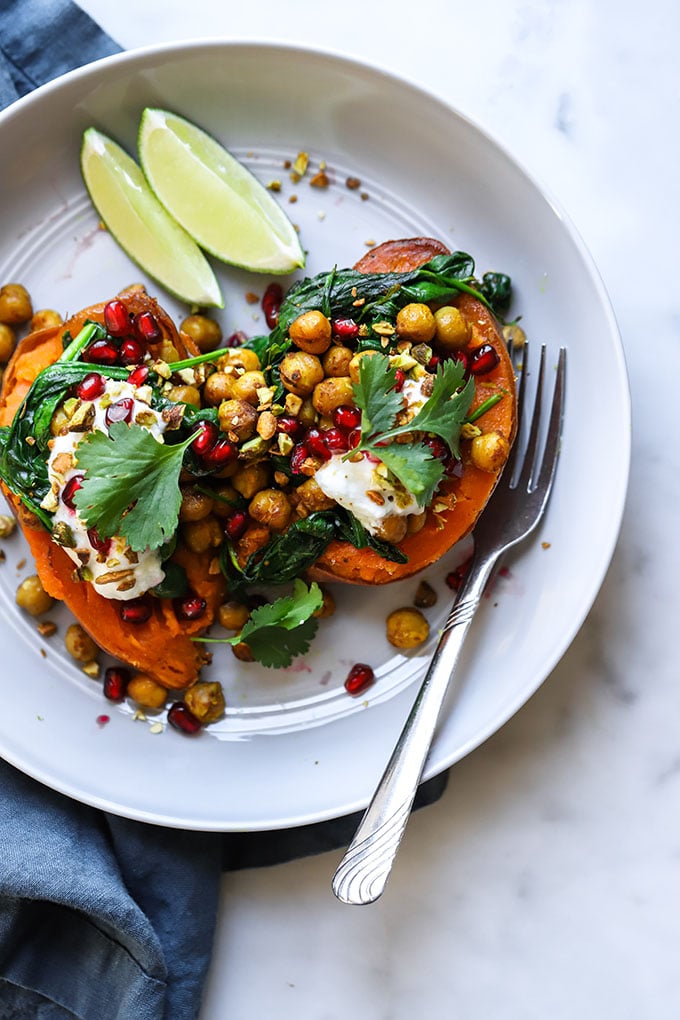 Loaded baked sweet potatoes are one of my go-to meals when I am not really in the mood to cook. You can really load them up with just about anything which is why I love them so much! Plus, sweet potatoes happen to have a lot of great nutrients like potassium, vitamin A, and vitamin B6.
My standard loaded sweet potato has black beans, sautéed spinach, avocado/guacamole, salsa, cheese, sour cream, and hot sauce. Last weekend, I was inspired to whip up a Mediterranean version and came up with these curry chickpea stuffed sweet potatoes.
I had the oven on since I was roasting up some other vegetables and roasted up a couple of potatoes as well. If I want to make this in less than 30 minutes, I'll just microwave the potato.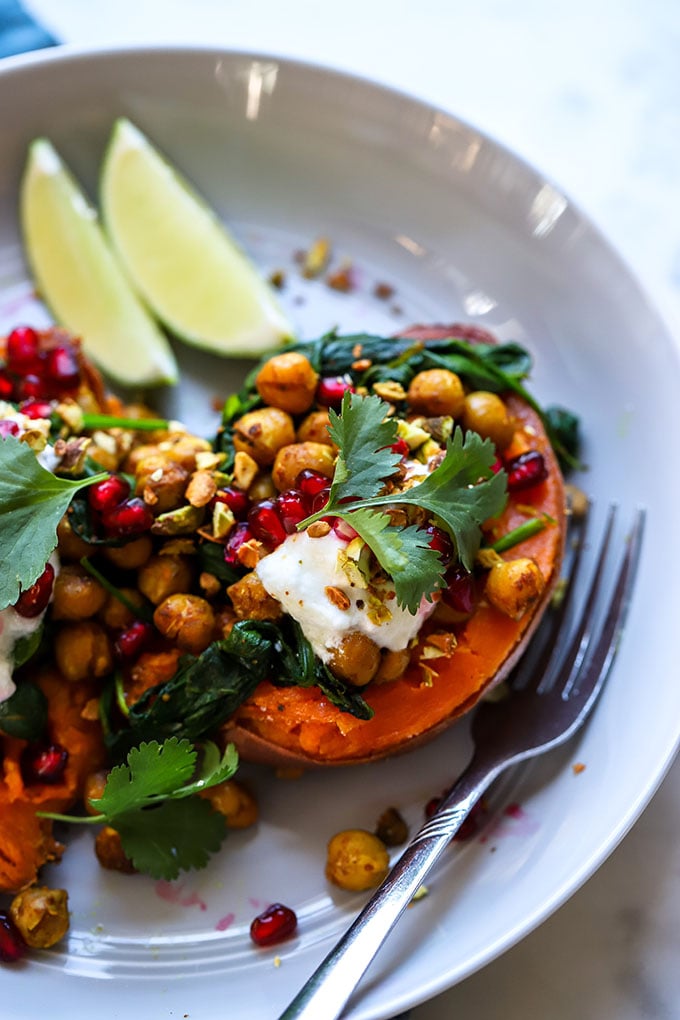 My shopping list always includes sweet potatoes, spinach and beans so I am already halfway to making a meal like this one! I am currently obsessed with pomegranate and have been using them a lot in salads of late. I thought they would be a fun addition here since they pair well with other Mediterranean flavors.
The chopped pistachios were a last minute add-on, but I loved them! They add just a bit of crunch and really round out these potatoes. I just love meals like this one that are healthy and super simple. Healthy meals don't have to take forever to make!
More Sweet Potato Recipes You'll Love
Did you love this recipe? Make sure to leave a ⭐️ rating and tag #dietitiandebbie on instagram!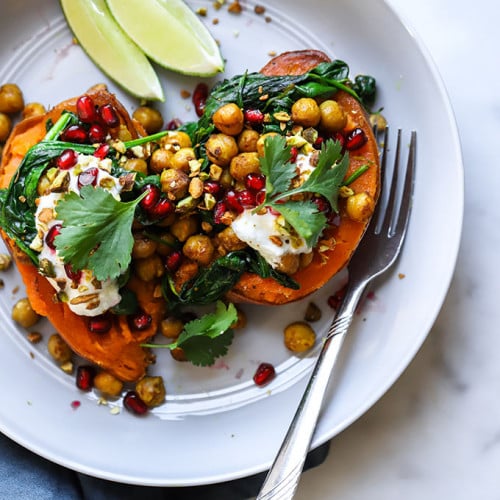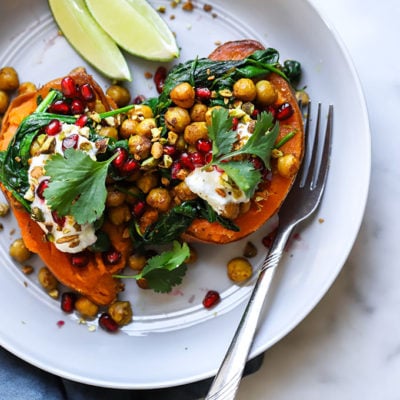 Curry Chickpea Stuffed Sweet Potatoes
These curry chickpea stuffed sweet potatoes are a fun twist on your standard loaded baked potato with curry chickpeas, spinach, and pomegranate.
Ingredients
For the Potatoes:2 sweet potatoes halved
1 tablespoon olive oil
Salt and Black Pepper
For the Chickpea/Spinach Filling:1 tablespoon olive oil
1 can chickpeas drained
2 teaspoons curry powder
1/2 teaspoon smoked paprika
1/4 teaspoon garlic powder
1 5 oz. bag baby spinach leaves
Dash of salt and ground black pepper
To Serve:Yogurt pomegranate seeds, chopped pistachios, cilantro, lime
Instructions
Preheat the oven to 375 degrees Fahrenheit.

Slice sweet potatoes in half lengthwise. Rub with olive oil and arrange cut side down on a baking sheet. Sprinkle with salt and pepper. Bake for 35-40 minutes or until tender when poked with a fork.

OPTIONAL: You can also just cook the sweet potatoes in the microwave rather than roasting for faster prep.

Add olive oil and chickpeas to a skillet. Stir in curry powder, smoked paprika, and garlic powder. Sauté for 5-7 minutes or until chickpeas are starting to lightly browned.

Stri in the spinach and cook until wilted. Add salt and pepper to taste.

To assemble, add 1 potato to a plate and add 1/2 of the chickpea/spinach mixture. Top with a dollop of plain yogurt, pomegranate seeds, pistachios, and cilantro. Serve with a lime wedge.
Nutrition
Serving: 1potato | Calories: 463kcal | Carbohydrates: 46g | Protein: 10g | Fat: 29g | Saturated Fat: 3g | Polyunsaturated Fat: 26g | Sodium: 235mg | Fiber: 11.5g | Sugar: 12g
SaveSaveSaveSave
Reader Interactions