Eat the rainbow in a bowl by making this teriyaki tempeh bowl. A vegan meal that is ready is just about 30 minutes featuring a homemade teriyaki sauce, golden brown tempeh and a rainbow of veggies.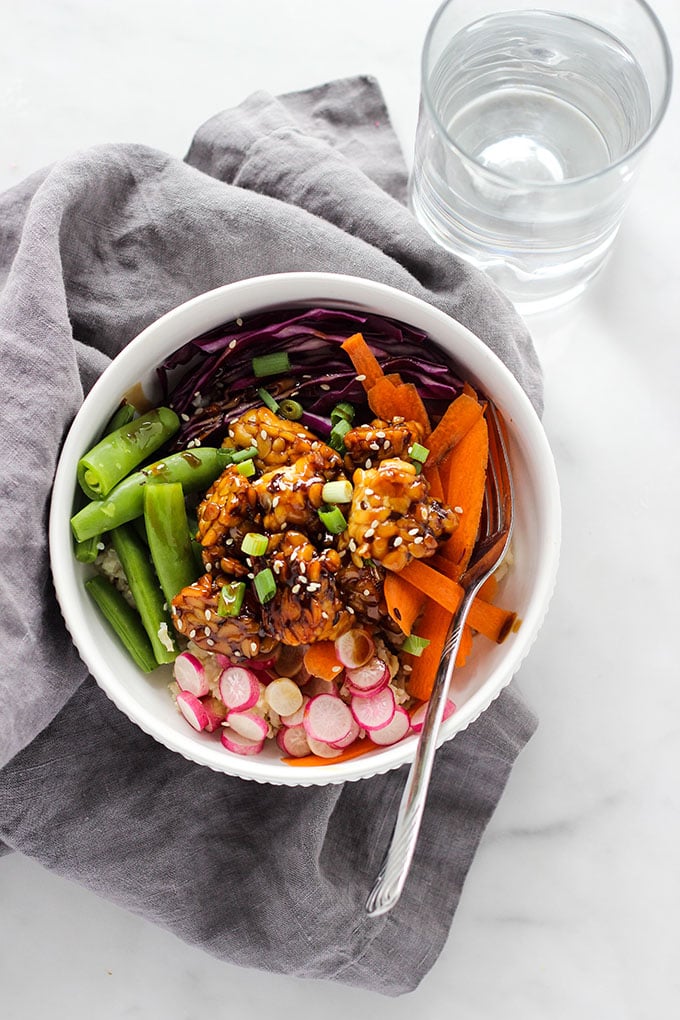 Can we just take a moment to admire how pretty that bowl is? I love trying to add lots of color to my meals, because more color = more antioxidants which are important for preventing cell damage. I love the teriyaki salmon stir fry at the hot bar at Whole Foods and have been wanting to recreate it at home for ages. Since it's summer and no one wants to turn on their ovens these days, meals like this teriyaki tempeh bowl are perfect.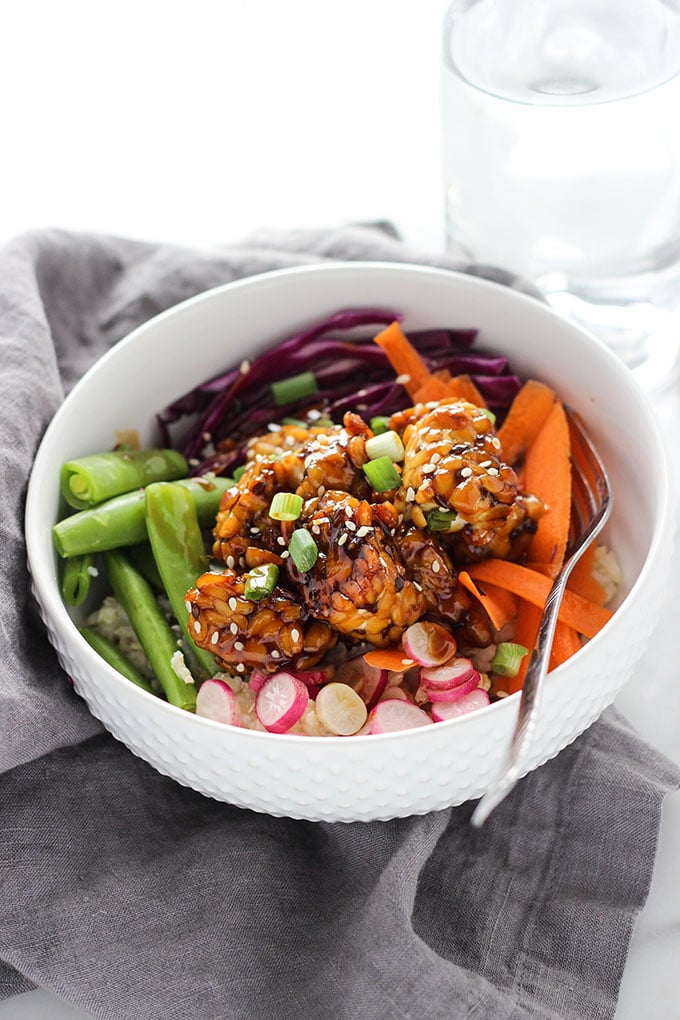 Tips for Making these Bowls
I don't like my teriyaki sauce too sweet, so you may want to adjust the brown sugar in my recipe to your liking. It makes a thick sauce which is perfect for glazing the tempeh.
To serve, I made some brown rice and then prepped some fresh vegetables including snap peas, radish, carrots, and cabbage. Since it's summer, I preferred my veggies raw, but you can also stir fry them in oil or a bit more teriyaki sauce before serving if you'd like.
This meal can come together in just about 30 minutes with quick cooking rice, depending how fast you can chop veggies!
More Recipes You'll Love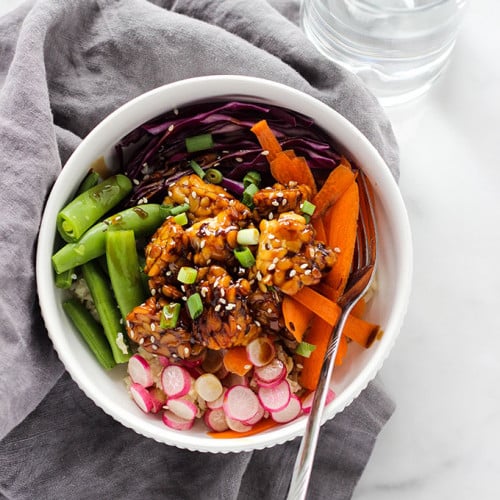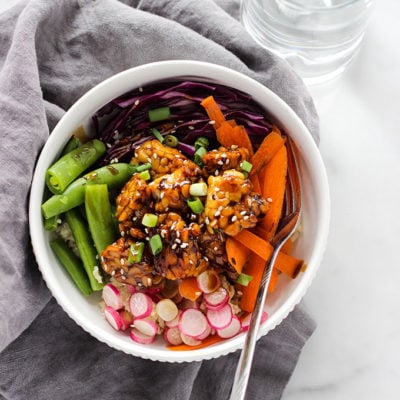 Teriyaki Tempeh Bowl
Eat the rainbow in a bowl by making this teriyaki tempeh bowl. A vegan meal that is ready is just about 30 minutes.
Ingredients
Teriyaki Sauce:
2 tablespoons cornstarch + 1/4 cup water
1 cup water
1/4 cup reduced sodium soy sauce
1 tablespoon sweet rice wine Mirin
1 tablespoon brown sugar
2 cloves garlic minced
1 teaspoon fresh ginger grated
For the Bowl:
2 tablespoons coconut or canola oil
2 servings cooked brown rice or white rice
Fresh cut vegetables snap peas, radish, cabbage, carrots, etc.
Instructions
Put your rice on to simmer while you prep the tempeh and sauce.

In a small bowl, whisk together the 2 T. cornstarch and 1/4 cup water. Set aside.

In a small saucepan, add the 1 cup water, soy sauce, rice wine, brown sugar, garlic, and ginger. Bring to a simmer and then stir in the cornstarch/water mixture. Sauce with thicken as you continue to stir for 1 more minute.

Turn off the heat and set aside to cool and thicken to gravy consistency.

Meanwhile, chop tempeh into triangles. Heat oil in a non-stick skillet and add the tempeh. Cook for 2-3 minutes on 1 side until golden and then flip each piece and cook on the second side for 1-2 minutes or until golden brown.

Add 1/4-1/3 cup of teriyaki sauce to tempeh in the skillet and toss to coat.

Assemble bowls by layering rice, chopped vegetables, and tempeh.
Nutrition
Serving: 1/2 Recipe | Calories: 595kcal | Carbohydrates: 75g | Protein: 28g | Fat: 21g | Saturated Fat: 13g | Polyunsaturated Fat: 8g | Sodium: 860mg | Fiber: 13g | Sugar: 6g
Reader Interactions