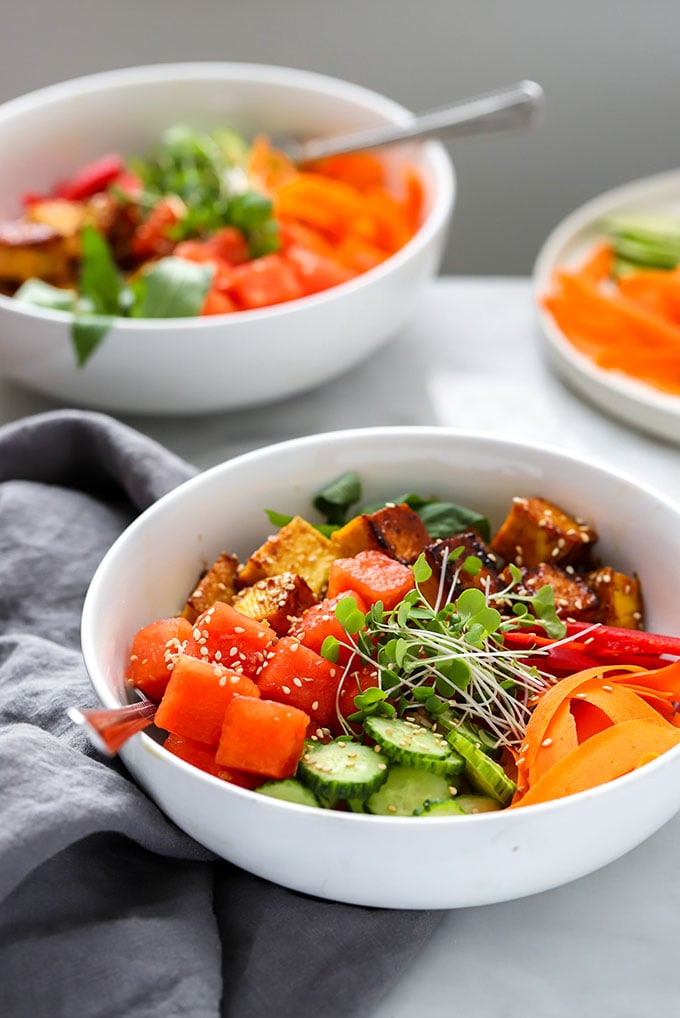 If you ask me, summer meals should be quick, easy, and don't require you to turn on your oven. This vegan watermelon poke bowl is a classic summer meal that is super simple to whip up! If you've never had and/or heard of a poke bowl before, it is a native Hawaiian dish that is usually served with cubed raw fish. In place of the raw fish (which is often tuna or salmon), I marinated some watermelon in a bit of soy sauce, ginger, and sesame oil. It may sound strange, but it totally works as a sushi like substitute. 🙂 
In each bowl, you've got a pile of cooked rice, crispy tofu, marinated watermelon, and chopped veggies. To make these even easier, I just bought microwave rice in a pouch from the store so it was ready in just 90 seconds. (I love to cook, but I'm all about shortcuts for quick meals like this one!) A tip for making crispy tofu is: patience. After adding to tofu to a well-oiled non-stick pan, just let it cook undisturbed fro 2-3 minutes. Turn over a piece with a fork and if the bottom is lightly browned, turn over all the pieces to cook another 2-3 minutes on the next side. Just keep repeating that process until it is golden brown on all sides. You also want to use the right kind of tofu – extra firm is best for these bowls. If you are a Chicago local, we love using Phoenix Bean tofu!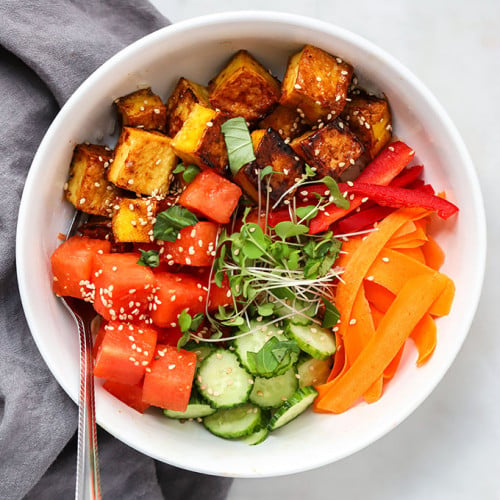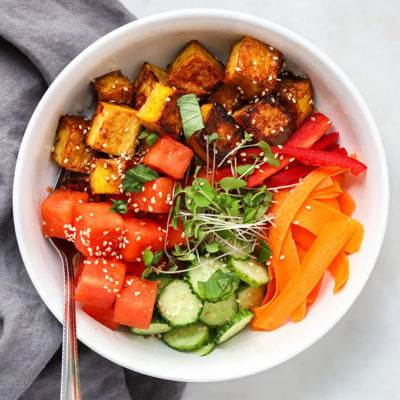 Vegan Watermelon Poke Bowl
The traditional Hawaiian poke bowl gets a vegan this with this vegan watermelon poke bowl. A simple, colorful dinner that is perfect for summer!
Ingredients
For the Tofu:16 oz package extra firm tofu
1 1/2 tablespoon oil
For the Watermelon:1/4 reduced sodium soy sauce
1/2 tablespoon ginger paste I get it from Trader Joe's! You can also use grated fresh ginger or 1 teaspoon ginger powder
1 tablespoon rice wine vinegar
1/2 teaspoon sesame oil
1 tablespoon water
2 1/2 cups watermelon cut in 1/2" cubes
For the Bowls: 4 servings cooked white rice cooled
Sliced cucumber
Sliced red pepper
Sliced carrots or make carrot ribbons!
Basil I used thai basil - soo good!
Instructions
Add oil and cubed tofu to a nonstick pan over medium-high heat. Cook tofu on each side for  2-3 minutes or until golden brown. 

Meanwhile, add the watermelon marinade ingredients to a mason jar and shake well to combine. Add watermelon to a small mixing bowl and pour just 3 tablespoons of the marinade over top. Toss gently to coat watermelon in the marinade and set aside. 

Add the rest of the marinade to the pan with the tofu and cook until it thickens and coats tofu. Turn off the heat and set aside. 

To assemble your bowls, divide rice between 4 bowls and evenly divide the rest of your toppings between each bowl. 
Nutrition
Serving: 1/4 recipe | Calories: 295kcal | Carbohydrates: 32g | Protein: 15g | Fat: 13g | Saturated Fat: 1.5g | Polyunsaturated Fat: 11.5g | Sodium: 585mg | Fiber: 2g | Sugar: 6.5g
Reader Interactions