This spiced pear baked oatmeal is a delicious meal prep friendly breakfast option that features fresh pears, cinnamon, ginger, and nutmeg.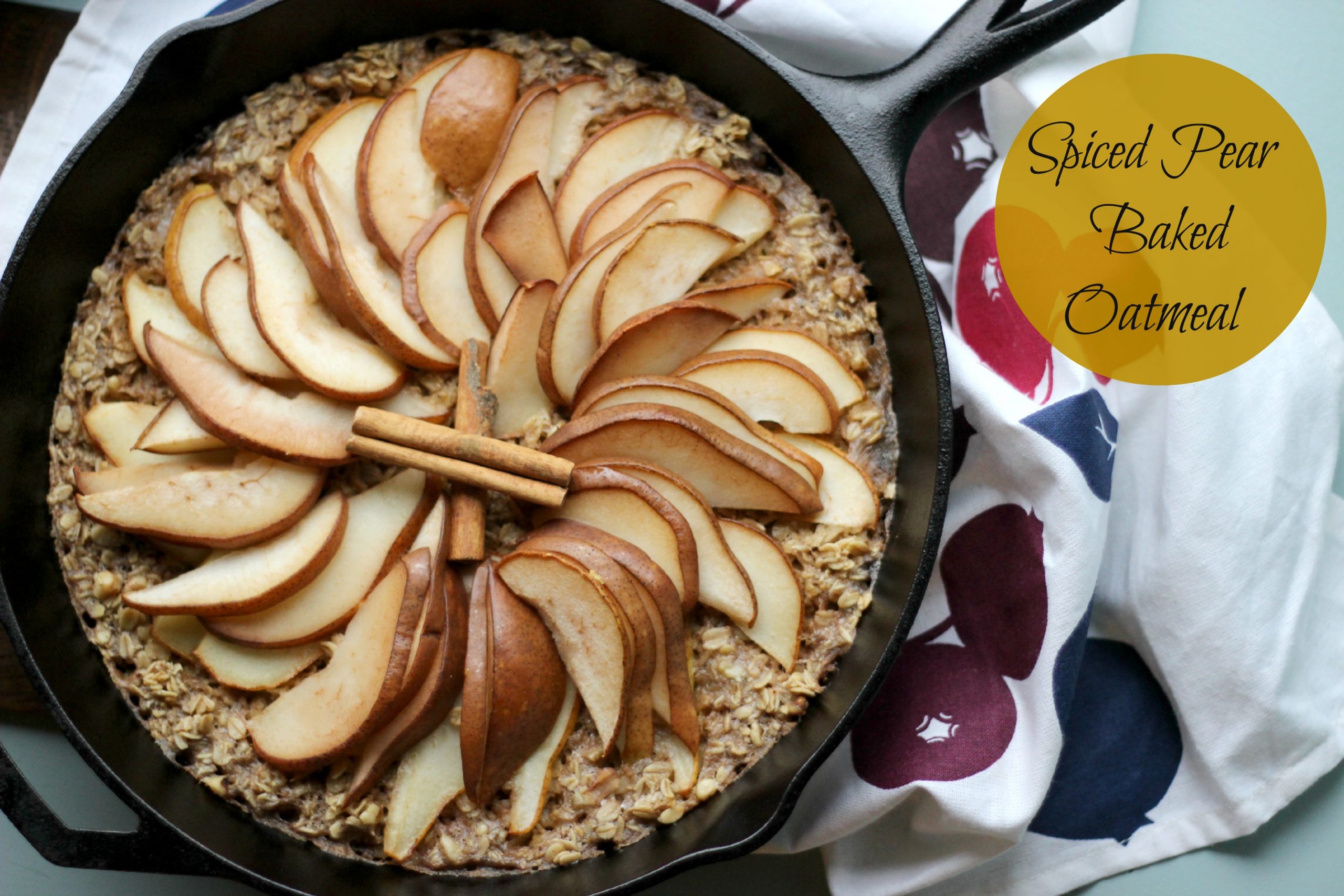 For this month's recipe redux, I took a little different approach to the theme – good luck foods. Sauerkraut at New Years was commonly enjoyed by my family, minus myself , who couldn't get over the smell of it cooking to actually give it a try… Ha! I know black eyed peas are another good luck food, but they are tough to flavor without bacon/ham/pork, which isn't my thing as a vegetarian. Round foods are also considered good luck – so I thought, why not bake oatmeal in a skillet?! Can that count as round? In some cultures, it's tradition to hide a trinket or coin in your pudding or cake as a sign of good luck for whoever receives it in their piece. Why not hide a little something in these oats for someone to find on New Years morning? (Warning your guests beforehand of course!) Plus, what better way to start off the new year on a healthy note than with this hearty vegan breakfast? Sounds like a great idea to me!
More Delicious Baked Oatmeal Recipes You'll Love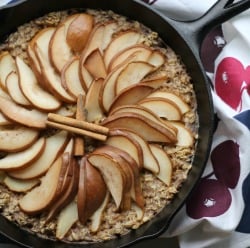 Spiced Pear Baked Oatmeal
This vegan spiced pear baked oatmeal is the perfect dish for weekend brunch!
Ingredients
2 cups of old fashioned oats
1 13.5 oz can light coconut milk
2 tablespoons coconut oil melted
1/4 cup maple syrup
1 teaspoon baking powder
1 teaspoon cinnamon
1 teaspoon ginger
1 teaspoon nutmeg
2 teaspoons vanilla extract
2-3 pears thinly sliced
1/2 cup chopped walnuts
Dash of sea salt
Instructions
Preheat oven to 350 degrees Fahrenheit.

Grease cast iron skillet with cooking spray.

Combine all ingredients except pears in a large bowl. Stir until well combined.

Pour oat mixture into skillet and spread evenly in the pan.

Arrange sliced pears over the top of the oats.

Cook at 350 degrees for ~40 minutes.
Notes
Serve warm with a dash of cream or your favorite plant-based milk and a side of hot coffee or tea.
Nutrition
Serving: 1/6 Recipe | Calories: 265kcal | Carbohydrates: 29g | Protein: 5g | Fat: 13.5g | Saturated Fat: 7g | Polyunsaturated Fat: 6.5g | Sodium: 35mg | Fiber: 3.5g | Sugar: 9g
Reader Interactions