You'll quickly fall in love with this flavorful and nutrient-packed vegan taco salad topped with a creamy cashew dressing.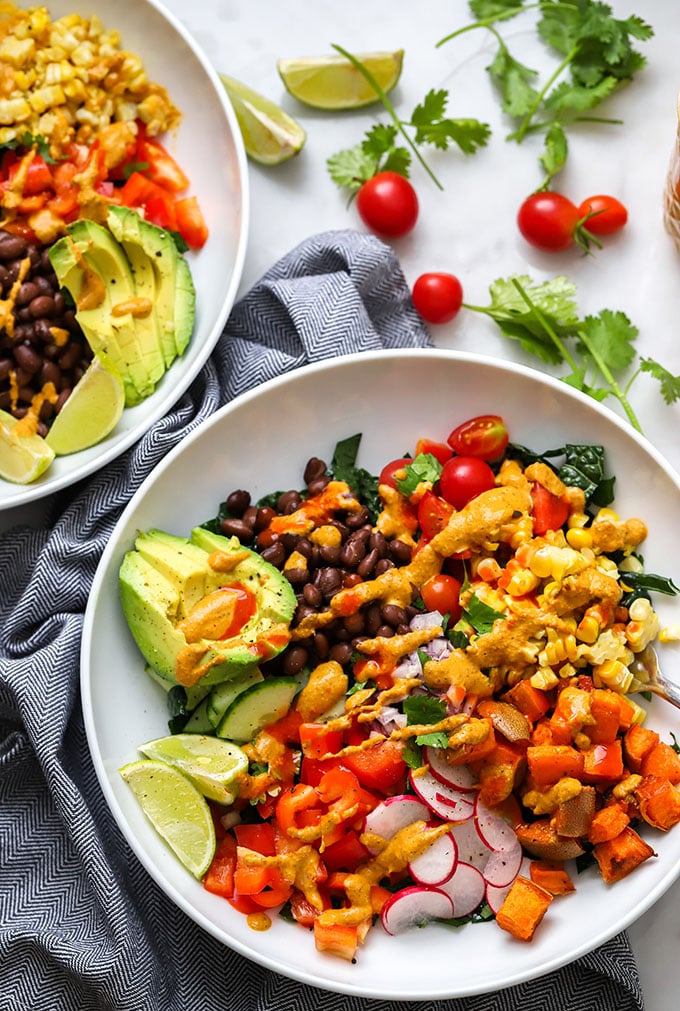 I have been daydreaming about creating this vegan taco salad with creamy cashew dressing for way too long. Honestly, I have a lot of blog recipe ideas that live on various lists which I only wished I had the time to develop! This vegan taco salad was one of those recipes. Last week, I finally took advantage of a free weeknight to make this for dinner.
This salad was a total winner from the start! Will and I tag-teamed in the kitchen – he chopped while I prepped the dressing and we were able to whip this up in no time. It's perfect for summer when we tend to live on big meal-sized salads like this one for dinner often. (This buffalo tempeh salad is another favorite!)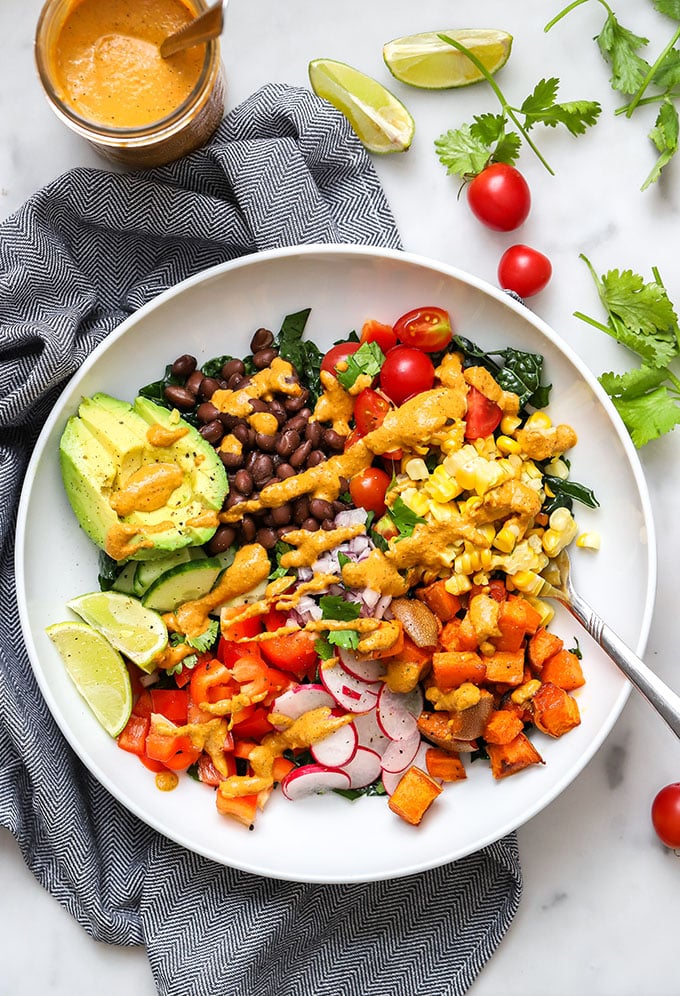 Tips for Making this Recipe
The only time intensive part of this recipe is roasting up the sweet potatoes in the oven, but you could skip that if you wanted OR meal prep them ahead of time. (I just can't live without them on my taco salads!) I usually roast a pan of sweet potatoes on the weekend for adding to my salads during the week. It came in handy when I was whipping up this one.
I've used both grilled corn on the cob as well as broiled and both are simple and tasty. Honestly, other than the kale, beans, and dressing the other toppings are completely based on your preferences or whatever happens to be in your fridge!
More Delicious Salad Recipes You'll Love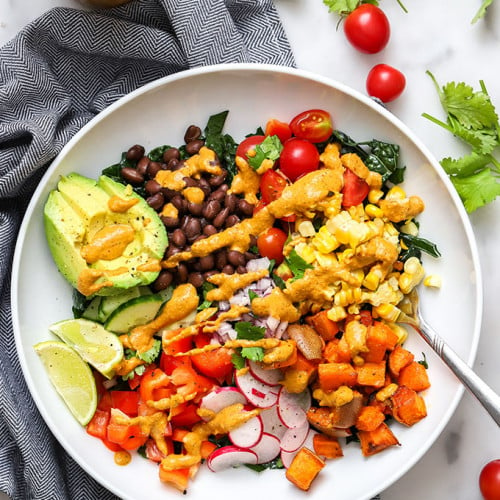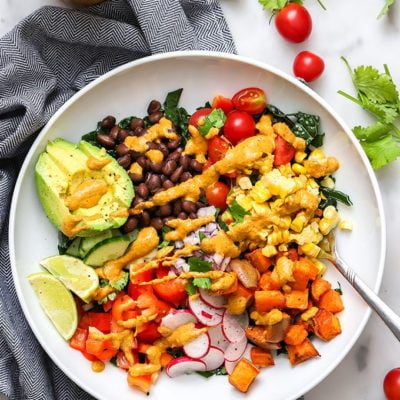 Vegan Taco Salad with Creamy Cashew Dressing
You'll quickly fall in love with this flavorful and nutrient-packed vegan taco salad topped with a creamy cashew dressing.
Ingredients
For the Dressing:
1 cup raw cashews
1 cup water
2 tablespoons taco seasoning
2 tablespoons red wine vinegar
1/3 cup fresh cilantro
Juice from 1 lime
Sea salt and ground black pepper to taste
For the Salad:
1 bunch lacinato kale or lettuce greens
2 medium sweet potatoes
2 tablespoons olive oil
2 ears fresh corn on the cob or 3/4 cup cooked corn
1/2 red bell pepper chopped
1 avocado sliced
1/2 pint cherry tomatoes halved
1/4 cup chopped red onion
4-5 radishes thinly sliced
4 inches cucumber sliced and quartered
1 15 oz can black beans, drained and rinsed
Cilantro to garnish
Instructions
Preheat oven to 375 degrees Fahrenheit. Add sweet potatoes to a baking sheet and drizzle with olive oil. Toss to coat and sprinkle with salt and pepper. Bake for 35-45 minutes or until edges are dark brown/golden and potatoes are softened.

Turn on the broiler setting and spray corn with cooking oil. Lay on a baking sheet and broil over high heat, rotating every 1-2 minutes until corn in charred.

To make the dressing, add all the dressing ingredients into a high powered blender and puree until smooth.

Remove the stems from the kale and chop into thin strips. Add to a large mixing bowl and drizzle with 1/2 tablespoon olive oil and a bit of salt. Massage well until kale leaves start to soften.

To assemble, divide ingredients evenly between 4-5 large plates for meal sized servings OR toss everything together in a large mixing bowl.
Nutrition
Serving: 1/4 recipe | Calories: 460kcal | Carbohydrates: 54.5g | Protein: 15g | Fat: 23.5g | Saturated Fat: 4g | Polyunsaturated Fat: 19.5g | Sodium: 580mg | Fiber: 13.5g | Sugar: 8g
SaveSave
SaveSave
Reader Interactions