Since I spend a lot of time in the car commuting back and forth to work as well as traveling to patients' homes, I am always looking for something new to listen to. Depending on my mood, I usually switch between music, podcasts, and audio books. Since a couple of my favorite break, I was looking for a new book. I had quite a few credits for audio books stocked up so I decided to finally dive into the Harry Potter book series. That's right, I am years behind everyone else! Lol. So far, I am already hooked. I'll definitely be listening through them as I test out recipes in the kitchen over the next month or two.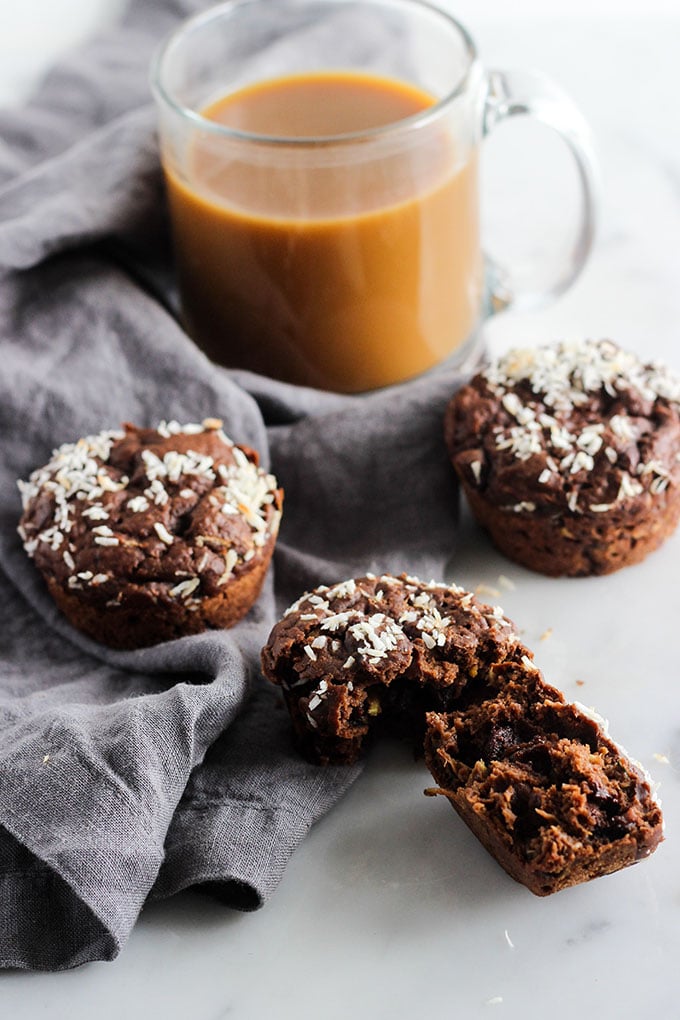 Speaking of recipes, these vegan double chocolate zucchini muffins are perfect for these latter summer days when zucchini is abundant. I love snacking on them in the afternoon with a cup of coffee as a quick pick-me-up. The secret ingredient in these muffins is a bit of espresso powder. I feel like that dash of espresso highlights the chocolate flavor of these muffins. Of course, if you aren't a coffee fan, you can easily leave the espresso powder out. Either way, they are equally delicious. 🙂
More Delicious Muffin Recipes
Vegan Double Chocolate Zucchini Muffins
These vegan double chocolate zucchini muffins are the perfect accompaniment to a cup of coffee in the morning or as an afternoon snack.
Ingredients
1 3/4 cup all purpose flour
1 teaspoon baking powder
1/3 cup white sugar
1/2 cup cocoa powder
2 teaspoons instant espresso powder
1/4 teaspoon salt
1 cup soy milk
1/4 cup vegetable oil
1 teaspoon vanilla extract
1 cup shredded zucchini
1/2 cup vegan chocolate chips
Optional: 1/4 cup unsweetened shredded coconut flakes
Instructions
Preheat your oven to 350 degrees Fahrenheit. Spray a muffin tin with non stick cooking spray or line muffin tin with paper liners.

In a large mixing bowl, add all the ingredients except the chocolate chips. Stir with a wooden spoon until well mixed. Add chips and stir again until evenly distributed in dough.

Divide dough evenly between 12 muffin cups. Sprinkle with shredded coconut flakes if using. Bake muffins for 16-20 minutes or until toothpick inserted into muffin comes out clean.
Nutrition
Serving: 1muffin | Calories: 189kcal | Carbohydrates: 28g | Protein: 4g | Fat: 8g | Saturated Fat: 3g | Polyunsaturated Fat: 3g | Monounsaturated Fat: 1g | Trans Fat: 1g | Cholesterol: 2mg | Sodium: 94mg | Potassium: 138mg | Fiber: 2g | Sugar: 10g | Vitamin A: 54IU | Vitamin C: 2mg | Calcium: 64mg | Iron: 2mg
Reader Interactions