There's almost nothing better than having a lazy weekend morning and making a batch of pancakes. In fact, my ideal summer weekend morning would involve making these pancakes and then savoring them while nursing a cup of hot coffee. Then, heading off to the farmers market. Unfortunately, there are only a couple of weekends left to do just that!
These pancakes are extra special since they are a good source of heart healthy soluble fiber as well as vegan-friendly. That same heart healthy fiber also makes these pancakes so much more filling. Since the pancakes themselves are pretty basic, make sure to jazz these up a bit with some fresh seasonal produce. I'm obsessing over the last of summer's peaches at the moment so I buried my pancakes in them. (After taking pretty pictures of course!)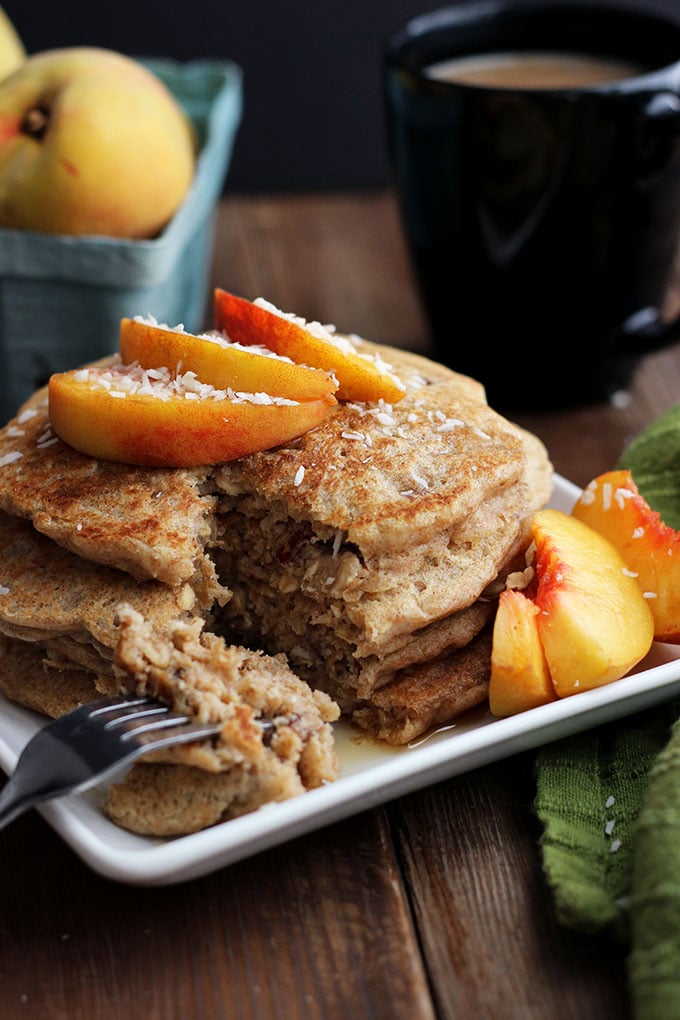 In other news, I am jetting off to the Blog Brûlée, a small conference for healthy food bloggers, much too early in the morning so it is off to bed for me! Make sure to check out my Instagram or Twitter for updates throughout the weekend if you are curious what I'm up to!
Vegan Oatmeal Pecan Pancakes
These vegan oatmeal pecan pancakes are a healthy, hearty addition to your weekend pancake tradition.
Ingredients
1 cup whole wheat flour
1 tablespoon baking powder
2 tablespoons granulated sugar
3/4 cup oats
1 tablespoon ground flax seed
1 1/2 cups soy milk or non-dairy milk of choice
1 teaspoon vanilla extract
2 tablespoons coconut oil vegetable or canola are fine as well
Dash of salt
1/3 cup chopped pecans
Instructions
In a large mixing bowl, sift together the flour and baking powder. Stir in the sugar, oats, and ground flax seed.

Stir in the milk, vanilla, melted coconut oil, and salt. Add the pecans and stir to combine.

Spray a non-stick skillet with cooking oil and add ~1/3 cup of batter to the pan. Cook for 1-2 minutes or until you lightly browned. Flip and cook on the second side until lightly browned. Repeat until you have cooked all of the batter. Recipe makes ~6 four or five inch pancakes.
Nutrition
Serving: 1Pancake | Calories: 274kcal | Carbohydrates: 35g | Protein: 8.7g | Fat: 12.2g | Saturated Fat: 4.7g | Polyunsaturated Fat: 7.5g | Sodium: 239mg | Fiber: 5.5g | Sugar: 4.9g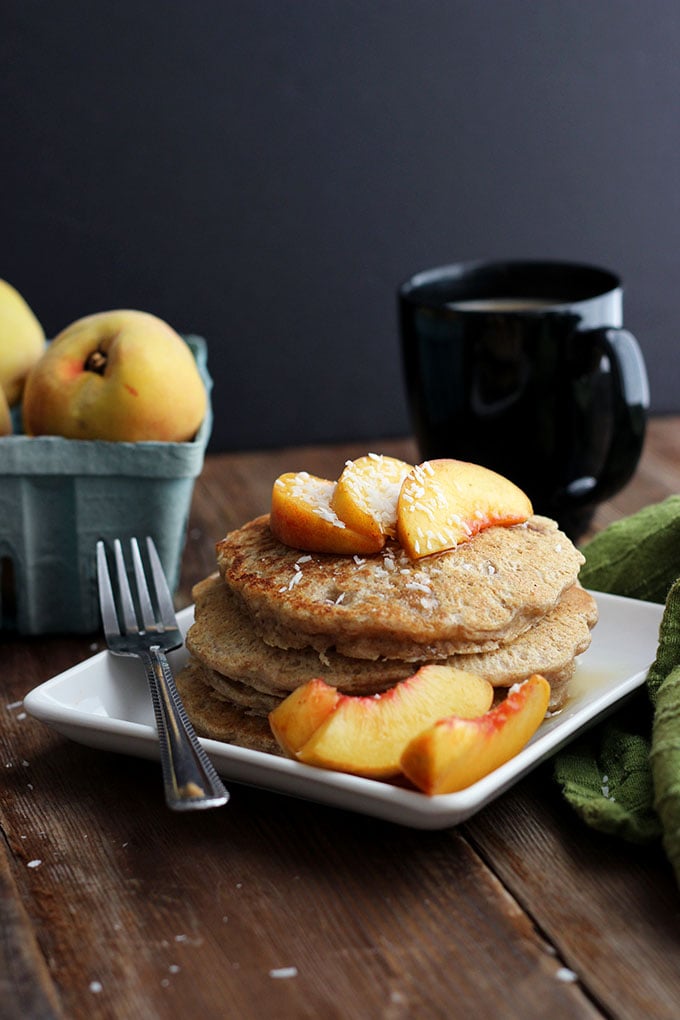 Reader Interactions