I am always looking for new, healthy ways to switch up my breakfast routine. Winter is all about new ways to dress my usual bowl of oats while summer is all smoothies and bowls of yogurt with fresh fruit.
I know that savory oatmeal has been a trend for a while, but it was still too hot out to create a new oatmeal bowl. I started thinking about how I could edit my yogurt to incorporate savory notes and was so excited about how these turned out!
If you'd like to go a step further with these recipes and make your yogurt from scratch then you may be interested to know that using an Instant Pot is one of the ways to make yogurt from home!
Roasted Tomato and Spinach Yogurt Bowl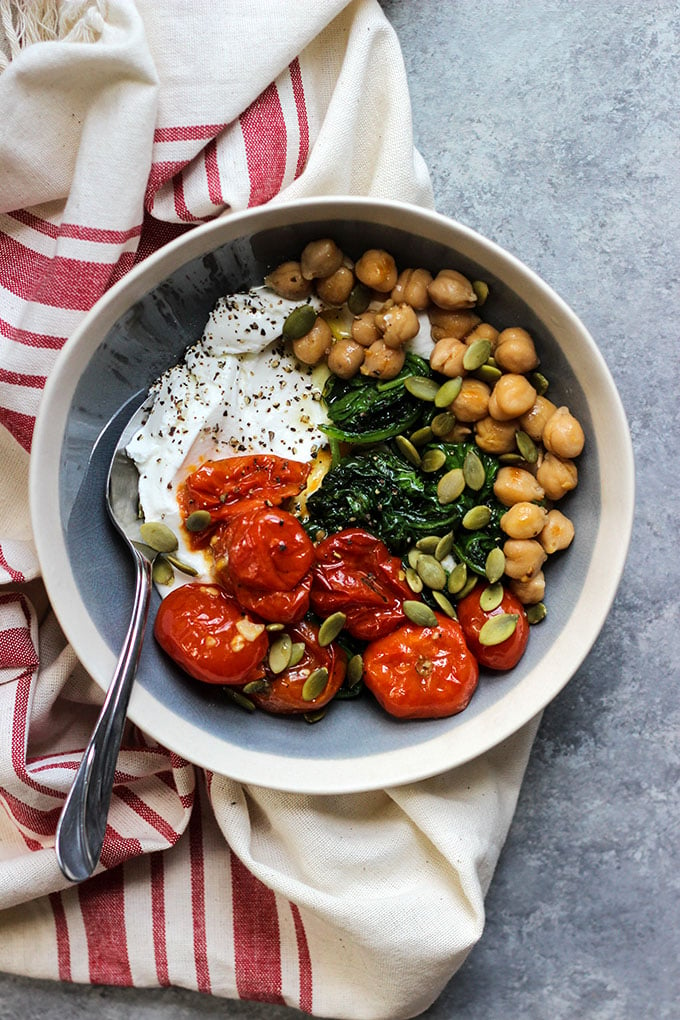 I wanted to take advantage of summer vegetables in these bowls so this first one has tomatoes. I roasted up about 1/2 of a pint of cherry tomatoes with a drizzle of olive oil and a sprinkle of salt and black pepper. Once they were burst, I transferred them to a container with some chopped garlic and kept it in the fridge overnight to marinate.
The next day, I sautéed a bit of spinach and then reheated the tomatoes and chickpeas in the same pan and served it all up with some plain greek yogurt and pumpkin seeds for crunch. 
More Breakfast Recipes You'll Love
Roasted Tomato and Spinach Yogurt Bowl
Switch up your normal breakfast routine with these savory yogurt bowls! This roasted tomato and spinach yogurt bowl is bursting with savory, summer flavor.
Ingredients
Instructions
Preheat the oven to 375 degrees Fahrenheit.

Spread tomatoes onto a baking sheet in an even layer and drizzle with olive oil. Sprinkle with salt and pepper and bake for 20-25 minutes or until tomatoes have burst. Allow to cool for 10 minutes then transfer to a container. Stir in the garlic and refrigerate overnight until ready to use.

When you are ready to make your bowl, add spinach and olive oil to a non-stick skillet and sprinkle with salt and pepper. Cook over medium heat until wilted, about 5 minutes. Set aside.

In the same skillet, heat up the tomatoes over low heat. Set aside.

In the same skillet, add the chickpeas and heat over low heat. Set aside.

To assemble bowls, divide Greek yogurt between 2 bowls. Evenly divide topping ingredients. Sprinkle with pumpkin seeds and an extra dash of black pepper. Serve!
Cucumber Cantaloupe Yogurt Bowl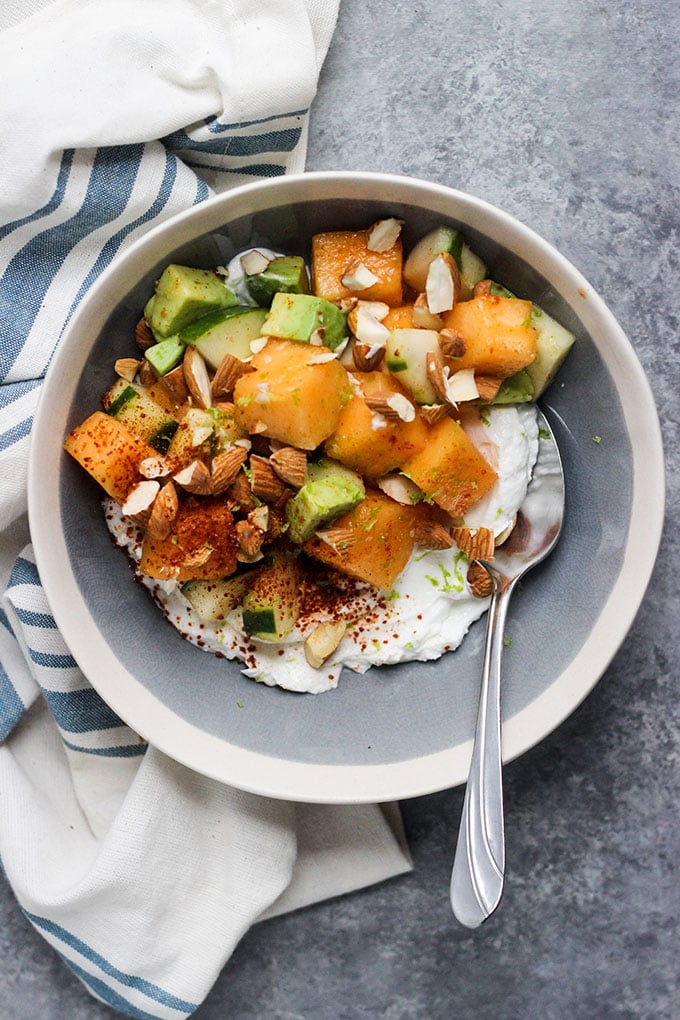 This cucumber cantaloupe yogurt bowl is probably my favorite of the 2 since it plays with a mixture of savory and sweet. Sprinkled over top is a chili lime seasoning that I am currently putting on everything.
Trader Joe's carries it and it is perfect for sprinkling on summer melon. You can also use Tajin which has the same salty/spicy/tart combination that is so good. In addition to cantaloupe, chopped cucumber and avocado round out this savory bowl which is drizzled in fresh squeezed lime juice and zest. Almonds add a bit of satisfying crunch to finish.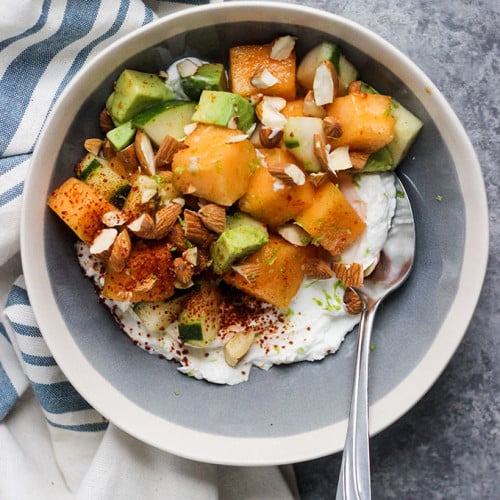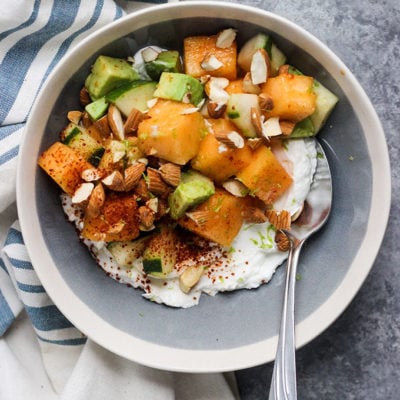 Cucumber Cantaloupe Yogurt Bowl
Switch up your normal breakfast routine with these savory yogurt bowls! Chili lime seasoning takes your breakfast to a new level in this cucumber cantaloupe yogurt bowl.
Ingredients
1 1/2 cups cubed cantaloupe
1/2 avocado chopped
3 " section of cucumber sliced 1/4″ thick and quartered
1/2 teaspoon chili lime seasoning +more to serve
1 teaspoon lime juice
1 1/2 cups plain Greek yogurt divided
1/3 cup chopped almonds
Zest from 1/2 lime
Instructions
In a large bowl, toss together the cantaloupe, avocado, cucumber, chili lime seasoning, and lime juice.

Divide yogurt between two bowls and evenly divide cantaloupe mixture between each. Top with almonds (divided) and lime zest.
Reader Interactions