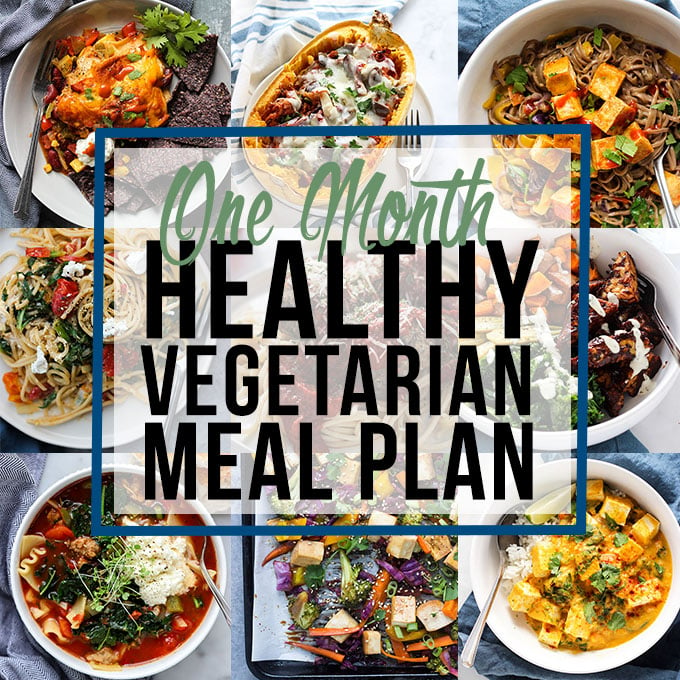 Hey there! For those of you thinking about hitting the reset button on healthy eating this year, I wanted to provide a simple guide to get you started. This one month meal plan includes a lot of my favorite recipes from the blog laid out in a convenient printable calendar. Each week has 6 days worth of dinner recipes to get you inspired to get back into the kitchen on a regular basis. Some of the meals take as little as 30 minutes to prepare. Any recipes that take a little longer to cook, I added to the weekends since you likely have a little more time to work on prep on those days. Each week also includes one day for eating up leftovers or going out. (Since no one wants to have to cook every night!)
I didn't plan out breakfast and lunch, but I did provide a list of some of my favorite go-to breakfast and lunch recipes below. I just mix and match those based on my week. For work, I always pack my lunch so I will either reheat leftovers or prep a favorite salad to portion out over the week. (I am currently still hooked on that winter kale salad for lunch. Mmmm!) I also make macro bowls too if I have the time on the weekend to roast up some veggies and cook a pot of grains.
Curious to see what a typical week looks like for me? Since it is just Will and I, we will eat leftovers some nights if we cook up a recipe that makes more than 2 servings. On nights when we don't really feel like cooking, I'll just have a simple cooked vegetable, Field Roast veggie sausage (not sponsored- just like them!), and a microwaved sweet potato. (Simple, yet filling!) Here's a snapshot of what a typical week might look like for me. Anything underlined is a recipe linked below.

For those of you who want to organize the recipes on your own rather than follow a set plan, here is a comprehensive list of some great breakfast, lunch, and dinner recipes that will get you started! I've included all of the dinner recipes from the one month plan above in the list below.
Here's to a healthy and happy 2018! Let me know in the comments below if you find these types of plans helpful!
Breakfast:
Lunch:
Dinner:
SaveSaveSaveSave
SaveSave
SaveSave