Vegan macaroni and cheese can taste just as good as the real thing! You'll love this cashew based sauce. Make it a meal by adding broccoli and serving with your favorite plant-based protein.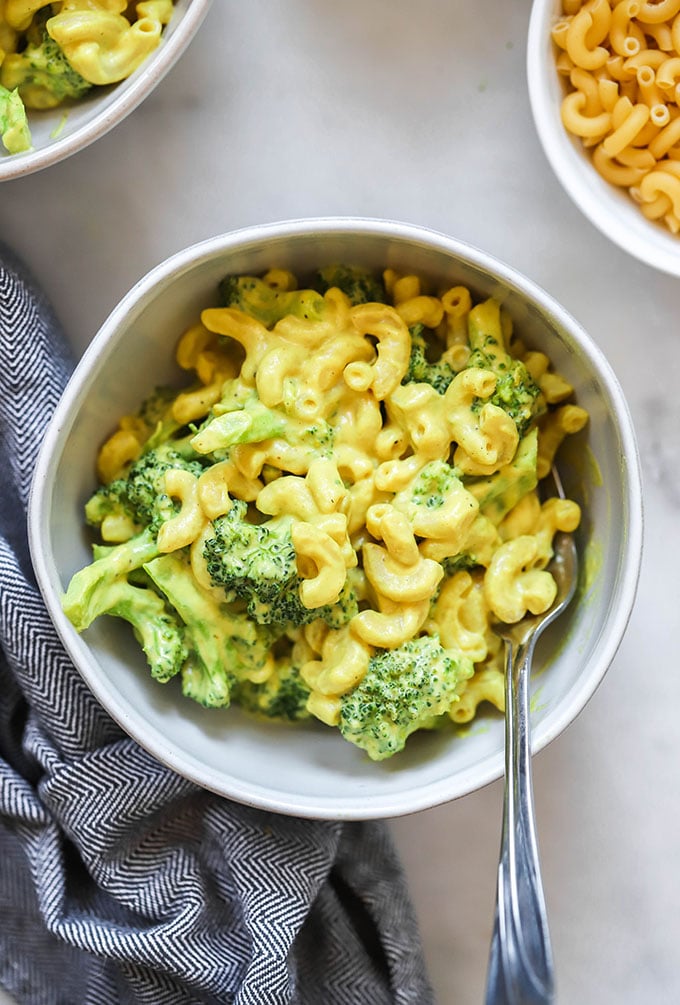 I've been writing this blog for so long it's about time that I finally posted a macaroni and cheese recipe! This vegan version of the classic comfort food dish is made better for you by using wholesome ingredients like cashews, onion, garlic, and nutritional yeast to make the cheesy sauce instead of dairy cheese.
Tips for Making this Vegan Macaroni and Cheese
Cashews make the creamy vegan "cheese" sauce for this macaroni and cheese. I buy plain (unroasted, not salted) cashews from the bulk bin for recipes like this one.
Soaking the cashews is important because you want them to be soft enough that they will puree into a smooth sauce in the blender. You can either soak them overnight in the fridge or soak them in very hot (almost boiling) water for 20-30 minutes.
The vegan cheese sauce is super simple to whip up as everything just gets tossed in the blender and pureed until smooth. This will probably work best with a high-speed blender.
Rather than using another pot to cook the broccoli, I just toss it into the boiling pasta water in the last 2-3 minutes of cooking. I then just drain it with the pasta into a colander and it's all done at once.
Make this recipe gluten free by simply using gluten free pasta noodles.
Serving Suggestions for this Macaroni and Cheese
Don't have broccoli? No problem! Feel free to add whatever veggie you prefer – cauliflower, peas, green beans, Brussels sprouts, spinach… they would all taste great. 👍 Make it a complete meal by adding a plant-based protein on the side like a veggie based sausage or stir in some canned beans.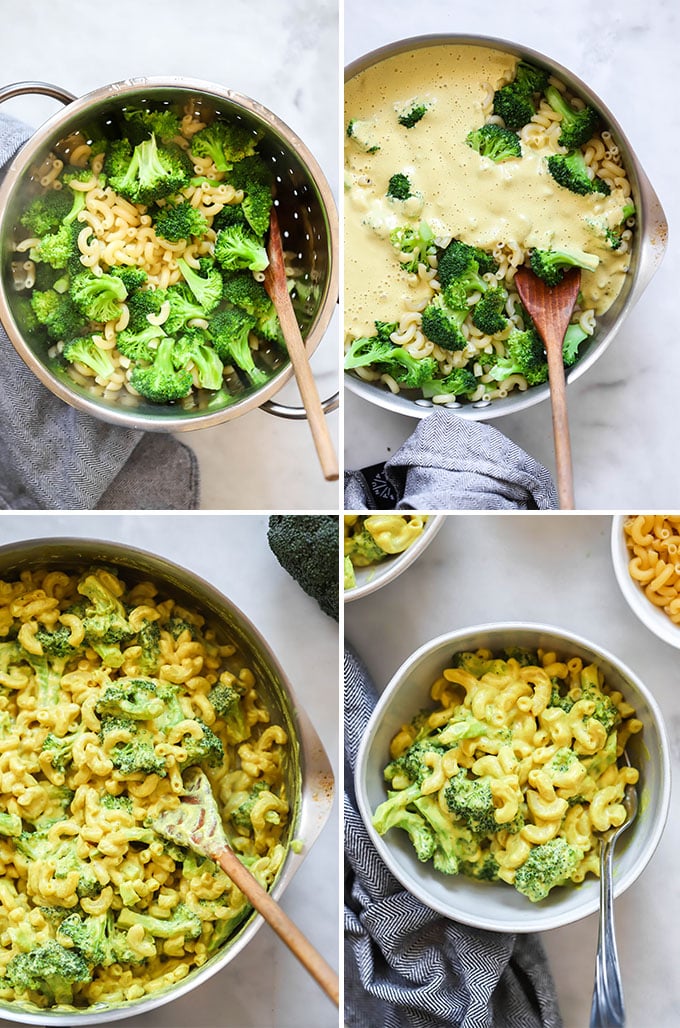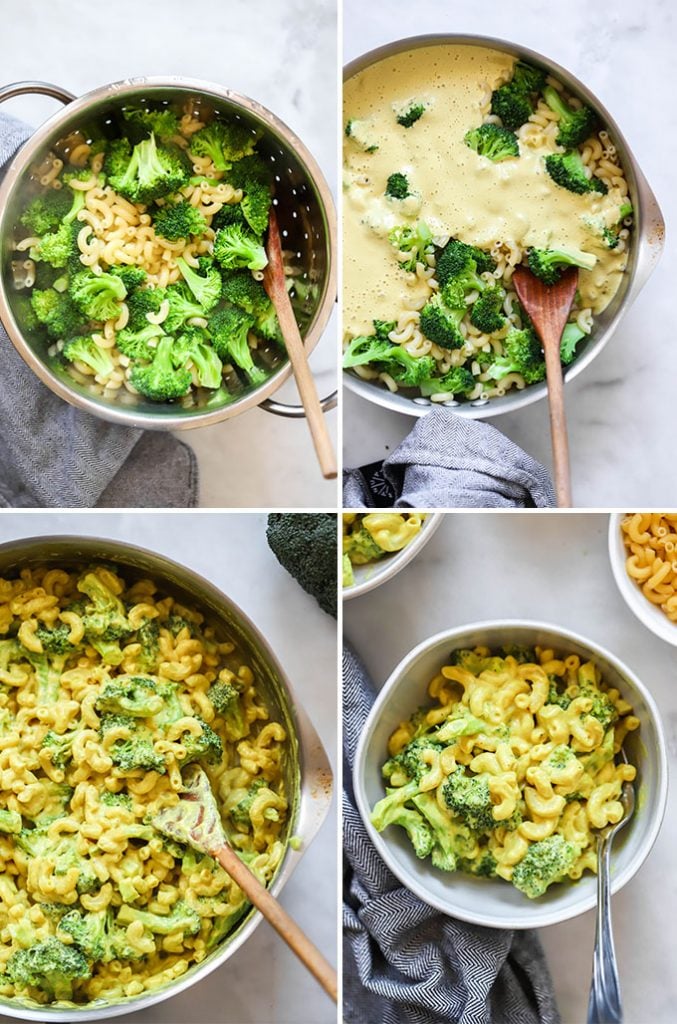 More Tasty Vegan Recipes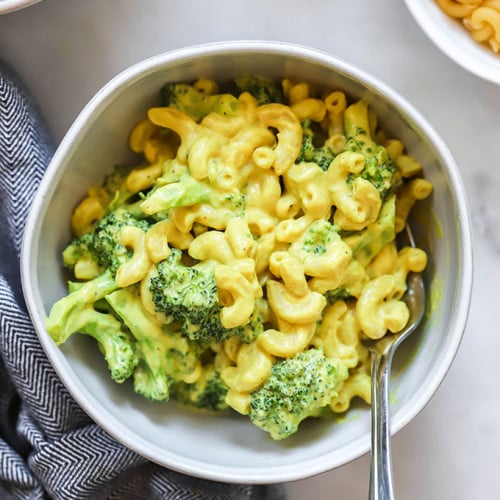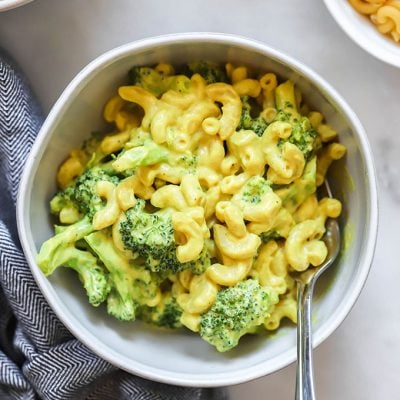 Vegan Macaroni and Cheese with Broccoli
You'll love this vegan version of a classic comfort food, macaroni and cheese! A simple cashew sauce add richness and broccoli give it a a pop of color. 
Ingredients
1 tablespoon olive oil
1 cup chopped onion ~1/2 onion
2 cloves garlic minced
1 cup raw cashews soaked 20 minutes in hot water
1 cup vegetable broth
1/2 cup plain unsweetened soy milk
1/4 cup nutritional yeast
1 tablespoon cornstarch
1/2 teaspoon turmeric
1 tablespoon white miso
2 teaspoons apple cider vinegar
2 cups uncooked macaroni noodles
8 oz broccoli chopped
Instructions
Heat water in a small mixing bowl in the microwave until starting to boil. Add cashews and let soak for 20 minutes to soften. 

Meanwhile, add olive oil to a deep skillet and heat over medium-high heat for 1 minute. Add onion and sauté 3-5 minutes or until translucent and tender. Add garlic and sauté another 1 minute. Transfer to blender. 

Add cashews, broth, milk, nutritional yeast, cornstarch, turmeric, miso, and vinegar to the blender and puree everything until smooth. Add salt to taste.

Cook pasta according to package directions, adding the broccoli to the pot in the last 2-3 minutes of cooking.

Drain pasta and broccoli and add to the same deep skillet used to cook the onions. Turn on low heat and pour sauce over the pasta and stir to coat. Bring to a simmer and cook 2-4 minutes or until sauce thickens. Season with salt to taste and serve!
Notes
Make it gluten free by using gluten free macaroni noodles. 
Nutrition
Serving: 1/4 recipe | Calories: 500kcal | Carbohydrates: 62g | Protein: 17.5g | Fat: 21g | Saturated Fat: 4g | Polyunsaturated Fat: 27g | Sodium: 650mg | Fiber: 5g | Sugar: 6.5g
Reader Interactions