The ultimate list of delicious and nourishing plant-based snack ideas for pregnancy. You'll find a variety of my favorite homemade snacks as well as a list of some great packaged options too.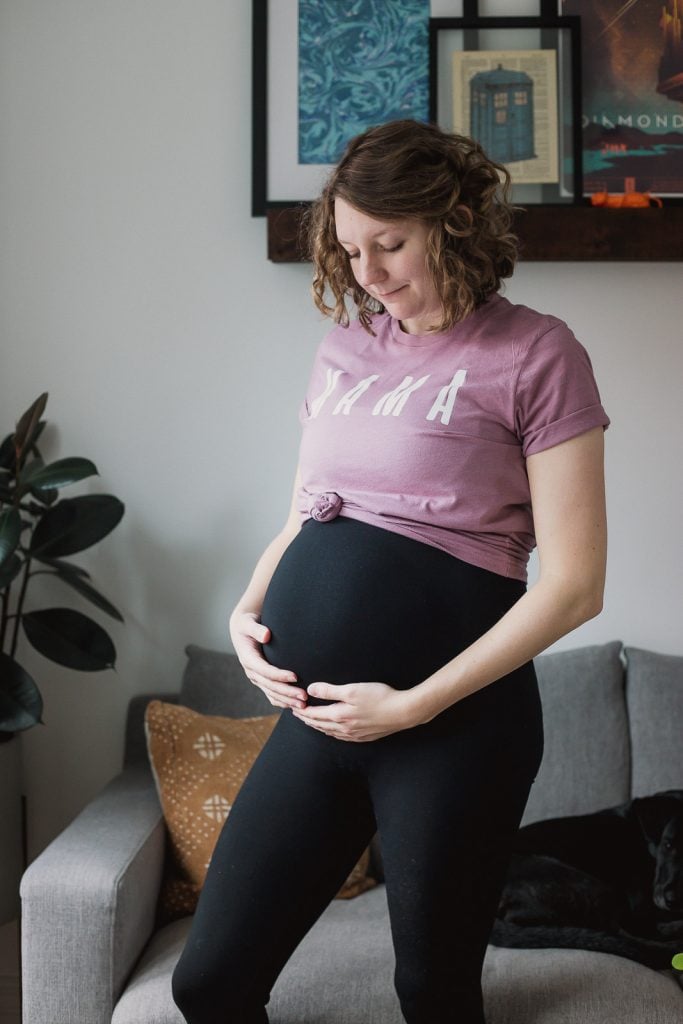 Incorporating some snacks into your diet can be a great way to help you meet your increased nutrient needs during pregnancy. There is room for treats of course (vegan ice cream?!?😍), but planning ahead to include some more health snack options is a great way to help you get some of the extra nutrients you need for growing babe.
How many extra calories does a pregnant woman need?
Calorie needs don't change much during the first trimester, but increase 15-20% over pre-pregnancy needs by the second and third trimester. Pregnant women should consume about 340 extra calories in the second trimester and 450 extra calories in the third trimester.
I have never been one to count calories myself and I never liked the idea of counseling clients to do so either. Even in pregnancy, I have just gone by hunger cues to make sure I am eating enough.
Although, one habit I have changed is adding more pre-planned snacks in between meals to help me increase my calorie and protein intake in these later trimesters.
What makes a good pregnancy snack?
Just like any other time in life, you'll want to focus on nutrient-dense foods to make the most of your snacks. Since your daily needs for many vitamins and minerals like iron, vitamin C, vitamin B6, folate, and vitamin B12 increase in pregnancy, it is a great strategy to plan snacks that include some of those vital nutrients. (Be sure to take a prenatal multivitamin too of course!)
Try to plan snacks that also incorporate some protein, especially if following a vegan or vegetarian diet during pregnancy. Protein needs, like calorie needs, also increase as you get further along in pregnancy.
By the fourth month of pregnancy, it is recommended vegans consume up to an additional 28 grams of protein a day! This is 10% higher than the 25 grams of protein recommended for non-vegetarians/vegans to compensate for the slightly lower digestibility of plant proteins.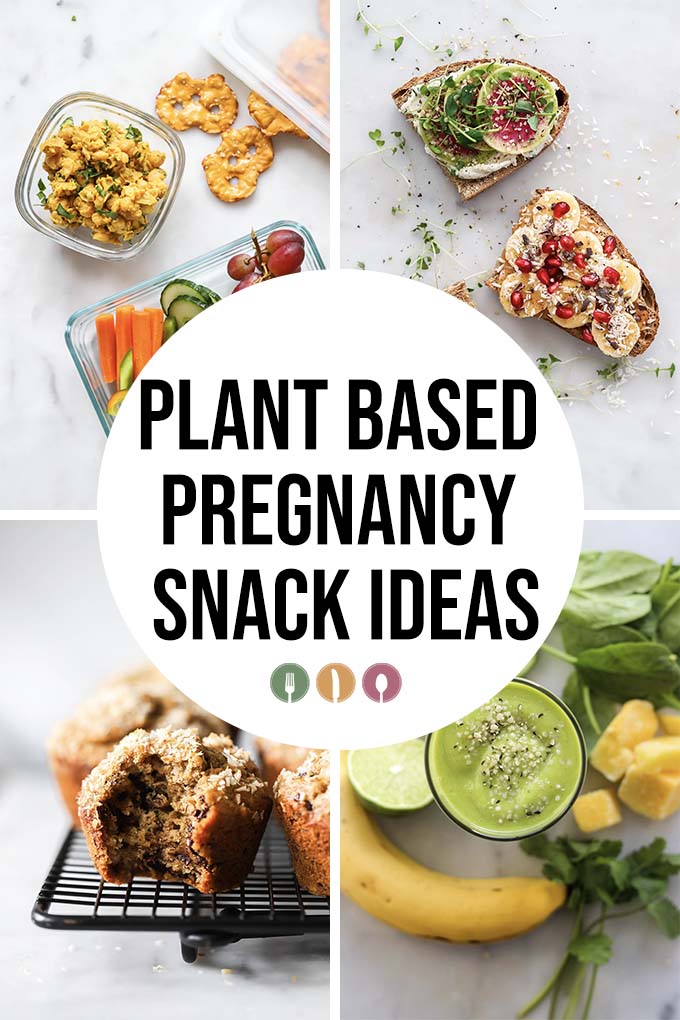 A good pregnancy snack includes:
Fruits and veggies: not only are they rich in fiber, they are also packed with essential vitamins and minerals like vitamins A and C, calcium, zinc and more.
Plant-based protein: nut, seeds, nut butters, soy milk, and beans (ie. hummus/edamame/crispy baked chickpeas!) are a great way to incorporate protein into a plant-based snack. Nuts, seeds, and beans are also a great source of zinc which is commonly lacking in many of our diets but is important for baby's growth and a healthy birth weight.
Fiber: many people experience constipation later in pregnancy so including fiber-rich snacks in your diet can help keep you regular. Fruit, veggies, beans, whole grains are all rich in fiber.
Healthy fats: incorporating nuts, seeds, and nut butter into your snacks means you'll be getting some of those heart healthy poly- and monounsaturated fats you and baby need. Incorporate hemp hearts and chia seeds on occasion for omega-3 fatty acid which is important for baby's developing brain!
Here are a few of my favorite homemade snacks, including many recipes that I've shared on the blog before! At the bottom of the post, you'll also find a list of some of my favorite store-bought snacks, because let's face it – you don't always have the time or energy to make everything at home!
Muffins and Breads:
Spread with some peanut or almond butter for extra protein/fat: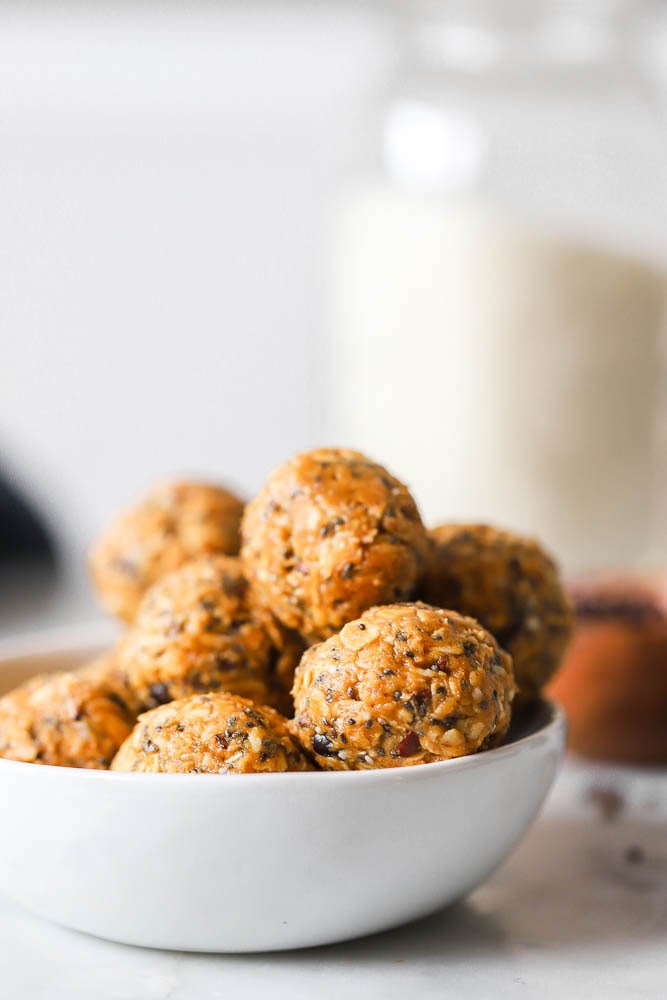 Snack Bites, Bars, and Cookies: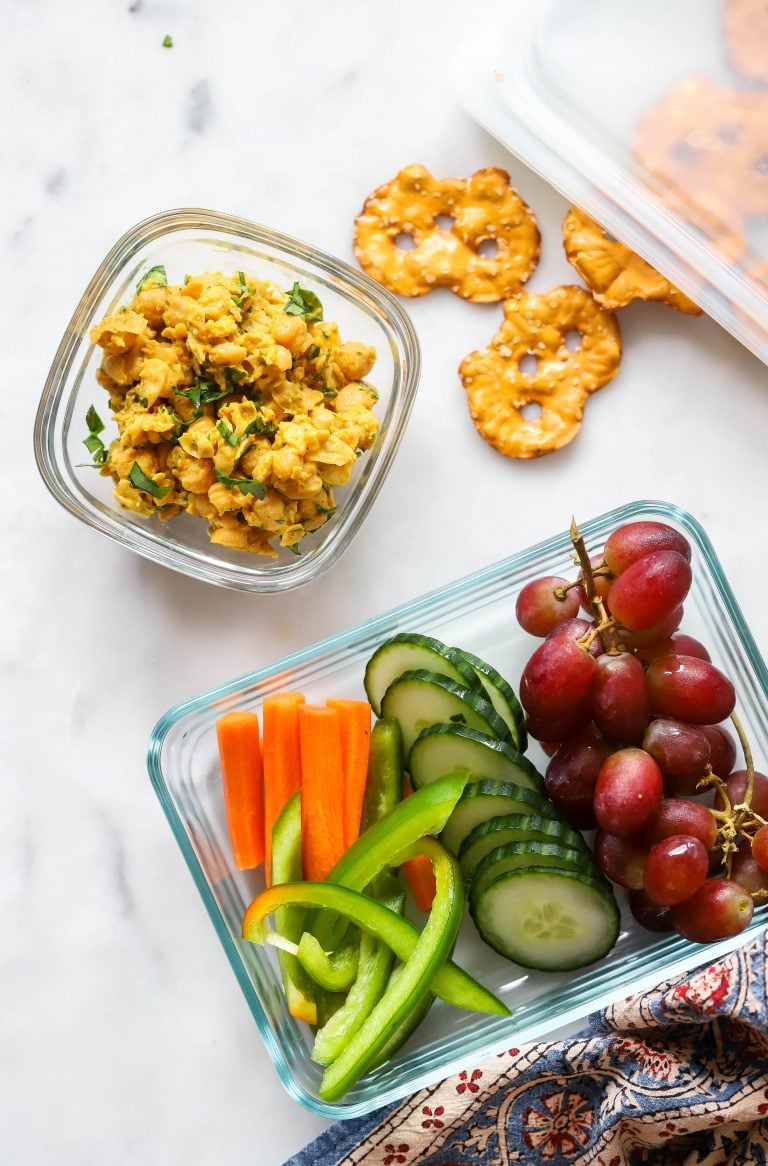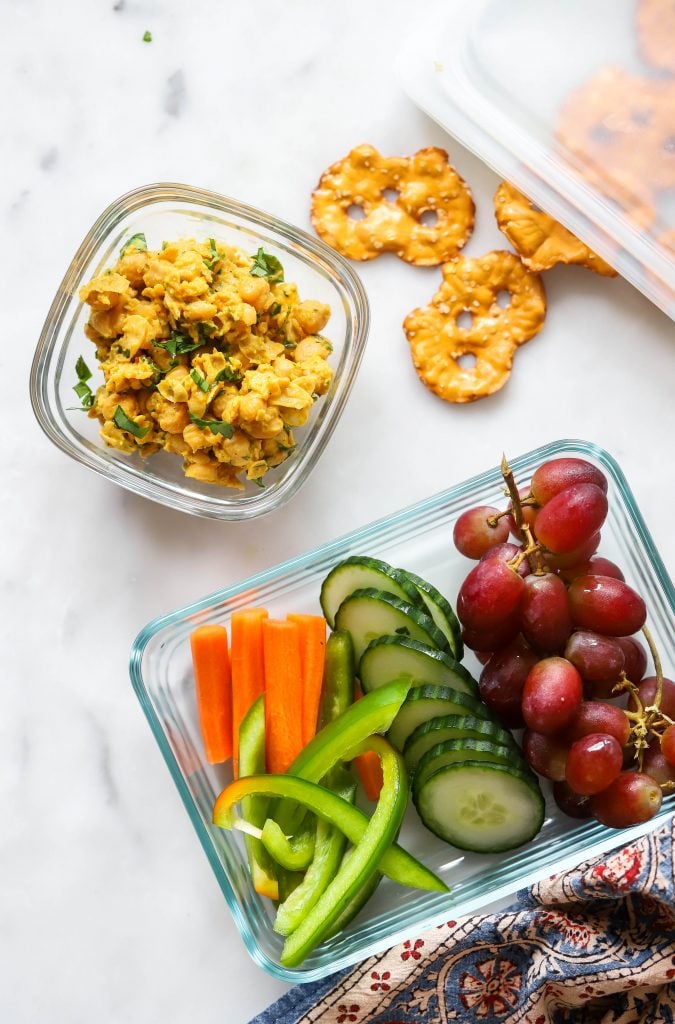 Homemade Dips/Spreads: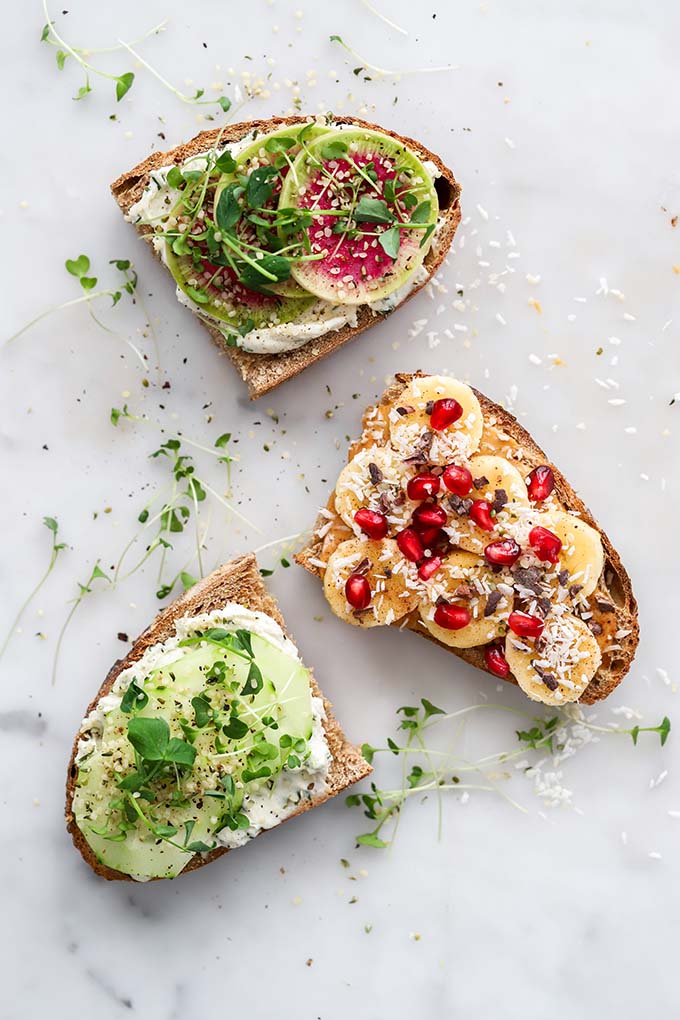 Whole Grain Toast:
Smashed avocado & everything bagel seasoning
Peanut butter, sliced bananas, and hemp hearts
Kite Hill vegan chive cream cheese, thinly sliced cucumber, salt, pepper
Almond butter and fresh berries
Fresh Fruit and Nut Butter:
Sliced apple and peanut butter OR almond butter (make it extra appealing by turning it into apple nachos!)
Banana with peanut butter and hemp hearts
Medjool dates stuffed with peanut butter and sprinkled with sea salt and cacao nibs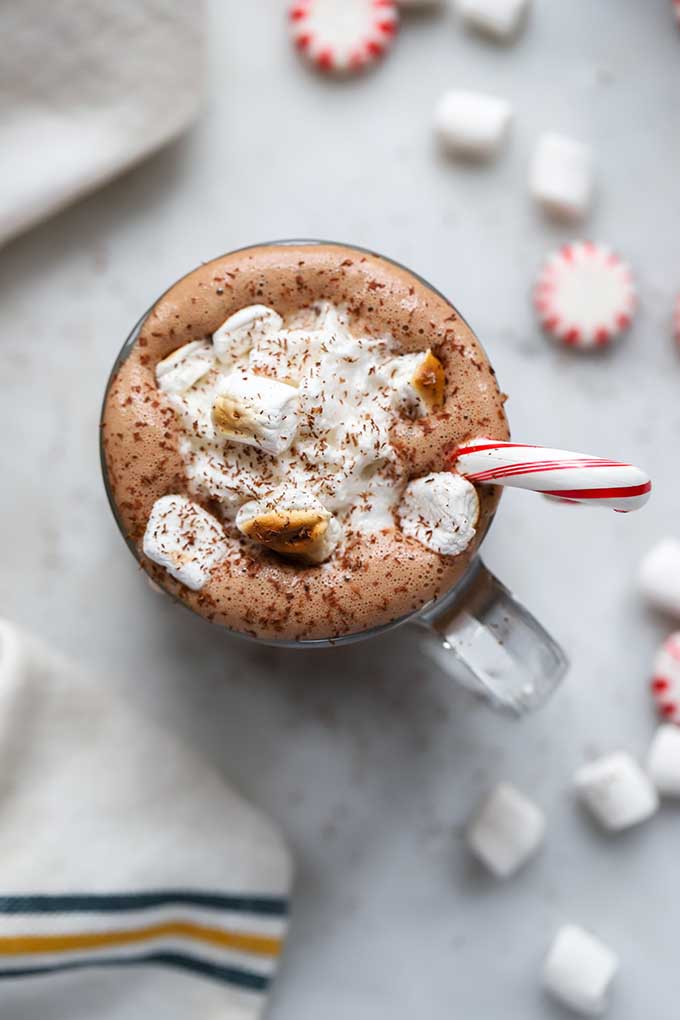 Decaf Latte OR Hot Chocolate:
Make with soy milk for extra protein! We bought this milk frother (affiliate link) about a year ago and have loved making coffee shop worthy lattes as home ever since! To make a shot of espresso, I use an aero press since we don't have an espresso maker.
You can also make frothy lattes and hot chocolate in the blender! Here's my fave vegan peppermint hot chocolate. (Made this on repeat early on in my pregnancy since it was around Christmas-time.)
Tip: reach for calcium fortified plant based milks to help you make sure you are getting the 1000 mg RDA for calcium each day.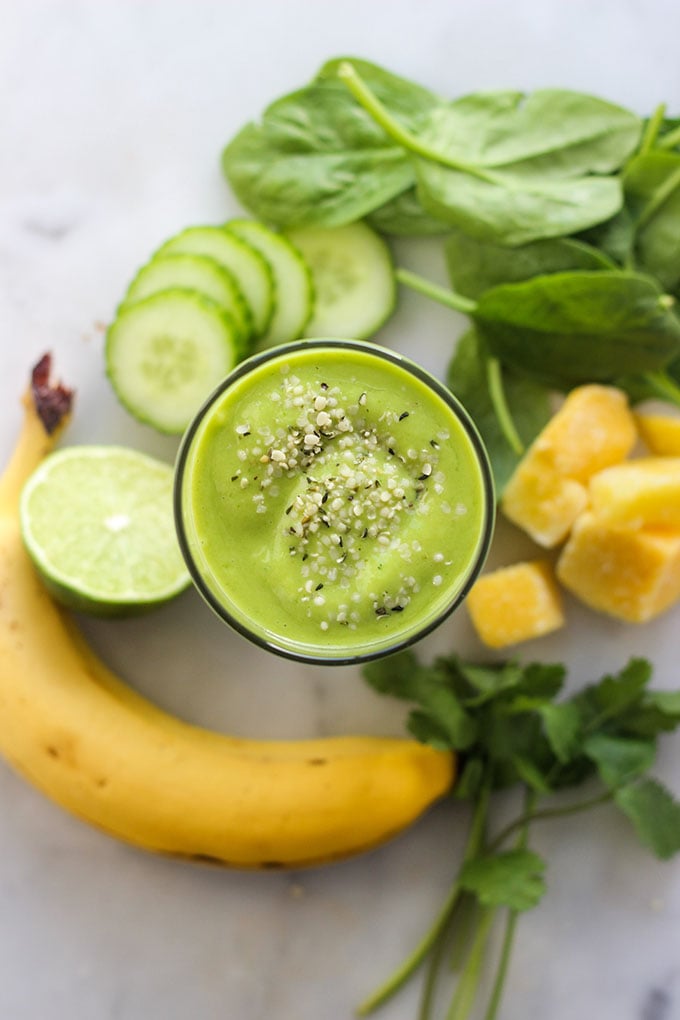 Smoothie
Use soy milk rather than almond milk to bump up the protein OR add your favorite plant-based protein powder. Add some healthy fats with a tablespoon or two of nut butter, hemp hearts, or chia seeds. If you have a high powered blender, add in a few cashews – I do that often!
More Delicious Snack Ideas:
Almonds & Dried Fruit
Hummus and Vegetables
Vegan Yogurt, Fruit, and Homemade Granola: I am currently loving Siggi's plant based yogurt since it's higher in protein than many other vegan yogurt options.
Homemade Popcorn: I just add 1 1/2 tablespoons of popcorn kernels to a brown paper lunch bag, fold the top over a couple of times and pop in the microwave. So simple and way cheaper than buying microwave popcorn bags.
Tortilla Chips and Salsa OR Guacamole
Mocha Chia Pudding: chia seeds are a great source of fiber, protein, and heart healthy fats
Small Bowl Cereal and Soy Milk: I prefer soy milk since it is higher in protein than other plant-based milks.
Daily Harvest (affiliate): I love the smoothies and bites for easy snack options that are also good for you! Use code DEBBIE to get $25 off your first box.
Favorite Store-bought Snacks:
These products are linked using affiliate (referral) links on Amazon.
References: Becoming Vegan: Comprehensive Edition by Brenda Davis, RD and Vesanto Melina, MS, RD