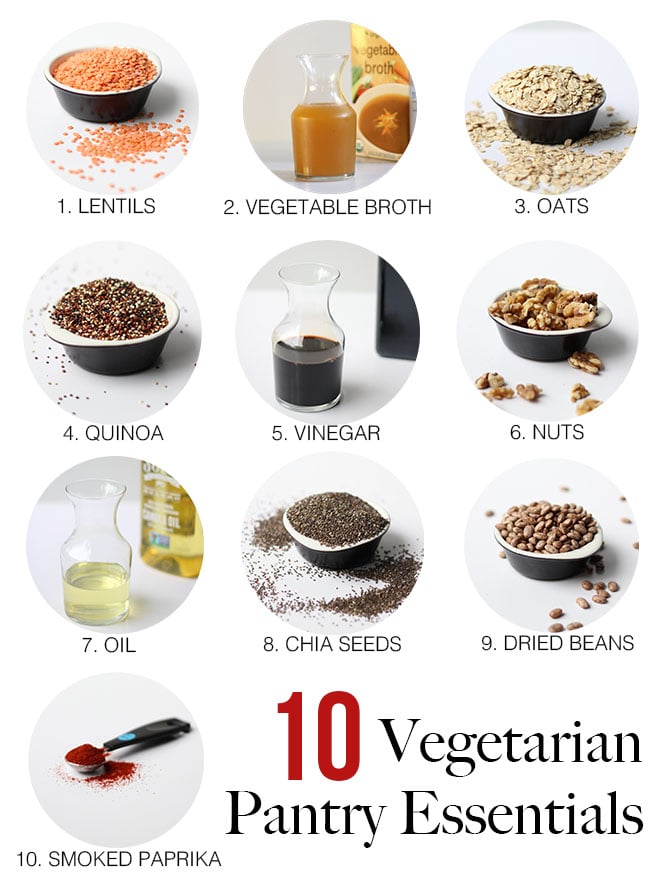 If you could get a sneak peek into my apartment pantry, these are the top 10 vegetarian pantry essentials you would always see on my shelves. (Or on my grocery list for stocking up again!) Keep these pantry items on hand and you will have the building blocks to create healthy, vegetarian or vegan meals at home.
1. Lentils: Lentils are small round legumes that are commonly used in Mediterranean dishes. They come in a variety of colors including red (pictured), green, brown, and black. When cooked, they have a mild, nutty flavor. They are great for vegetarians as they offer 18 grams of protein per cup of cooked lentils. In addition to being a great source of protein, they are also low calorie (230 calories per cup) and high in fiber (16 grams per cup).
2. Vegetable Broth: Vegetable broth is a versatile pantry staple. We typically buy ours, but there are dozens of great recipes online for making it at home. Keep it on hand for adding to: soup, stir fry, gravy, grains.
3. Oats: Oats are definitely one of my breakfast staples. This whole grain is packed with insoluble fiber which can help lower "bad" LDL cholesterol. In addition to making oatmeal, I use oats in baked goods, granola, and even smoothies.
4. Quinoa: Quinoa are tiny edible seeds that can be used in a variety of dishes. Like lentils, they too have a mildly nutty flavor. I use quinoa frequently as a substitute for rice because it has so much protein. In fact, one cup of cooked quinoa has 8 grams of protein and is considered a "whole" protein because is offers a balanced amount of all nine amino acids which is uncommon for a plant based food.
5. Vinegar: Keeping a variety of vinegars in your pantry is key for spicing up dishes and creating simple homemade vinaigrettes for salad. This summer, we branched out and started using vinegar in a new way – homemade pickles! In addition to adding flavor, vinegar may also help with better blood sugar control after a meal.  In our pantry, we typically have: red wine vinegar, balsamic vinegar, rice wine vinegar, white vinegar, and apple cider vinegar.
6. Nuts: When shopping, I always try to make a pit stop at the bulk bins to pick up some nuts. Nuts and nut butters are great for vegetarians as they offer a lot of protein, healthy fats, potassium, magnesium, and Vitamin E. Their nutrient profile is great for satisfying any mid-day munchies when paired with fruit or whole grain. I toss nuts onto my cereal in the morning, pack them as a snack, add them to granola, or use them as a crunchy salad topping.
7. Oil: No kitchen is complete without at least one bottle of oil. Olive oil is my favorite, but we also try to keep canola or vegetable on hand too for things that need a higher heat than the olive oil can tolerate. My favorite way to prepare vegetables is to chop them, toss in a bit of olive oil, salt and pepper and roast in the oven until lightly browned. It's so easy and turns out delicious every time. Pair a nice vinegar with your olive oil and a bit of seasoning and you can create a healthy vinaigrette for salads in a matter of minutes.
8. Chia Seeds: It may seem weird to include chia seeds on the list, but I find myself using them fairly regularly. They are great for vegetarians because, tiny as they are, chia seeds offer quite a bit protein and fiber (10 grams per 2 tablespoons in fact!). In addition, they are a good source of Omega 3 fatty acid, a nutrient that is sometimes lacking in a vegetarian/vegan diet that doesn't include fish. You can sprinkle them on cereal or add them to your smoothies.
9. Dried Beans: If I were stranded on an island and had only a few foods to pick from, beans would likely be one of them. Yes, they seem like a strange choice, but they are such a well-rounded source of nutrients. Beans are full of fiber, protein, iron, magnesium, potassium, folate, phosphorus, etc. Beans are also super cheap too! Canned beans are great to have on hand, but we also make up a big batch of dried ones most weekends and freeze them for use in hot dishes or salads throughout the week.
10. Smoked Paprika: If you have not discovered the magic of smoked paprika, you are missing out! I have been using this one spice almost as much as I use salt and pepper. As a vegetarian, I love that I can still have a hint of that smoky flavor I used to think you could only achieve with meat. We use it most often on roasted vegetables or in stir-fry.
A few close runner-up items that didn't quite make the list? Popcorn kernels and canned coconut milk. Both we use quite often! What are your pantry staples?