Just because you might be working from home, doesn't mean you can't eat something colorful and nourishing for lunch. These 15+ easy vegan lunch ideas for work are travel friendly for those going into the office or just a few steps from the fridge to desk at home.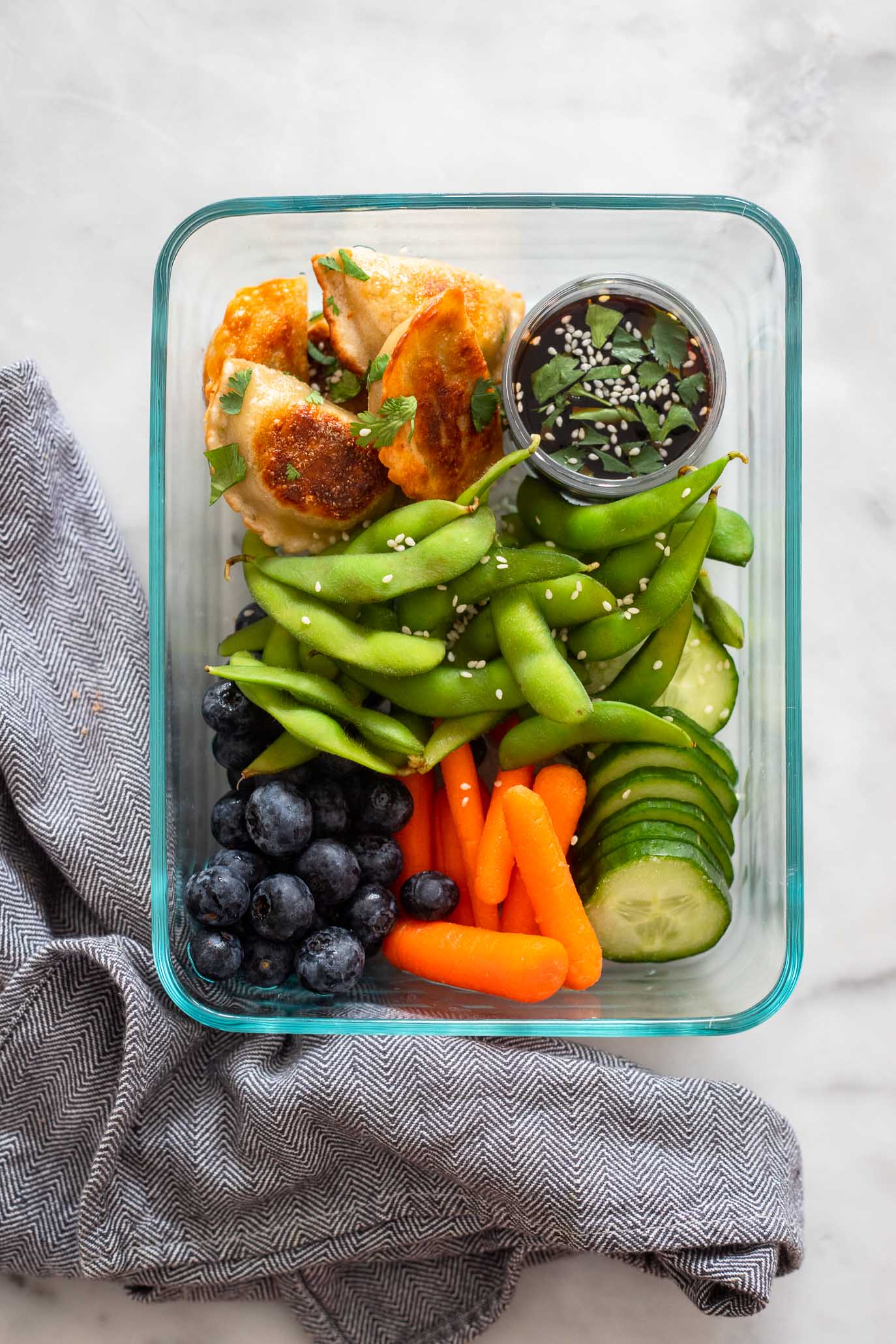 This post contains affiliate links. Purchasing via affiliate links supports Dietitian Debbie Dishes at no additional cost to you.
My Formula for Easy Vegan Lunches
Pick a Protein
Usually I start by picking a protein that I want to eat for the week by either looking through my pantry, raiding the fridge or grabbing something that sounds good while I'm shopping for groceries. Some of my favorites include: tofu, chickpeas, black beans, edamame, vegan deli slices, and tempeh.
Pair it with a Carb
Once I have the protein picked out, I start to think about how I can pair with a carbohydrate of some kind. Some carbs I often find myself incorporating into meals include: bread, wraps, whole grains (ie farro, pasta, rice), crackers, etc. I love making grain based salads like this warm farro salad with roasted veggies or a pasta salad for the week since they keep so well.
Add Some Vegetables
Next, I'll think about how to incorporate some vegetables into the meal. Often, I will just throw in some fresh chopped veggies that I can dip into hummus or salad dressing. If you like to meal prep, roast a few different veggies in the oven on the weekend and add those to salads or grain bowls for lunch throughout the week. Some days I'll pack a salad so my veggies become the base of that lunch for the day.
Finish it Off with Some Fruit
Get in all your servings of fruits and veggies for the day by finishing off your packed lunch with some fruit. I love packing apple slices with peanut butter, grapes, berries, or a couple of cuties.
Now let's get to those easy vegan lunch ideas!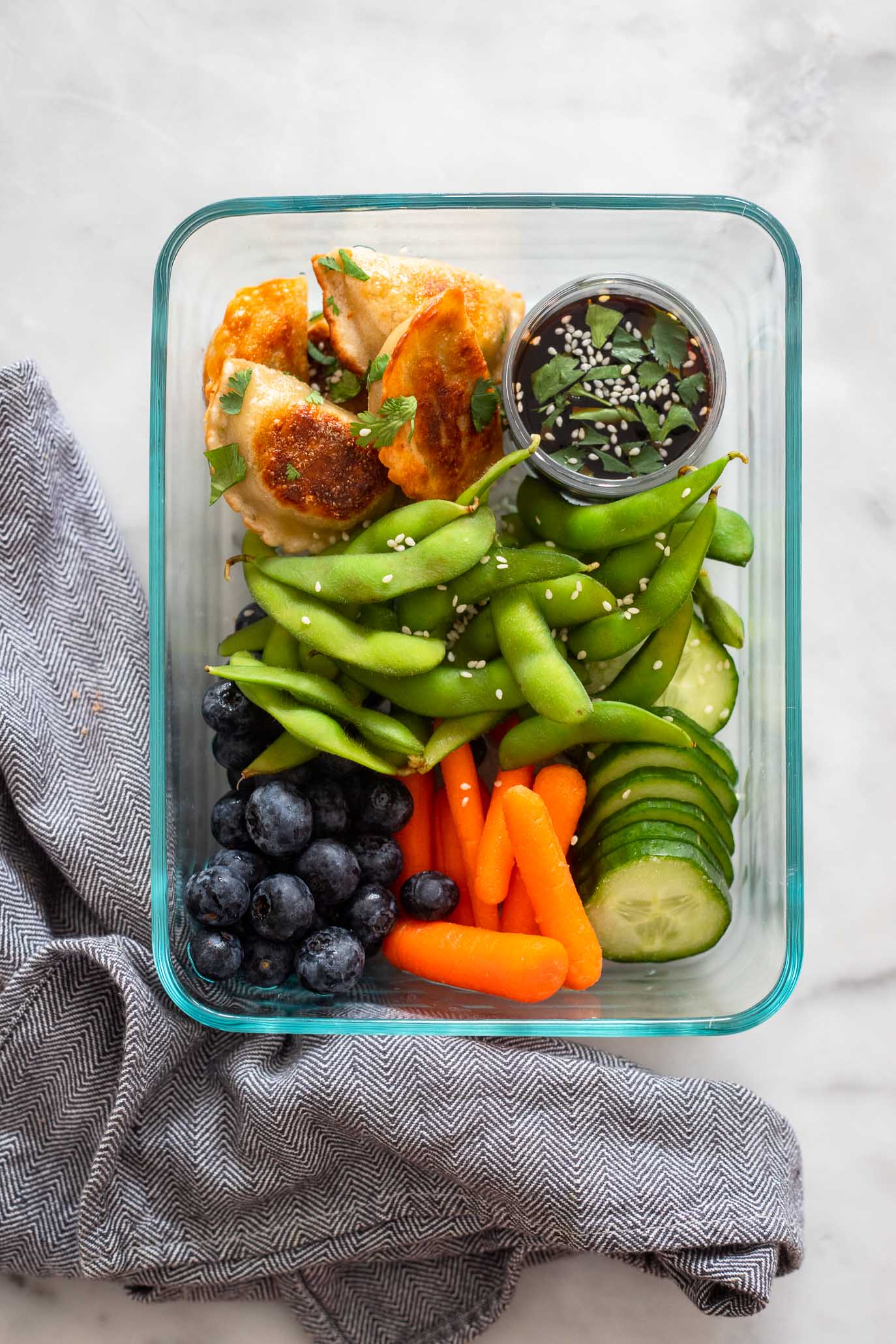 Vegan Dumpling Box with Edamame
This colorful box may be my favorite lunch of the roundup. The night before, cook your dumplings according to package directions. (I like the Nasoya brand.) Allow to cool for a few minutes and then assemble with your other dumpling box ingredients. I paired it with some frozen edamame which you can just add to the box frozen the night before when packing and it will thaw by lunchtime the next day. I also added a small cup of soy sauce for dipping the dumplings and the edamame. Then I added some carrots, cucumber and blueberries to round out the meal. Feel free to switch up the veggies and fruit based on what you like or have on hand that week.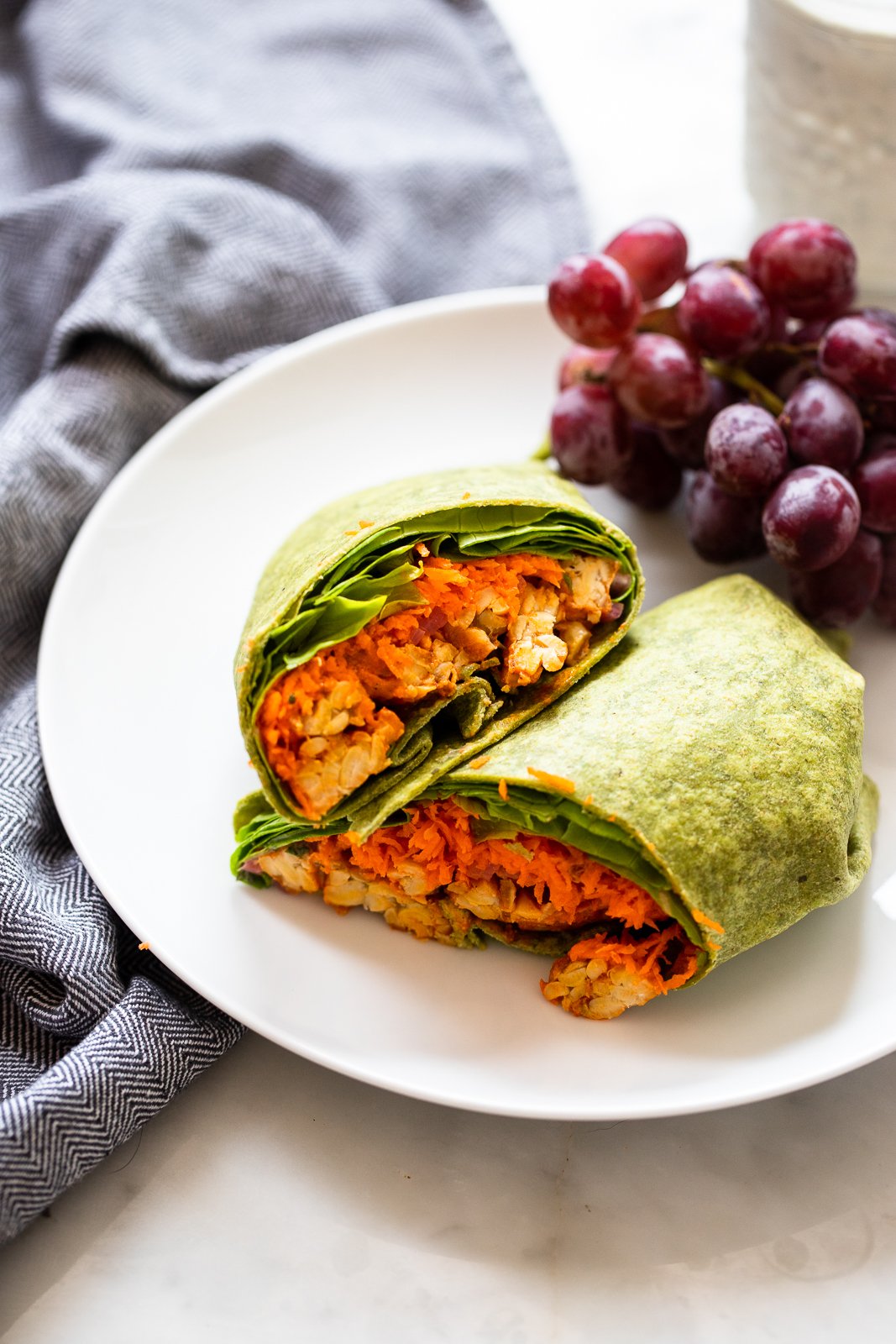 Buffalo Tempeh Wrap with Vegan Ranch
When I was home on maternity leave, I think I made this buffalo tempeh wrap for lunch at least a dozen times. It was so easy to whip up during nap time and can pack well too if you want to take it with you to work. If you are new to tempeh (an awesome vegan protein!), this makes for a great non-intimidating introduction to it because what doesn't taste great with buffalo sauce? If you want to make it into a salad, I have a recipe for buffalo tempeh salads too!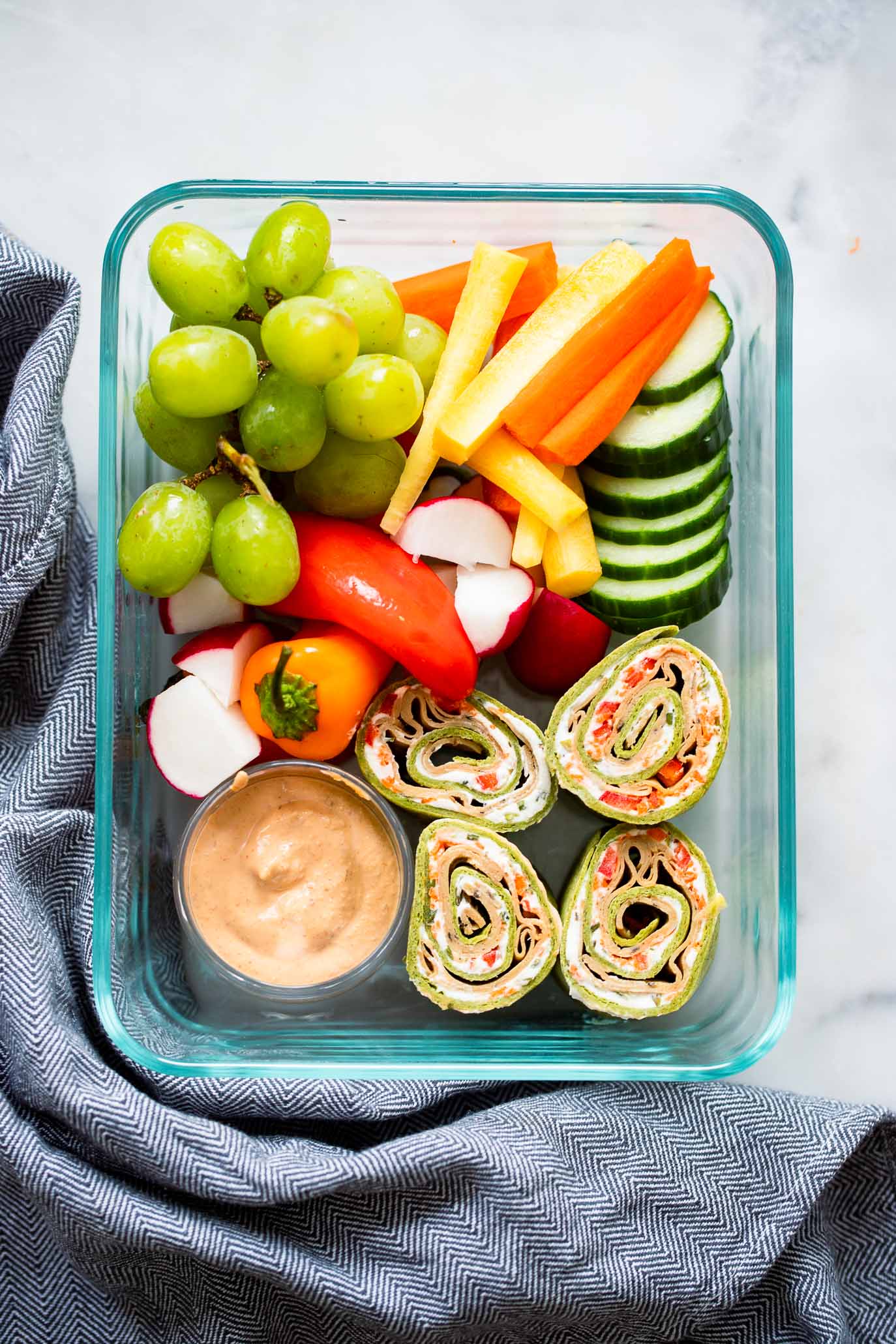 Vegan Pinwheels
How fun are these pinwheels! For this lunch, I paired the pinwheels with some veggies, grapes, and chipotle Bitchin sauce. (It's sooo good!) I like packing the Bitchin sauce when I am tired of hummus. Here's how I made the pinwheels:
Spread 1/4-1/3 cup vegan cream cheese (I like Kite Hill chive cream cheese) onto a large wrap. Sprinkle with chopped red bell peppers, shredded carrot, and a dash of everything bagel seasoning. Add 4-5 slices vegan deli meat (I like Tofurkey pepper slices). Roll up tightly and then slice into 2-3 inch wide pieces.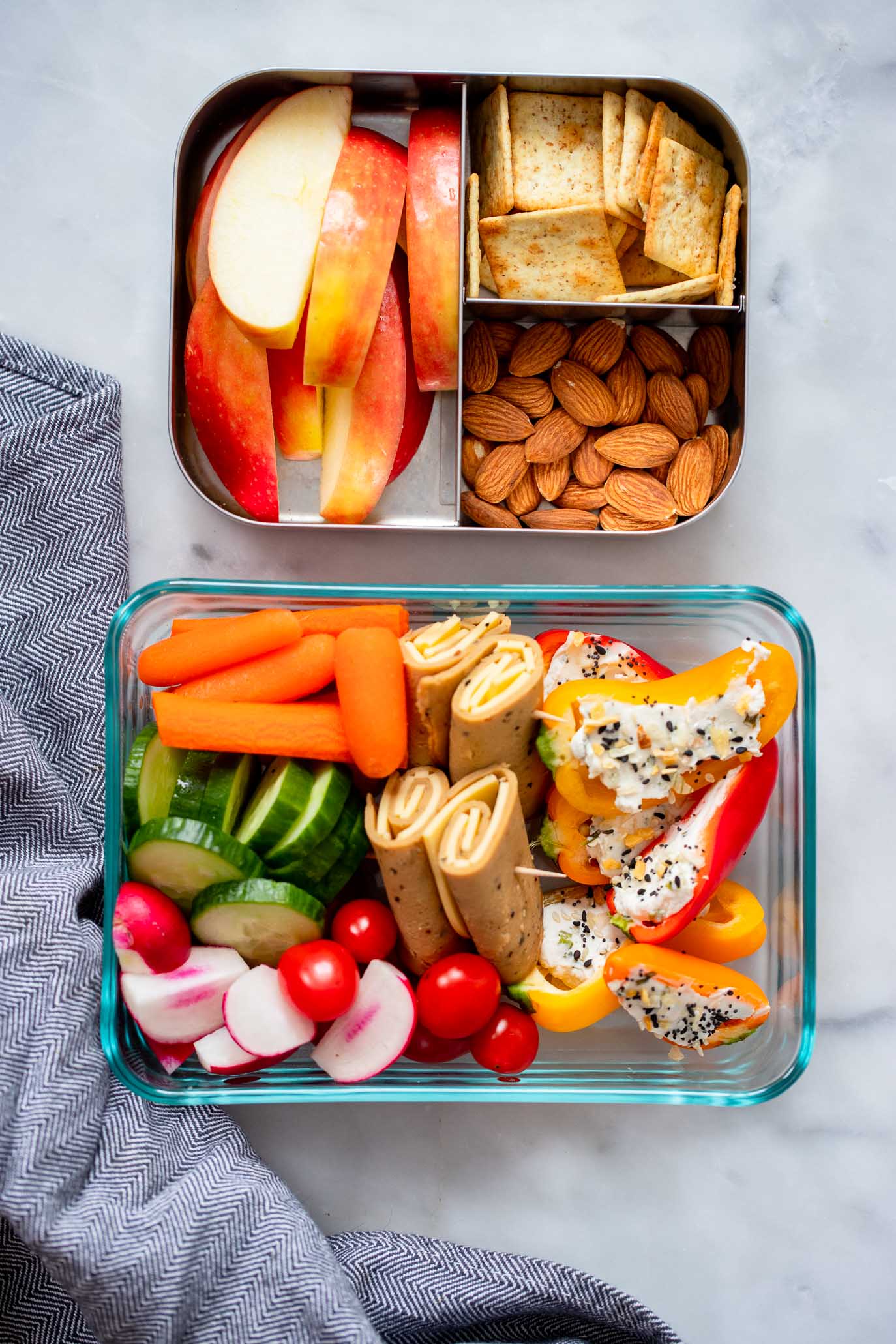 Vegan Roll Ups and Cream Cheese Stuffed Peppers
I've seen these cream cheese stuffed snacking peppers a bunch on instagram and knew I needed to make a vegan version. I made these with vegan Kite Hill chive cream cheese and a sprinkle of everything bagel seasoning. If you haven't tried it before – you need to do so ASAP! So yum. To complete the meal, I paired that with some rolled up tofurkey deli slices and vegan cheese, crackers, veggies, sliced apples and almonds.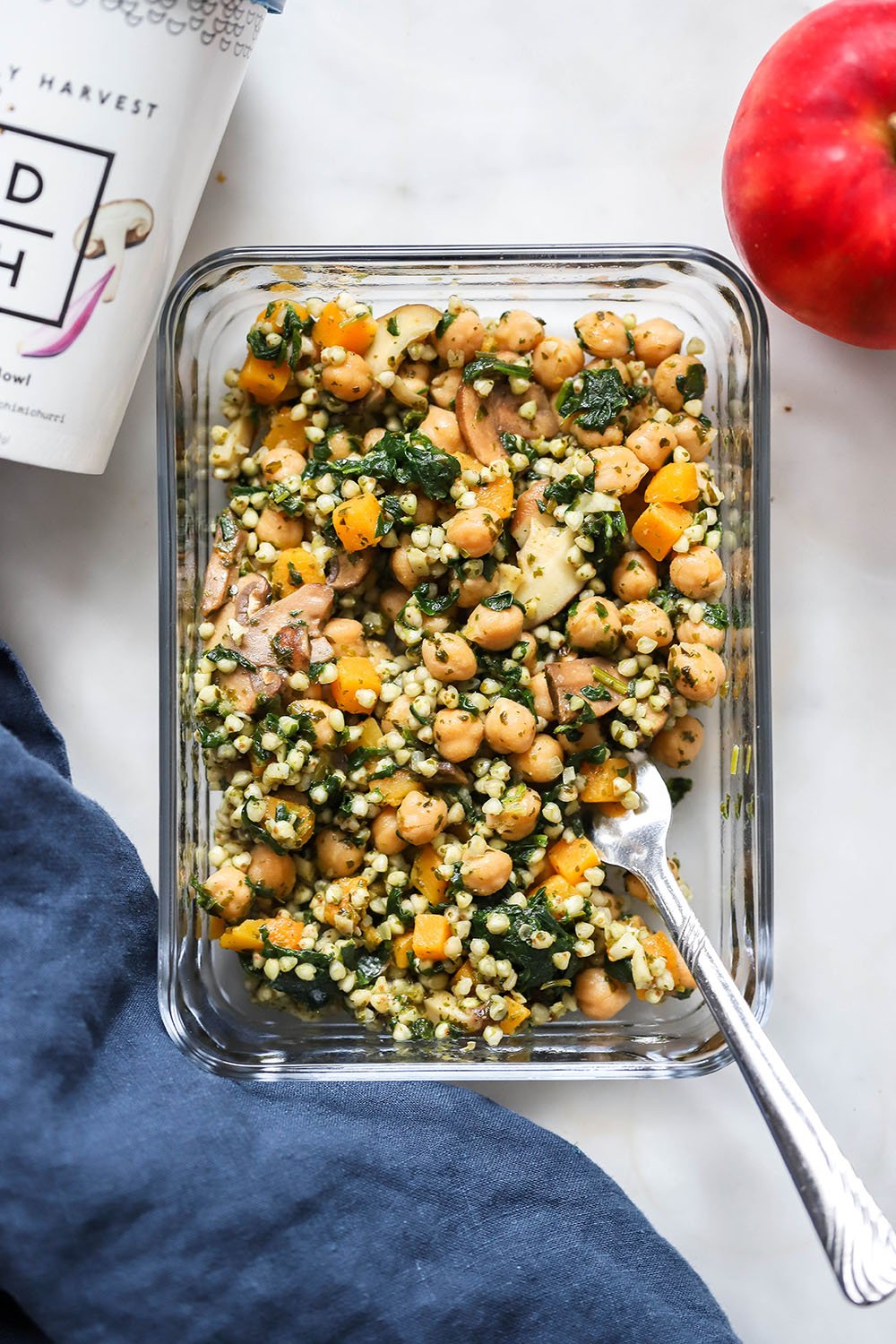 Daily Harvest Butternut Squash Bowl
I always keep a few Daily Harvest (affiliate) bowls in my freezer for days when my fridge is looking pretty empty and I need to pack something for work. I usually bump up the protein in these by adding beans like I did here in the bowl. Throw some fresh fruit and a plant-based yogurt into your bag and you have a really simple lunch. On a side note, these were a lifesaver when taking care of a newborn since I didn't have more than 5 minutes to cook but wanted something healthy. Use code DEBBIE for up to $40 off your first order. Want to read my full review of Daily Harvest? Check out my Daily Harvest Review from a Dietitian post!
More Easy Vegan Lunch Ideas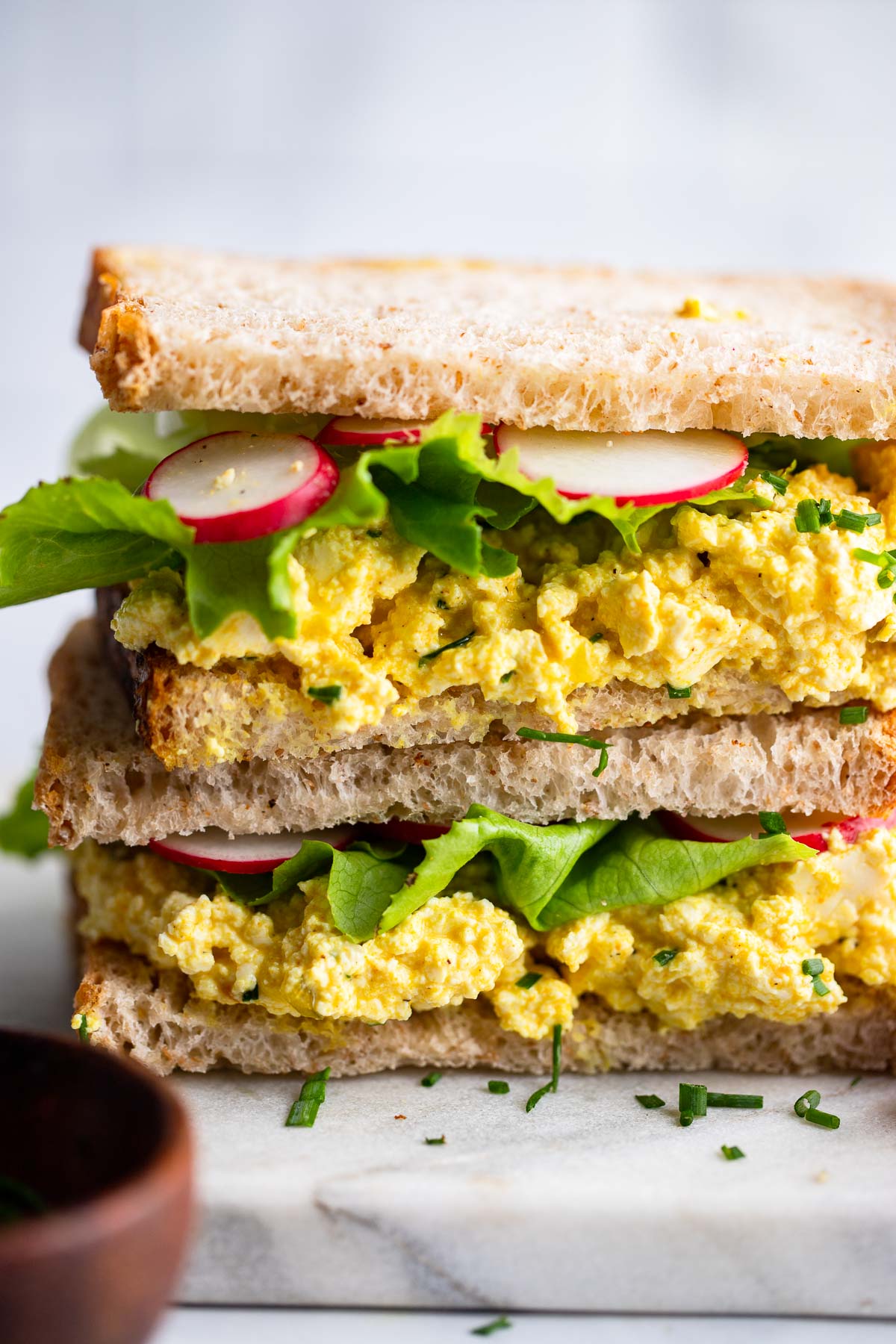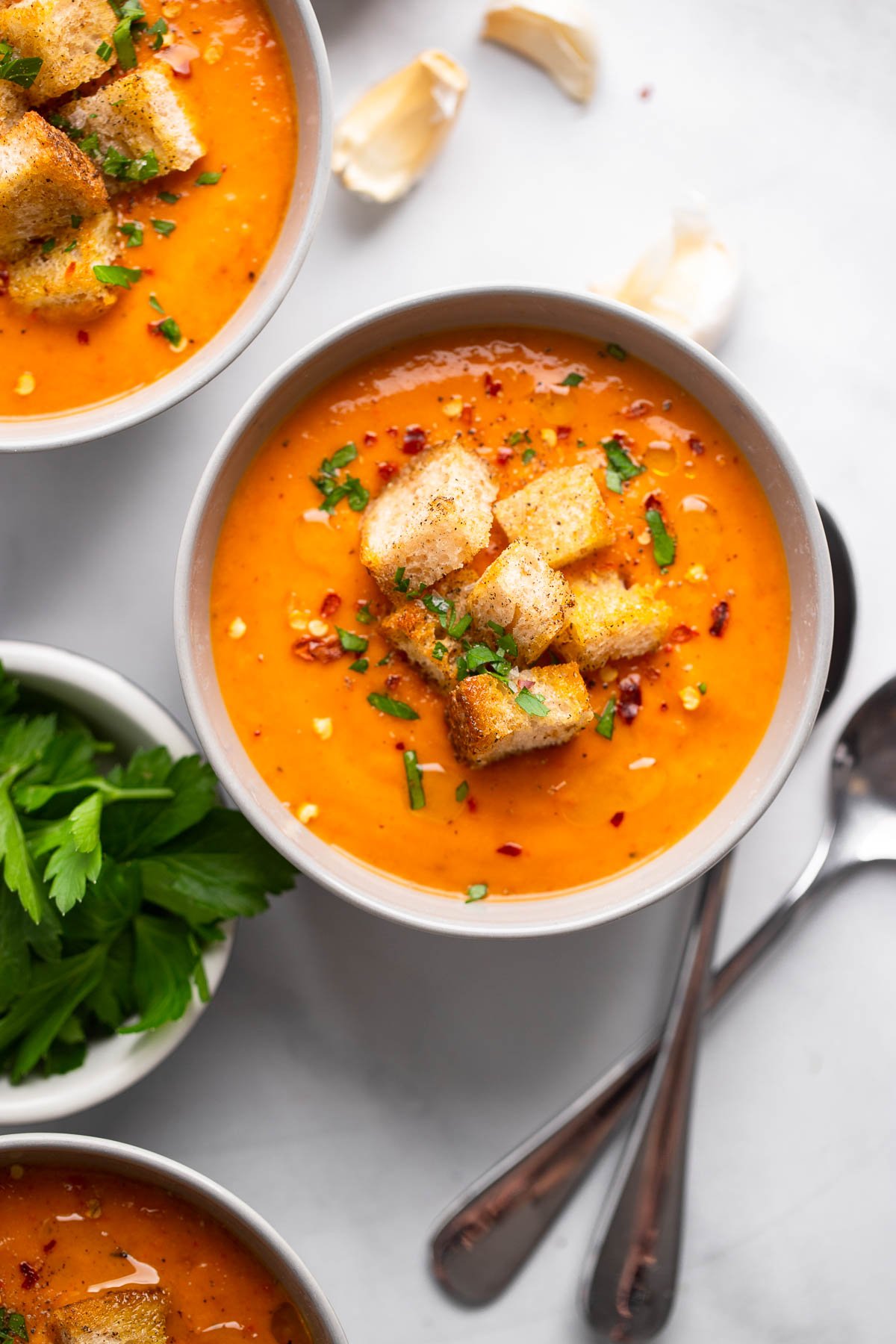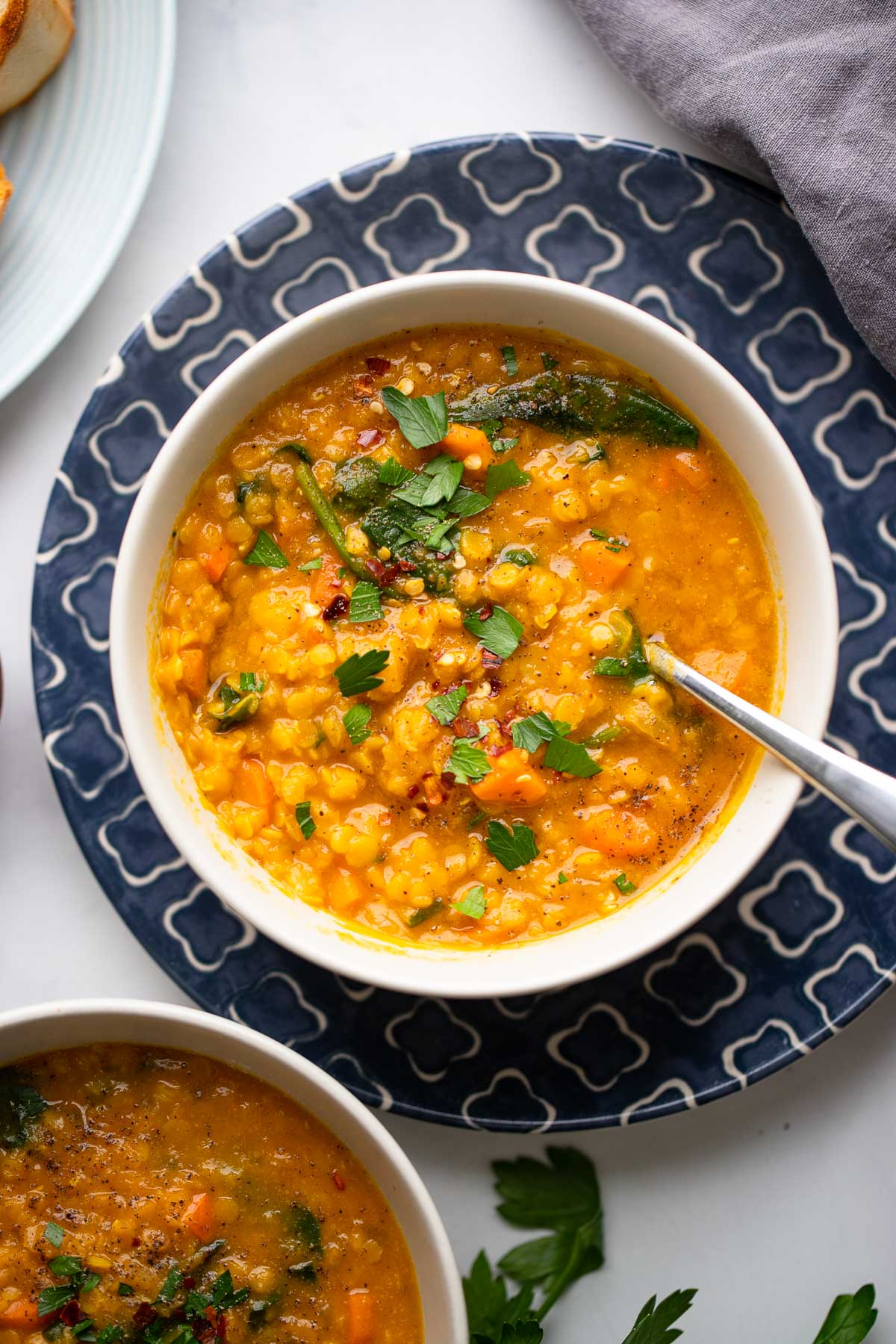 Miso Soba Noodle Soup
Nourish your gut with this 30 minute, probiotic and fiber filled miso soba noodle soup flavored with white miso paste and ginger and filled with bok choy, carrots, and mushrooms. Big bowls of this miso soup are the perfect way to warm up on cold days.
Get The Recipe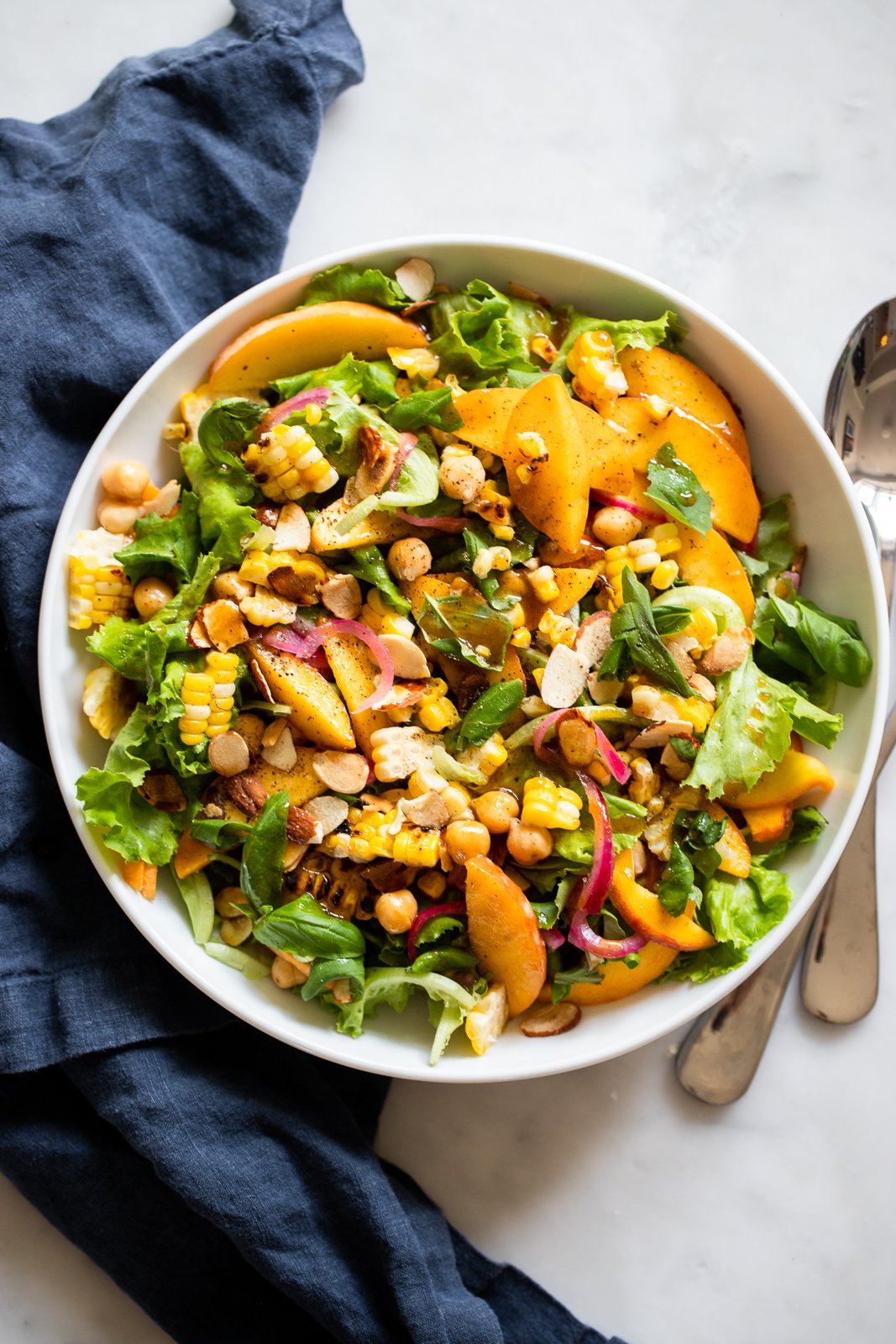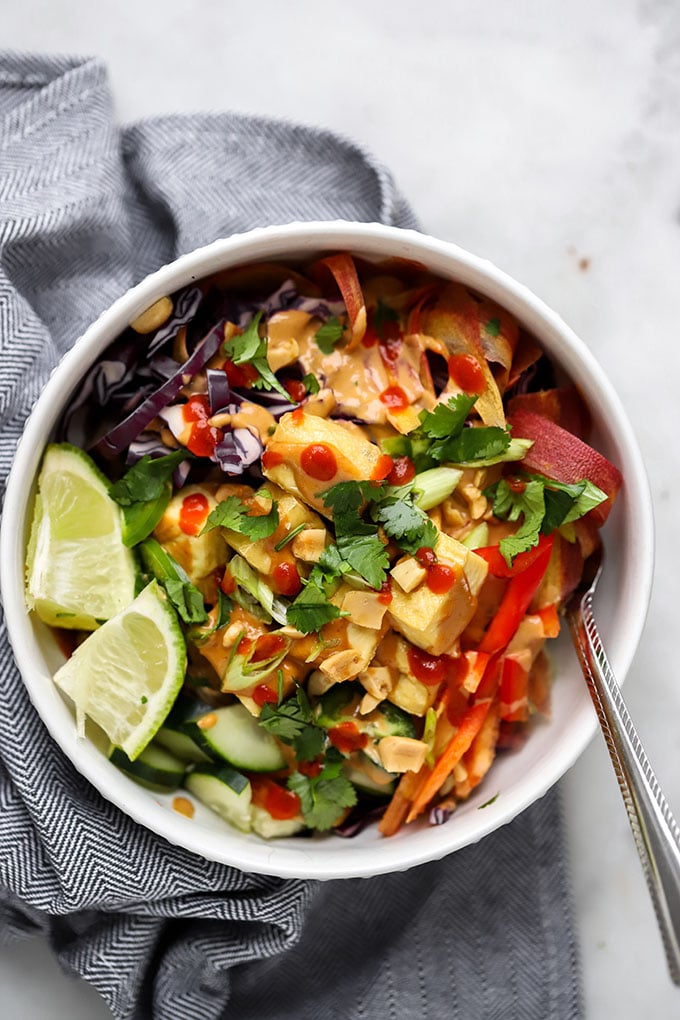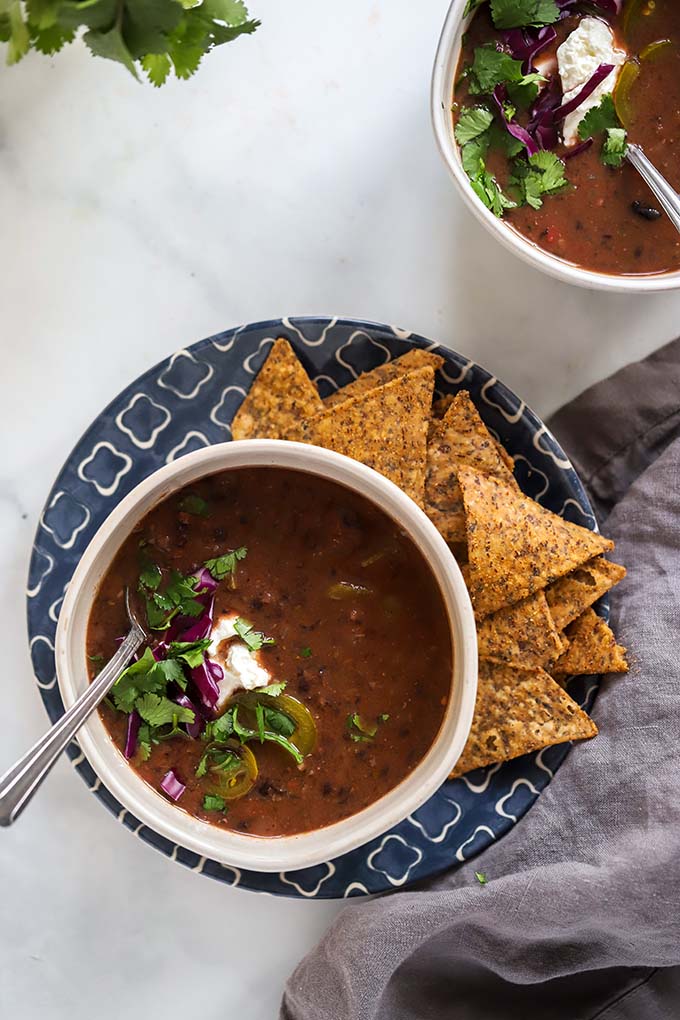 Vegan Italian Chopped Salad
This colorful simple vegan Italian chopped salad made with romaine, chickpeas, chopped veggies, olives, and vegan deli meat is perfect for serving with pizza, lasagna, and more.
Get The Recipe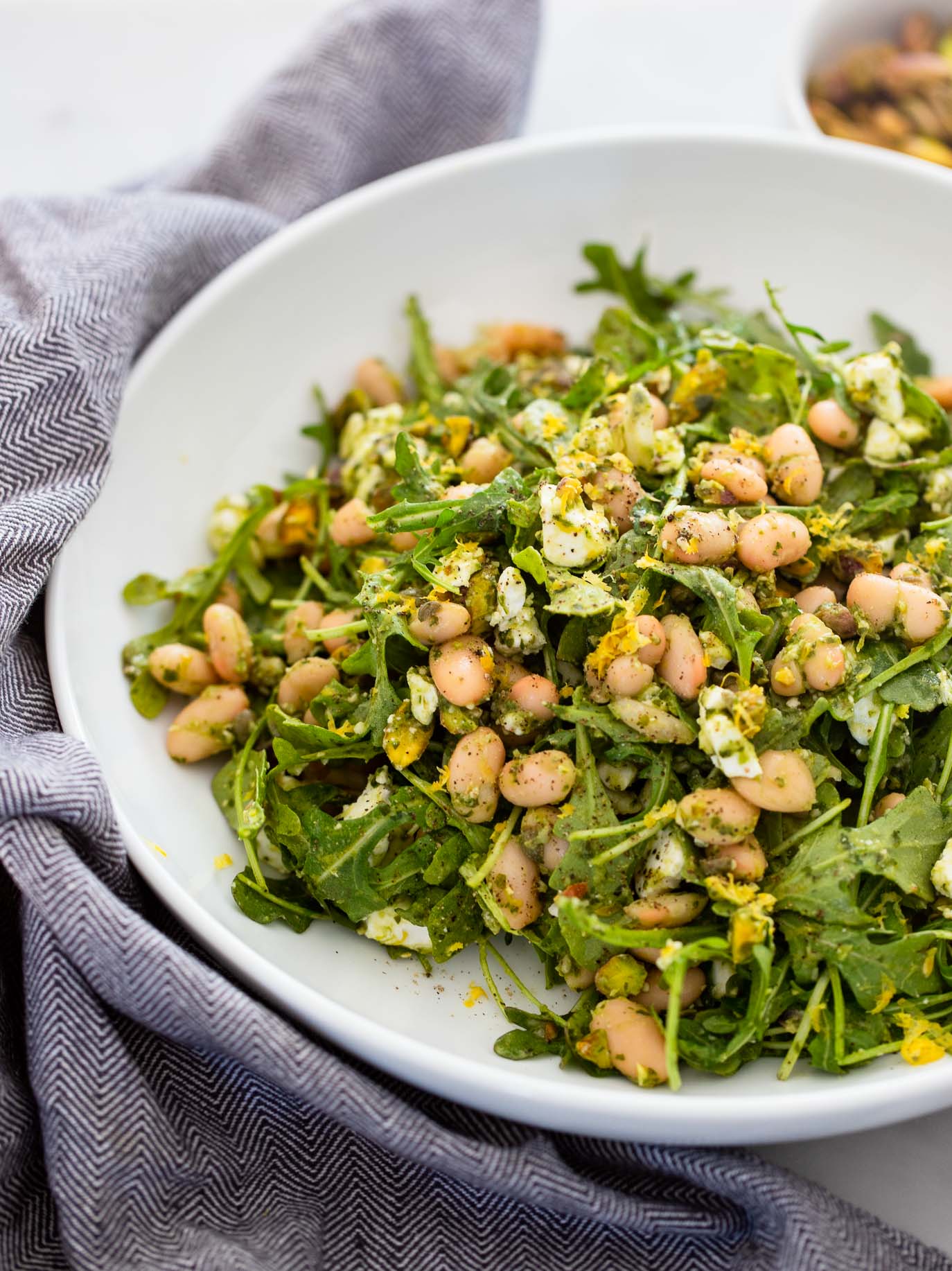 White Bean Pesto Salad with Arugula
This lemony white bean pesto salad with arugula is giving me major spring vibes – much needed right now in the depths of winter! With just a handful of ingredients like lemon, arugula, white beans, and pesto you can whip up this yummy salad in less than 5 minutes.
Get The Recipe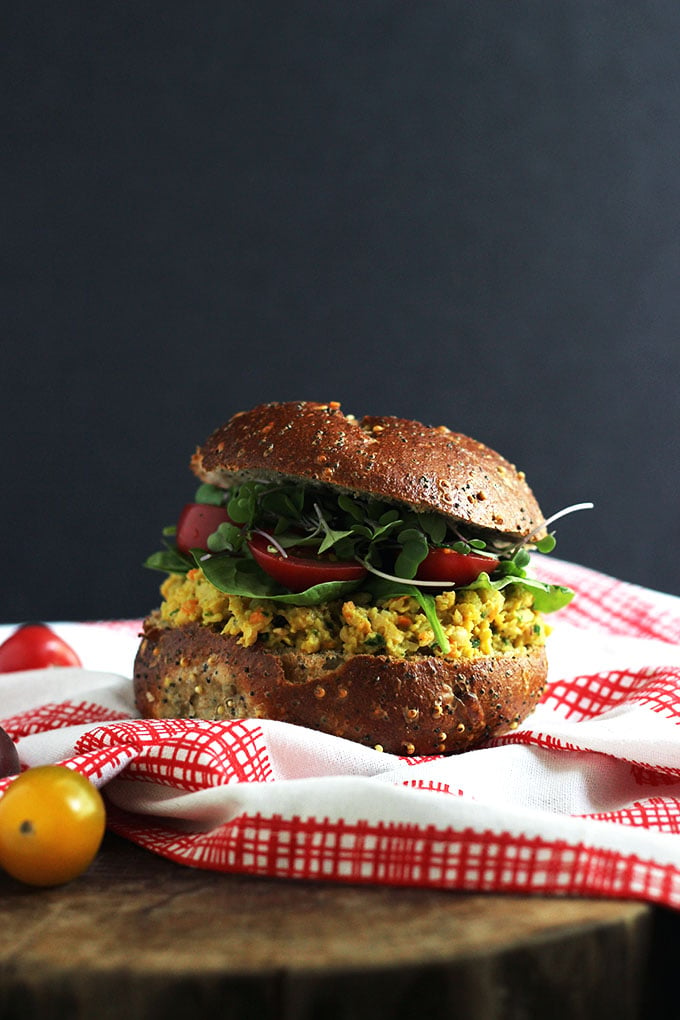 Curry Chickpea Spread
No need to heat up the oven or fire up the grill to make this healthy curry chickpea spread. Spread it on a sandwich and serve with a salad or soup and you've got dinner in a matter of minutes.
Get The Recipe