Whew! It's been hard to keep up with this little blog of mine over the last week. The holidays are such a busy time of year! Last week included a few holiday parties and get togethers so I was so exhausted by the time the weekend came around. (Thank God for lots of coffee to get me through!) Things have been even more busy as we continue to pack for our move in just two weeks. Since we'll be downsizing to a one bedroom apartment, we've been spending a lot of time sorting and made a couple trips to donate carloads of stuff. It feels good to declutter!
Meanwhile, I made this stuffed butternut squash last weekend and enjoyed packing leftovers in my lunch this week. Who says that turkey is the only dish that can be stuffed?! I am a huge fan of butternut squash and always looking for new ways to prepare it. This stuffed version is a little more labor intensive than cubed and roasted squash, but totally worth it! The stuffing is brimming with Mediterranean inspired flavors from olives, feta, and olive oil.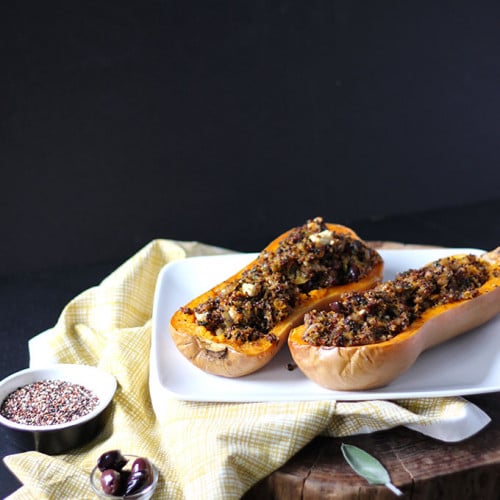 Stuffed Butternut Squash
Turkey isn't the only food that can be stuffed. Try this vegetarian version of stuffed butternut squash filled with seasoned quinoa and brussels sprouts.
Ingredients
1 butternut squash
Olive oil for brushing
1/2 cup quinoa rinsed
1 cup vegetable broth
1 handful brussels sprouts
1/4 cup chopped onion
2 tablespoons butter
8-10 kalamata olives chopped
2-3 fresh sage leaves chopped
1 tablespoon balsamic vinegar
1 ounce feta cheese
Instructions
Preheat oven to 350 degrees.

Cut the butternut squash in half lengthwise, scoop out the seeds, and place cut side up on a baking sheet lined with aluminum foil.

Brush cut side of the squash with olive oil and sprinkle with salt and pepper. Cover with a sheet of aluminum foil and bake for 45-60 minutes or until tender when poked with a fork.

In a medium sauce pan, combine the quinoa and vegetable broth. Bring to a simmer and cover. Cook about 15-20 minutes or until broth is absorbed. Set aside.

Put the brussels sprouts in a food processor and process until finely chopped/shredded.

In a skillet, melt the butter. Add the chopped onion, sage, and brussels sprouts. Cook over medium-high heat, stirring frequently until brussels sprouts begin to brown and onion is translucent.

Combine the quinoa, sprout mixture, olives, balsamic, and feta.

Scoop out the flesh of the butternut, leaving about 1/3-1/2 inch of pulp in the skin. In a small bowl, mash the scooped out squash well and then add the the quinoa. Stir until combined.

Spoon quinoa mixture into the hollowed out portion of the butternut squash. Bake for another 10 minutes and serve.
Nutrition
Serving: 1/4 Squash | Calories: 254kcal | Carbohydrates: 31g | Protein: 6g | Fat: 13g | Saturated Fat: 5.5g | Cholesterol: 22mg | Sodium: 355mg | Fiber: 5g | Sugar: 4.5g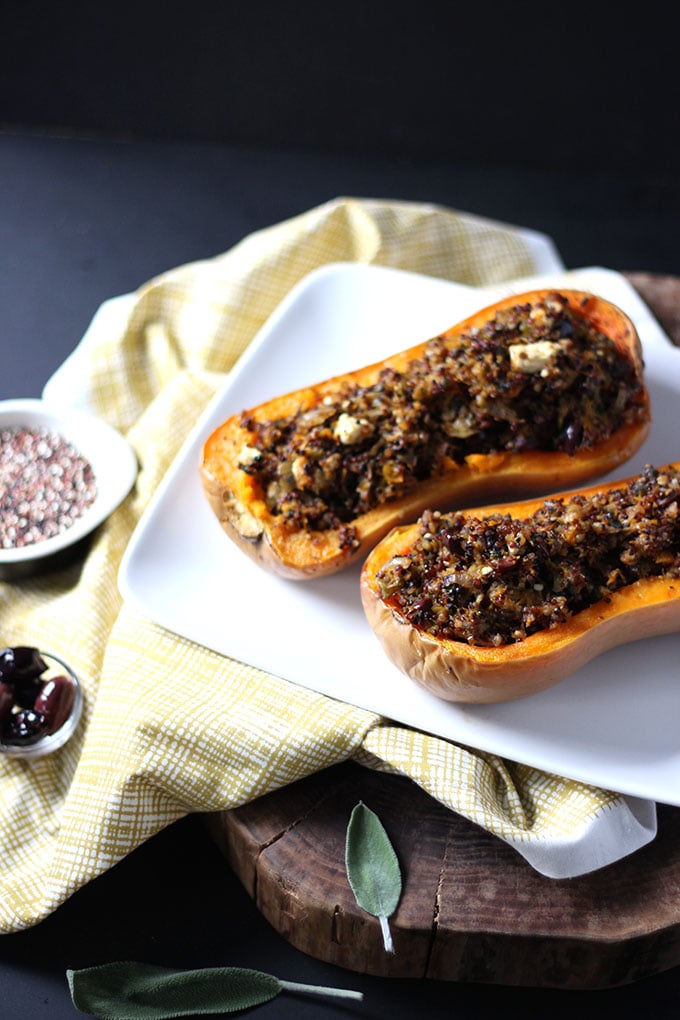 Reader Interactions