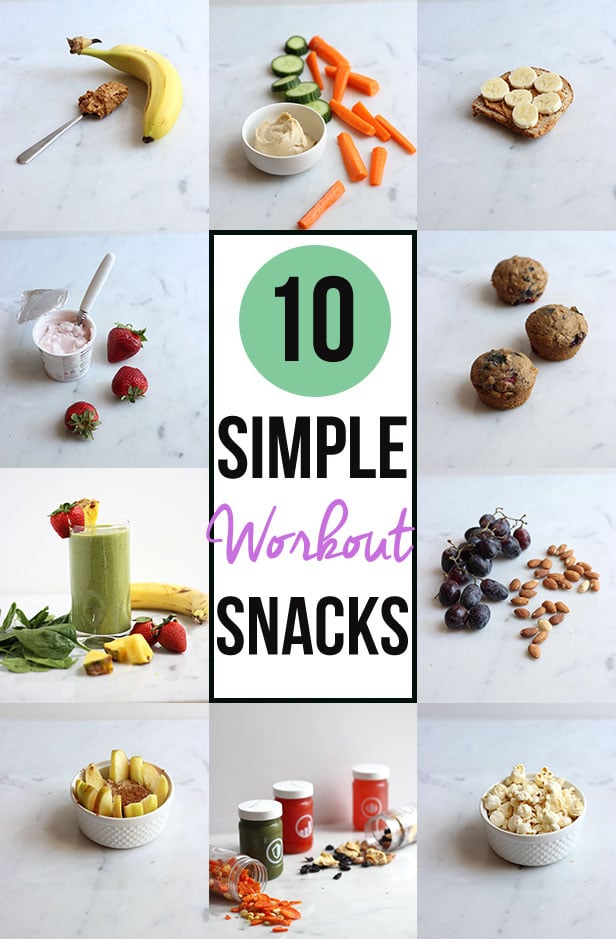 Now that I usually exercise after work, I've found that I really need a mid-afternoon snack like oatmeal protein cookies to give me enough energy to get me through class. The best pre-workout snacks are carbohydrate-rich and also incorporate a bit of protein as well to promote muscle repair and decrease post-workout muscle soreness. I like to try and reach for carbohydrate foods that also have a few grams of fiber which is more satisfying.  To prevent any kind of stomach discomfort while workout out, it's best to eat your snack at least 1 hour before working out. These are a sample of 10 of my go-to simple and healthy workout snacks:
Banana and peanut butter – You can't get any more simple or classic than a banana and peanut butter. 
Hummus, chopped vegetables, and whole grain crackers – Hummus is one of my favorite healthy dips and serves as a great pre-workout snack as well with some whole grain crackers and a couple veggies. 
Toast with peanut butter and banana or smashed avocado – Top whole grain toast with your favorite toppings for an easy pre-workout snack. 
Yogurt and fresh berries – Top your yogurt with fresh berries, nuts, muesli, trail mix or whatever you have on hand!
Homemade muffin – These vegan berry muffins (minus the glaze) have been fueling a lot of my workouts lately.
Green smoothie – This strawberry pineapple green smoothie is my go-to these days. 
Grapes and almonds – Feel free to switch up the fruit with whatever you have on hand. 
Apple, cinnamon, and almond butter – Not a fan of almond butter? Feel free to use peanut butter, sunflower butter, or another favorite spread. 
Trail Mix or Daily Serving snacks – These snacks are so awesome! They come in pairs with a cold-pressed juice and a mix of fruit and nuts all conveniently packaged in small portable plastic containers. The pairings were designed by dietitians (yes!) to incorporate functional foods. Currently, they are only available in the Chicago area. (Check out their retailer list under "retailers".) Trail mix is also a great alternative for a pre-workout snack. 
Popcorn – Simple, light, and so addicting. I love snacking on popcorn!
Tell me, what are your favorite pre-workout snacks?